Real talk about toddlers and screens
5 ways I navigate tech with my 2-year-old.
Full Transparency
Our editorial transparency tool uses blockchain technology to permanently log all changes made to official releases after publication. However, this post is not an official release and therefore not tracked. Visit our learn more for more information.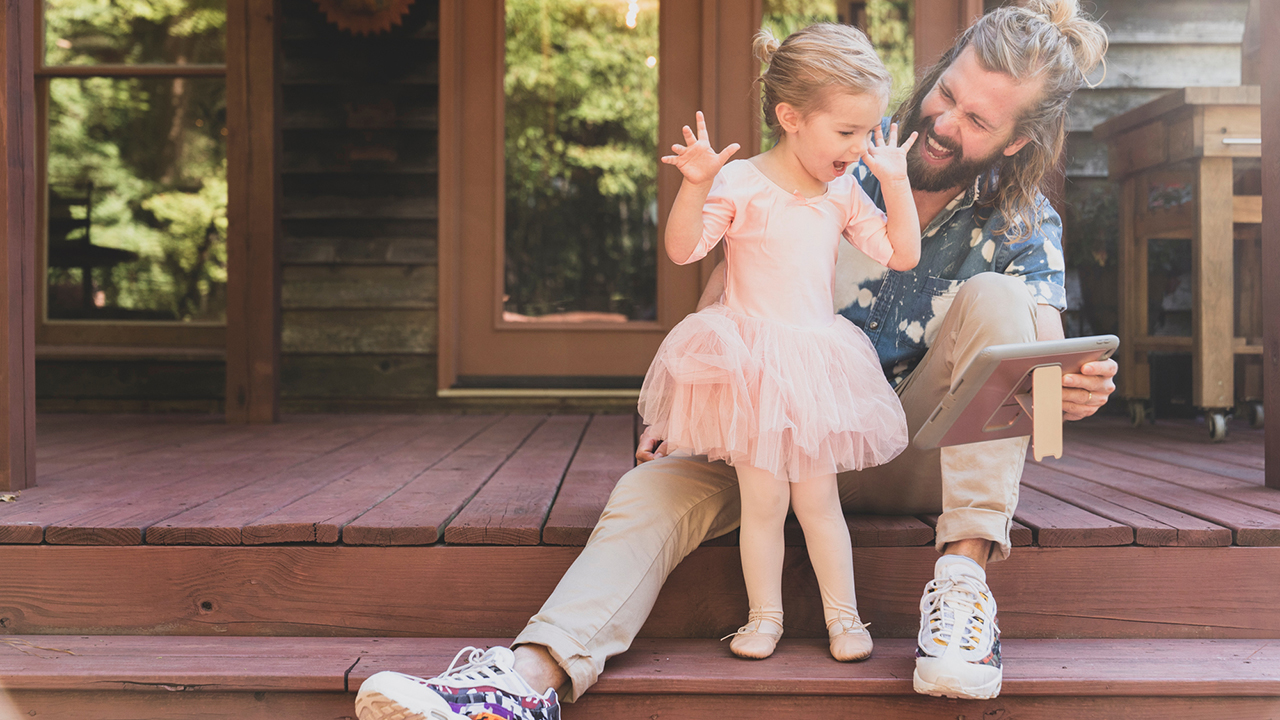 Way back in 2012, I shared my first Instagram post. It's a photo of my wife wearing an "I voted" sticker, just after we hit the ballot box. I never imagined that, seven years later, I'd be posting photos of our daughter in a tutu. But, here she is, my whole world wrapped up in a tiny pink leotard.
Technology is a part of every day life with Kendrick—even as a two-year-old. And, frankly, that terrifies me. Like a lot of people, I have a complicated relationship with technology. It helps me do my job better, allows me to communicate and share ideas with people I may have never met, and even helped me ask my wife out for the first time (it was a Facebook DM). But, if I'm struggling with over-connectivity as an adult, how am I supposed to strike the right balance for my toddler?
Kendrick's part of a generation that's been plugged in since birth. Since before birth, actually: We used an app to track her growth in utero, switched to a connected baby monitor the first year and now post photos and videos of her on social media. Like many parents, it's a big part of our lives. And so I try to approach each of these aspects of her life with some mindfulness, understanding the benefits and pitfalls of each.
To help find my way, I sat down with Dr. Devorah Heitner to discuss the five biggest areas where technology and Kendrick's life intersect. Devorah is a renowned thought leader and author of "Screenwise: Helping Kids Survive (and Thrive) in their Digital World." She founded Raising Digital Natives, an online resource for tackling all things related to kids and screens. Devorah's also a parent herself. As we spoke, much of her advice felt like conversations I've had at the playground with other parents. Her relaxed approach put me at ease and reassured me that these are questions that we're all facing together.
1. FaceTime can keep us connected.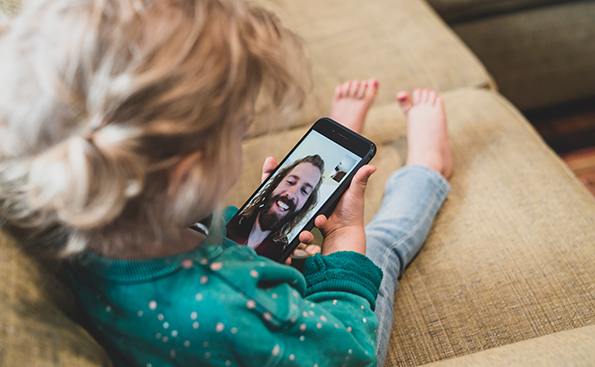 Photo credit: Ryan Donnell
My job takes me to faraway places, usually for a week at a time. I love the work, and experiencing other parts of the world is a beautiful thing. But it's not easy on my family. During those weeks, my wife is left to handle things alone with Kendrick. And there are times I come home and I can feel how the time away has impacted my relationship with my daughter. I'd come through the door with my arms open and she'd barely look up at me. When she was an infant, a week was such a long time. She was a different girl by the time I came home—developmental leaps were happening all the time.
But I began to notice that FaceTime was really helping us stay connected while I was on the road. She'd see my face and we'd talk about her day. My wife would facilitate the conversation: "Tell Dada what you did today at school." We'd kiss each other goodbye in this big exaggerated way by opening our mouths wide in front of the camera before smacking a giant kiss. And when I would come home, it felt more seamless. We stayed connected.
Devorah's insight: "We know that kids, even in the womb, hear their parent's voices and know their parent's voices. So, it would make sense that even just hearing your voice would kind of keep you in the loop in her brain. The American Academy of Pediatricians does recommend FaceTime with grandparents and other far away family as one of the best uses for screen time for younger kids."
2. The smartband: Like puppies, tech gifts for kids warrant a conversation.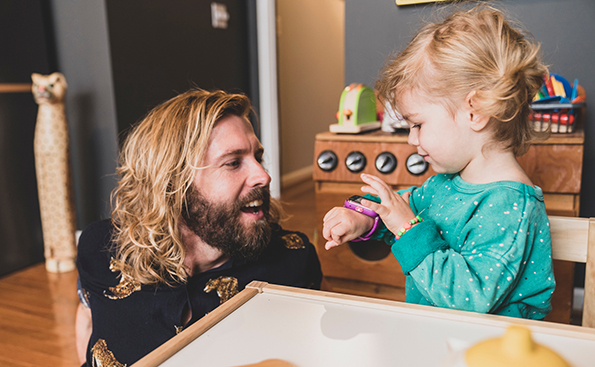 Photo credit: Ryan Donnell
My brother-in-law gave Kendrick a smartband as a gift. It freaked me out. It just didn't seem like an age-appropriate gift and I felt a loss of control over her relationship with screens. The smartband is pretty harmless, actually. There's a camera that takes photos and video. There are some games and songs. But, it does bring up this issue of control. When Kendrick is at daycare, is she getting screen time? She spends one day a week with my parents. What's happening there with screens? It called to mind a lot of questions for me, from managing gifts to setting digital boundaries with loved ones.
Devorah's insight: "Anytime someone gifts your kid a tech item, it's like gifting a puppy. Ideally, they should be asking permission and collaborating with the parents. As parents, you're the ones who have to deal with it. Would your parents get your kid a puppy and say, 'Good luck?' Who's going to walk that puppy? It shouldn't be an executive decision from grandma that your kid has a new smartphone, for example."
3. To app or not to app: Some simulation is okay.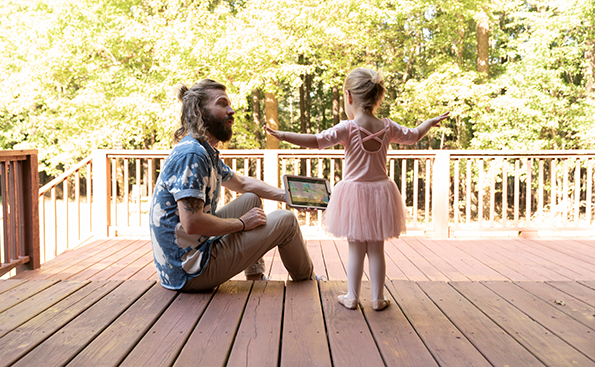 Photo credit: Ryan Donnell
Kendrick has already developed a very serious interest in ballet. She loves the tutus and the slippers and the regalia. So, we recently enrolled her in a class. At home, we'll play videos of ballet companies performing Swan Lake. And we've recently found a ballet teacher who instructs young viewers from a digital studio. Kendrick stands in front of the screen and mirrors the teacher's movements: Follows along from plie, to tendu, to arabesque.
Devorah's insight: "An app developer I really like for her age group is Toca Boca. They have a pet hairstyling salon, and a cooking app, and an app where you can do science in the lab. I love Toca Boca, but if I had to choose between my kid going to a petting zoo and meeting an actual sheep and playing with Toca Boca apps, I'd probably take them to meet the sheep. But you could do both. Most kids are not going to be having nonstop outdoor experiences and there are going to be times where you just need her to be doing something while you make dinner. And maybe an educational app is a good thing."
4. Streaming movies and shows: Good content is out there.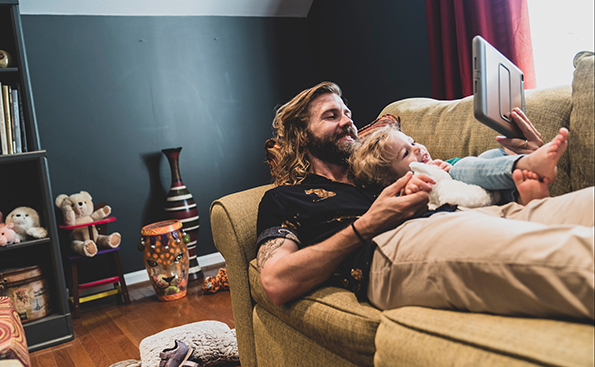 Photo credit: Ryan Donnell
I know kids Kendrick's age who don't watch movies and shows. Not many, but I know some. We started streaming shows and movies early with Kendrick. But, my wife and I are pretty discerning about what kind of content that should be. And really, Kendrick is her own barometer. She's great at telling us, "This is scary." Or, "I don't like that man," when a villain appears on screen. We try to stay away from fast-moving visuals, and violence, of course, and plot lines that reinforce negative stereotypes of women or people of color. It's not easy to find good content for her age, but there are some great shows out there that she loves, and we love them too, like "Daniel Tiger's Neighborhood," "Tumble Leaf," and "Luo Bao Bei." 
Devorah's insight: "One resource that you might want to look at is amightygirl.com. It has a lot of great show recommendations with really positive roles for both boys and girls. And I know I look at that with my son. He watches all these superhero shows. He's much older than your kiddo, but I'm always looking for things that might be a little bit of an alternative to that. The Japanese animation movies, like some of the Miyazaki films, have really wonderful girl heroes and they actually are really into nature, too."
5. Social media: Share in moderation and think about how it could affect her as an adult.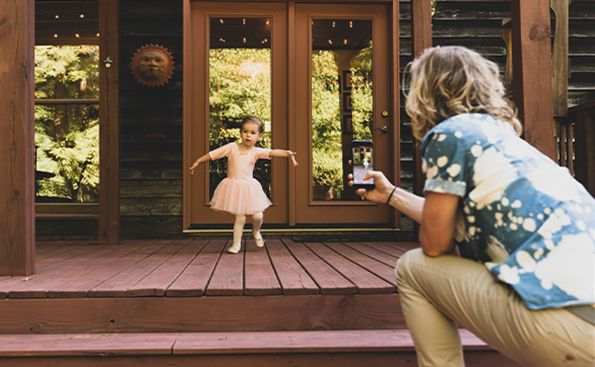 Photo credit: Ryan Donnell
For the first year of Kendrick's life, my wife and I would freely post about her on social media. In fact, that's one way we announced her birth. I remember that Instagram post. But, as Kendrick has gotten older, she has become more aware of the camera and sometimes she'll even tell me, "Don't take my picture, Dad!" The first time it happened, it really shook me up. She was barely two years old and was already demonstrating to me issues of privacy. Since that moment, my wife and I have really dialed back when posting about her. Instead, I try to stay present in the moment. Or, if I do capture some amazing footage of her, I'll share it with the family group text, rather than social media.
Devorah's insight: "When she's old enough to understand, I would ask her permission. But, for now, think about her as a self-conscious 13 year old. Think of her as a 40 year old running for head of the board or even president. What will people say about the things you've posted?
"If she's telling you not to take her photo, that's a good time to maybe cut down. Don't bring your camera everywhere, which means put your phone in your pocket. We have these devices with us that our parents didn't have. So, when we were at the playground, our parents didn't take our picture. And, you know, we still have enough documentation of our childhood."
Devorah's realistic approach to technology and children was a bit of a relief. I feel  at almost every turn my instincts as a father are right on. I've learned that much of the technology Kendrick encounters can create wonderful opportunities for discovery, education and even connection. So, rather than being fearful of it all, I'm choosing to become empowered. I can lean into the technology and help Kendrick develop a healthy relationship with these tools. At the end of the day, I have to trust myself, my family and my community, and know that she's going to be okay.