What is Finsta?
And what to do if your kid has one.
Full Transparency
Our editorial transparency tool uses blockchain technology to permanently log all changes made to official releases after publication. However, this post is not an official release and therefore not tracked. Visit our learn more for more information.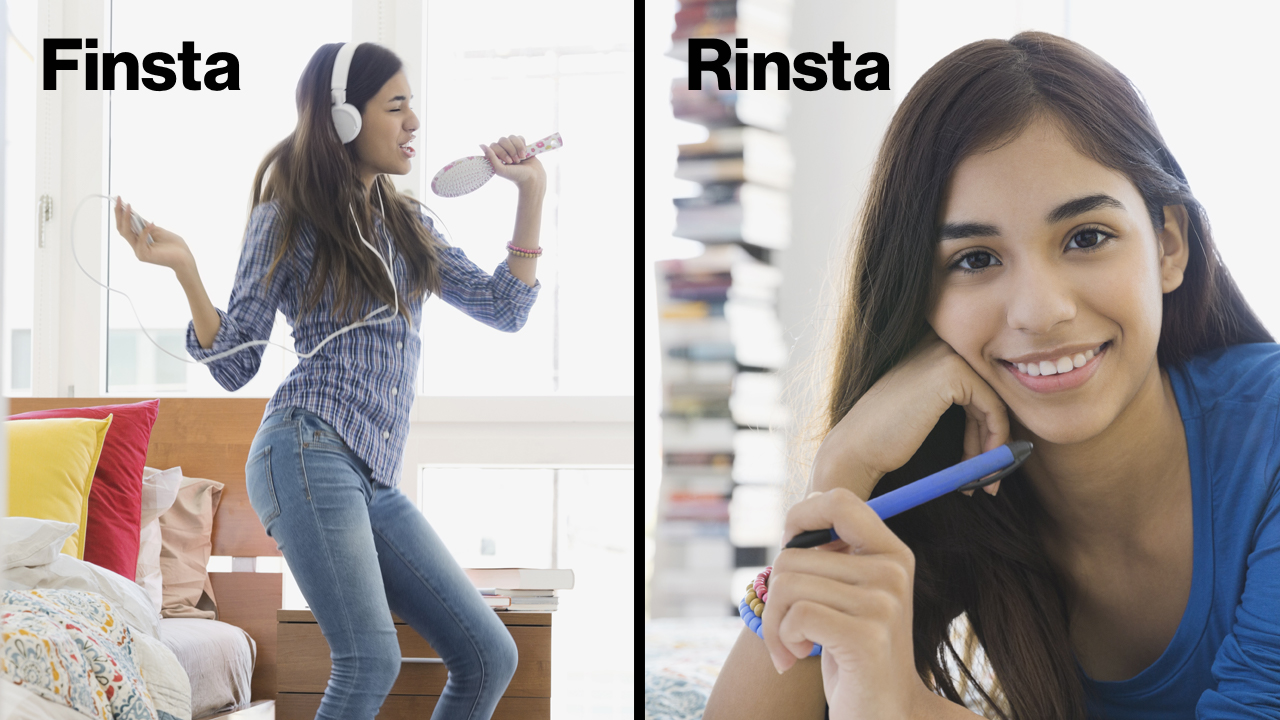 Say you're checking Instagram and notice a comment on one of the family pics. The wording sounds just like your kid. Right down to the emojis. But the Instagram handle isn't familiar, so you click around, follow up and—Oh, hello. It's your kid, in every picture, but it's not the same account you've been following and liking. That's exactly how most parents find out about a Finsta, or Finstagram.
First, a word of assurance: It's totally normal to be freaked out the first time. For your teen, these fake accounts are usually private, involve a small following of close friends, where they post things they really don't want you or the rest of the world to see. Finsta is not an app—it's just a secondary Instagram profile that can't be tied to their real name. It's a place where kids can feel safe about simply being the risky, goofy teenager they're hardwired to be, experts say.
That's also why stumbling across your kid's fake account is an important milestone in your digital parenting life. We asked a few experts to weigh in on the top things you'll want to know:
You probably had your own version of a Finsta
If your parents started trolling the skate park—or whatever mall you tried to terrorize back in the day—you'd probably find another place to hang, right? Another park or another kid's house. In most situations, that's what's happening when your teen starts a Finsta, says Laura Tierney, founder of The Social Institute. Tierney works with students nationwide helping them navigate social media in positive, high character ways.
Finstas started showing up shortly after Instagram launched
Instagram launched in 2010, and in 2011, Twitter users started posting screenshots from their Finsta or "Fake Instagram accounts." They've been growing steadily ever since.
Here's how to know if your kid has one: Ask
Don't be afraid to say, "Hey, I just heard about this Finsta thing. Do you have one? What is it?" says Dr. Nicole Beurkens, a licensed psychologist who specializes in working with teens and families.
"As a parent, you'd sit down with your teen and you'd look together at their Instagram account," Beurkens says. See if they have multiple accounts that they're managing from the drop-down menu in the upper-right corner of the app.
Why it's a good thing
It causes kids to stop and be more selective about who they're sharing things with, Beurkens says. "And I also think there is a benefit to kids feeling like they have a curated space where they can be who they are with a small group of people that they trust."
What to keep your eye on
When your teen is using a Finsta, they might assume that their small circle of friends won't share with the outside world what's on there. "As we tell the students, anything is sharable and screenshottable," Tierney says. "It's more important than ever that we post things according to our values, whether you toggle to public or private."
From a mental health perspective, Beurkens says it can perpetuate the idea that it's not okay to be yourself, that you need two versions of yourself. Most parents today are on social media themselves, Beurkens says, so it's important to model authenticity in your own lives, online and off.
When to talk about it
Huddle, don't helicopter, to talk about it, Tierney says. A huddle is an informal, casual conversation you can have with your kids about what's going on socially in their lives. One of the best times to huddle, according to feedback from teens that Tierney works with, is any place where there's less direct eye contact.
"Driving in the car, going to school, around the family dinner table, hanging on the weekend or going on a walk—that's a perfect time," Tierney says.
What to say
Ask questions and simply listen. Take in their responses and their feelings about what's going on in their lives.
"My dad would drop me off at school in the morning, and I remember he would ask me all kinds of things: What would you do in this situation? How would this make you feel? All those conversations are building empathy, and they build trust with your parents," Tierney says.
For example, on the ride home from school: Ask your teenage daughter about her day. Ask, "Did anything fun happen on social media?"
As a parent, it's important to turn the conversation from negative to positive, from don'ts to dos. "And if you can do that, then I am confident a student becomes more open to having conversations about technology and social media," Tierney says.