Initiating a dialogue about racism can be challenging. These topics are uncomfortable, but if we want to become better allies, we must acknowledge those who are personally impacted by listening and engaging in unfiltered conversations with an open mind and an open heart. And we must continue this dialog both in the near term and over the long haul. That's how we bring about real and sustainable change. We want to help you get started and offer a pulse on what's happening within Verizon to champion the change we want and need to see. We created this virtual toolkit to provide a foundation for your education, and we will continue to update it with new resources to help us all listen, learn, act and improve.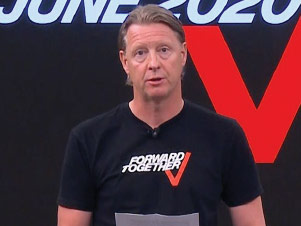 A message from Verizon CEO Hans Vestberg
In response to the events unfolding across the country, Hans Vestberg delivered an emotional address, "We cannot commit to a brand purpose of moving the world forward unless we are committed to helping ensure we move it forward for everyone. We stand united as one Verizon."
Hans joins Up to Speed to discuss events in DC.
Following the riots in Washington DC, Hans joined Up to Speed to share his thoughts on the events, "At Verizon, we pride ourselves on living up to the highest ideals of integrity and respect. To be part of the V Team means that we honor these values both within and beyond our walls. That's why in times of uncertainty, we must stay focused on our purpose and why we show up every day committed to making a difference."
#Next20
Episode 1: Criminal Justice Reform
Marquise Francis of Yahoo News hosts a conversation with criminal justice advocates who are on the front lines of demanding a more equitable system. Guests include Adrian Burrell, Christina Swarns and Xavier McElrath-Bey.
Episode 2: Making Every Vote Count
Up to Speed's Diana Alvear speaks with emerging and established advocates who are on the front lines of voter engagement to make sure every voice is represented and heard. Guests include LaTosha Brown, Kyle Lierman, Chloe Mason and Dylan Wilkes.
Episode 3: American History 101
Verizon's David Hubbard hosts an informative discussion with Dr. Khalil Gibran Muhammad on the importance of studying Black history as a blueprint for a more equitable future.
Episode 4: Reimagining small businesses during COVID-19
Sibile Marcellus from Yahoo Finance hosts a two-part panel on how small businesses can rise up and rebuild with visionaries Kezia Williams, CEO of the Black upStart, and Elizabeth Gore, co-founder of Hello Alice, as well as small business owners Lyndsey Brantley, CEO of Camellia Alise, and Michelle Swittenberg, co-founder of BRWL Studio.
Episode 5: We Have a Dream
V Teamers Rima Qureshi and Kala Garner interview Dr. Clarence B. Jones, co-author of Dr. Martin Luther King's historic "I Have a Dream" speech. In this special installment of #Next20, Dr. Jones shares what he has learned as a leader on the front lines of the civil rights movement and his hope for the future.
Episode 6: Born Digital
Brittany Jones-Cooper of BUILD Series, moderates a two-part panel on how Gen Z is rocking the status quo in these uncertain times and what this generation expects from brands, educators and employers to help build a stronger and more equitable society. Speakers include Ziad Ahmed, Brea Baker, Julia Terpak and Roubing Liao.
Episode 7: Intersection of Disability + Race
Verizon Media's Tatiana Pile moderates a panel with disability rights activists on the intersection of disability and race. Created in partnership with ADVANCE and BOLD, speakers include Imani Barbarin, Leon Ford and Maysoon Zayid.
Episode 8: Climate Action
BUILD series' Matt Forte moderates a panel with environmental activists Helena Gualinga, Kevin J. Patel and Joy Youwakim on how we must turn the tide on climate change.
Episode 9: Nine that Moved Us
Take a look back on the first season of #Next20 with the team responsible for creating the series. Learn about their favorite moments and what they hope to achieve by amplifying the voices and stories of those changing the world.
Episode 10: Our Children's Mental Health
Up to Speed's Diana Alvear hosts pediatric experts from the Child Mind Institute and Crisis Text Line on how to help children and young adults cope with the compounding crises the world is facing.
Voices from the V Team
A powerful conversation.
Verizon leaders share how racism and bias has impacted their lives and the lives of their loved ones.
Courageous Conversations Part I.
Our BOLD (Black Originators, Leaders and Doers) ERG held a special installment of Courageous Conversations to offer their perspective to Verizon leaders on what needs to change both within and beyond our walls.
Go further than being an ally, be an accomplice for a change.
V Teamer Diana Alvear spoke with Willie Jackson, a Diversity & Inclusion expert, about why it's not enough to be an ally, it's more effective to embrace being an accomplice for change.
A Finance team conversation on race.
Matt Ellis and Shane Sanders host a discussion with three V Teamers who share their experiences, insight and ways we can move forward.
A movement, not a moment.
Andrew Kameka hosted a powerful panel on Up to Speed Live featuring fellow V Teamers Che Phillip, David Hubbard and Kwame Trotman to discuss the experiences they have faced professionally and even personally as fathers.
Behind the Business conversation on race.
The Verizon Business Group seized the moment by holding their own conversation as part of their Behind the Business series. It was led by Eric Cevis, leader of Verizon Partner Solutions, and John Frantz, General Counsel for VBG and leader of Verizon's Pro Bono Program, where our legal professionals volunteer to help people in disadvantaged communities, victims of domestic violence and veterans.
Looking back. Forging ahead.
Ram Jean-Louis joins Up to Speed Live to discuss the history and meaning of Juneteenth, as well as the importance of the decennial census.
Undefined.
V Teamer Kris Makande chooses not to be labeled by gender, race or sexuality.
So much change. Where do we go from here?
Clarence Otis, lead Director of the Verizon Board of Directors, and Dr. Peniel Joseph, founder of the Center for the Study of Race and Democracy at The University of Texas at Austin joined Up to Speed Live to discuss racial equality and the importance of this moment. V Teamer Alexandria Johnson also weighs in on how young people are calling for change.
Two friends. Discomfort. Anti-racism.
Two V Teamers talk about racism and the need for education and understanding to build a better future for all children.
Special MLK Day Resources           Books           Podcasts           Films, Docs, and Series           TED Talks           Resources for Families
Special MLK Day Resources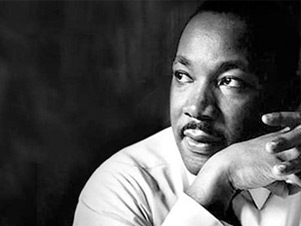 Letter from a Birmingham Jail
This letter is so poignant for a host of reasons but most notably Dr. King educates the white clergymen he is writing to on why there are "just" and "unjust" laws. He also notes why unjust laws should be challenged.
I Have a Dream
Listen to Dr. King's iconic speech at the Lincoln Memorial for the 1963 March on Washington for Jobs and Freedom, where he urged America to "make real the promises of democracy."
The Legacy of Dr. Martin Luther King, Jr. on the History Channel
Notable people, including Jada Pinkett Smith, Deepak Chopra, Carmen de Lavallade, Michael Strahan, Bernice King, and Sunny Hostin, talk about the impact Martin Luther King, Jr. had on their lives and what they see from their own "mountaintops."
MLK Talks 'New Phase' Of Civil Rights Struggle, 11 Months Before His Assassination
In 1967, at The Ebenezer Baptist Church In Atlanta, GA, Dr.King spoke with NBC News' about the "new phase" of the struggle for genuine equality and the humiliation that legal segregation brings He also addresses nonviolent and peaceful protests, "Nonviolence is morally excellent and practically sound and speaks of apathetic slumber."
Strength to Love
by Martin Luther King Jr.
Coretta Scott King once said, "If there is one book Martin Luther King, Jr. has written that people constantly tell me has changed their lives, it is Strength to Love." Strength to Love includes short sermons Dr. King composed during some of the most tumultuous years of the Civil Rights Era, including the 15 days he spent in jail during the Albany Movement.
Stride Toward Freedom: The Montgomery Story
by Martin Luther King Jr.
According to Dr. King, Stride Toward Freedom, his memoir of the Montgomery bus boycott, is "the chronicle of 50,000 Negroes who took to heart the principles of nonviolence, who learned to fight for their rights with the weapon of love, and who in the process, acquired a new estimate of their own human worth."
Why We Can't Wait
by Martin Luther King Jr.
The story of African American activism in the spring and summer of 1963, Why We Can't Wait focuses on the Birmingham Campaign. The seed of this book is King's Letter from Birmingham Jail, which was published in national newspapers and magazines.
A Child Shall Lead Them: Martin Luther King Jr., Young People, and the Movement
by Rufus Burrow
Rufus Burrow Jr.'s A Child Shall Lead Them is about the courage and contributions made by black children and youth in the struggle for civil and human rights in the United States. In this project, Burrow reveals the surprising power of youth to change the world.
Martin's Dream: My Journey and the Legacy of Martin Luther King Jr.
by Clayborne Carson
On August 28, 1963, thousands of demonstrators joined the March on Washington for Jobs and Freedom, including Clayborne Carson. Decades later, Coretta Scott King selected Dr. Carson—then a history professor at Stanford University-- to edit the papers of her late husband.
Behind the Dream: The Making of the Speech That Transformed a Nation Hardcover
by Clarence B. Jones and Stuart Connelly
On August 28, 1963, Dr. Martin Luther King Jr. spoke the words: "I have a dream." Clarence Jones helped co-write King's "I Have a Dream" speech and was one of his close confidants. Behind the Dream provides a behind-the-scenes account of the weeks leading up to the event, as told by Clarence Jones.
My Life with Martin Luther King, Jr.
by Coretta Scott King, Yolanda King, Dexter Scott King
Best-known as Dr. Martin Luther King Jr.'s widow, Coretta Scott King was an activist in her own right. In My Life with Martin Luther King, Jr., she recounts the history of the Civil Rights Movement and offers an inside look at her life with King as well as their family life.
Take My Hand, Precious Lord
Mahalia Jackson's singing elicits emotion from anyone who hears the vibrato of her voice. She sang this song at her friend's funeral. Her friend was Dr. King. She in fact, was the person who, at the March on Washington, yelled out "Tell them about the dream, Martin! Tell them about the dream!"
MLK Day for Kids
Be a King: Dr. Martin Luther King Jr.'s Dream and You
by Carole Boston Weatherford, James E. Ransome (Illustrations)
"Everyone can be great because everyone can serve." Be a King features dual narratives of key moments in Dr. Martin Luther King Jr.'s life along with a modern classroom of students to encourage a new generation of children to stand up for justice.
If You Were a Kid During the Civil Rights Movement
by Gwendolyn Hooks, Kelly Kennedy (Contributor)
Mark just moved from Washington, D.C., to Oklahoma and will soon attend a segregated school. Connie wants to know what her brothers are planning in secret and wonders if the new boy in the neighborhood has any ideas. Soon, Mark and Connie find themselves in the middle of a civil rights demonstration.
Sit-In: How Four Friends Stood Up by Sitting Down
by Andrea Davis Pinkney, Brian Pinkney (Illustrator)
This picture book is a celebration of the 50th anniversary of the momentous Woolworth's lunch counter sit-in, when four college students staged a peaceful protest that became a defining moment in the struggle for racial equality and the growing civil rights movement.
March series
by John Lewis and Andrew Aydin, illustrated by Nate Powell
Before John Lewis became a member of Congress, he was a key leader in the Civil Rights Movement. March is the graphic novel trilogy about the Movement through his perspective. Book One includes Lewis's childhood in rural Alabama and his life-changing meeting with Martin Luther King Jr.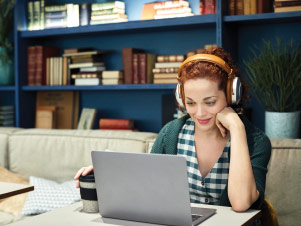 Books
White Fragility
Explore the dynamics of White Fragility and how we might build our capacity in the on-going work towards racial justice.
So You Want to Talk About Race
Ijeoma Oluo guides readers through subjects ranging from intersectionality and affirmative action to foster honest conversations and race and racism impact almost every aspect of American life.
Unraveling the 'Model Minority' Stereotype
Few would argue that negative stereotypes are costly to those being judged, but what about positive ones? Do they also "cost" their recipients? These are some of the issues author Stacey Lee tackles head on.
A Kids' Book about Racism
With clear descriptions of what racism is and how it makes victims feel, this book can help parents start the conversation early with their kids.
The New Jim Crow: Mass Incarceration in the Age of Color Blindness
The New Jim Crow challenges the civil rights community—and all of us—to place mass incarceration at the forefront of a new movement for racial justice in America.
Between the World and Me
Written as a letter to his son, author Ta-Nehisi Coates recounts American history and how "racist violence that has been woven into American culture."
The Color of Law
Richard Rothstein discusses how segregation in America has contributed to so much recent social strife and shaped policies at the local and federal level.
Why Are All the Black Kids Sitting Together in the Cafeteria?
Beverly Daniel Tatum argues that straight talk about our racial identities is essential and has become more urgent as the national conversation about race is increasingly acrimonious. This fully revised edition is essential reading for anyone seeking to understand the dynamics of race in America.
The Warmth of Other Suns
Pulitzer Prize–winning author Isabel Wilkerson chronicles the decades-long migration of black citizens who fled the South for northern and western cities, in search of a better life.
Me and White Supremacy Workbook
Part education, part activation, the Me And White Supremacy Workbook is a first-of-its-kind personal anti-racism tool for people holding white privilege to begin to examine and dismantle their complicity.
We Can't Talk about That at Work!
Mary-Frances Winters shows how to deal with sensitive subjects in a way that brings people together by helping you become aware of the role culture plays in shaping people's perceptions and offering detailed guidance about those things we're not supposed to talk about.
How to Be an Antiracist
In How to Be an Antiracist, Ibram X. Kendi takes readers through a widening circle of antiracist ideas—from the most basic concepts to visionary possibilities—that will help readers see all forms of racism clearly, understand their poisonous consequences, and work to oppose them in our systems and in ourselves.
Get the book | Discussion Guide
Eloquent Rage: A Black Feminist Discovers Her Superpower
A leading young black feminist illuminates how organized anger, friendship and faith can be powerful sources of positive feminist change, explaining how targeted rage has shaped the careers of such African-American notables as Serena Williams, Beyoncé and Michelle Obama.
The Hidden Rules of Race
This book shows how the fight for racial equity has been one of progress and retrenchment, a constant push and pull for inclusion over exclusion. By understanding how our economic and racial rules work together, we can write better rules to finally address inequality in America.
A People's History of the United States
As historian Howard Zinn shows, many of our country's greatest battles—the fights for a fair wage, an eight-hour workday, child-labor laws, health and safety standards, universal suffrage, women's rights, racial equality—were carried out at the grassroots level, against bloody resistance.
White Like Me: Reflections on Race from a Privileged Son
From writer Tim Wise, a personal account examining white privilege and his conception of racism in American society through his experiences with his family and in his community.
Additional books for adults and kids
As we strive to effect meaningful change, we must continue to educate ourselves on systemic racism and injustice. Check out these books.
---
Podcasts
Intersectionality Matters!
Hosted by Kimberlé Crenshaw, an American civil rights advocate and a leading scholar of critical race theory.
Pod For The Cause
From The Leadership Conference on Civil & Human Rights, this podcast expands the conversation on critical civil and human rights challenges of our day.
Momentum: A Race Forward Podcast
Co-hosts Chevon and Hiba explore the impact of race as we continue to build the momentum needed to advance racial justice.
Code Switch: NPR
Hosted by journalists of color, this podcast series explores how race impacts every part of society — from politics and pop culture to history, sports and everything in between.
Verizon's support for criminal justice reform.
Verizon's Craig Silliman, Executive Vice President and Chief Administrative, Legal and Public Policy Officer discusses the criminal justice system and the need for reform.
---
Films, Documentaries and Series
American Son (Kenny Leon) — Netflix
Based on the acclaimed play by Christopher Demos-Brown, this drama follows the rising anxieties of an interracial couple whose son disappears in the middle of the night.
Clemency (Chinonye Chukwu)
A prison warden coming to terms with the demands of her profession explores the flaws of the penal system.
Dear White People (Justin Simien) — Netflix
Based on the acclaimed film of the same name, this series follows a group of students of color as they navigate a landscape of cultural bias, social injustice, misguided activism and questionable politics.
Fruitvale Station (Ryan Coogler)
Based on a true story, this film follows the last day in Oscar's life and how he was swept up in an altercation with police that ended in tragedy.
I Am Not Your Negro (James Baldwin)
Based on James Baldwin's unfinished manuscript, this documentary explores the history of racism in the United States through Baldwin's accounts of key civil rights leaders.
If Beale Street Could Talk (Barry Jenkins) — Hulu
Based on James Baldwin's novel of the same name, the film follows a young woman who seeks to clear the name of her lover who is falsely accused of raping a woman. This story explores the failures of the criminal justice system that keep people incarcerated.
Just Mercy (Destin Daniel Cretton)
After graduating from Harvard, Bryan Stevenson heads to Alabama to defend those wrongly condemned or those not afforded proper representation. One of his first cases is that of Walter McMillian, who is sentenced to die for the murder of an 18-year-old girl, despite evidence proving his innocence.
King In The Wilderness (Peter Kunhardt)
A portrait of Martin Luther King Jr. during the last years of his life, from his part in the Voting Rights Act of 1965 to his assassination in 1968.
Selma (Ava DuVernay)
In 1965, an Alabama city became the battleground in the fight for suffrage. Despite violent opposition, Dr. Martin Luther King Jr. and his followers pressed forward on an epic march from Selma to Montgomery.
The Black Panthers: Vanguard of the Revolution
Filmmaker Stanley Nelson examines the rise of the Black Panther Party in the 1960s and its impact on civil rights and American culture.
The Hate U Give (George Tillman Jr.)
Based on the 2017 young adult novel of the same name, the film follows the fallout after a high school student witnesses a police shooting.
When They See Us (Ava DuVernay)
Based on events of the 1989 Central Park jogger case, this miniseries explores the lives and families of the five male suspects who were falsely accused then prosecuted on charges related to the rape and assault of a woman in Central Park, New York City.
Verizon + BUILD Present: Proud of my Hair
As part of Verizon's 20th anniversary, we're spotlighting the people and stories that move the world forward. One story that keeps coming up is hair in the Black community. So we partnered with the team at BUILD Series and sat down at the Soultry Scissors hair salon in West Orange, New Jersey with some extraordinary folks for a real conversation about authenticity and hair. First up, Executive Coach and Soultry Scissors owner Kim Givens, Mahisha Dellinger - Founder & CEO of Curls and Shaquille Romblay with Huff Post. Then, we heard from marketing strategist for the fashion and beauty industry Trenesa Stanford-Danuser along with two Verizon leaders - Genia Wilbourn, of Network Operations and David Hubbard from Legal and Public Policy. What an incredible day.
Uncomfortable Conversations with a Black Man
Former professional football player, Emmanuel Acho, created the series Uncomfortable Conversations with a Black Man to encourage uncomfortable conversations about race that many white people have never been able to have.
---
TED Talks on Racial Equality and Justice
Ideas on Race - TED Talks
A collection of TED Talks (and more) on the topic of race.
---
Resources for Families
Talking About Race toolkit
Talking About Race, from The National Museum of African American History and Culture, offers tools and guidance to foster this important conversation at an early age.
Toolkit for Parents
For parents looking to talk with their kids about race and racism, this school toolkit offers helpful tips and advice
Teaching Tolerance
Teaching Tolerance provides free resources to foster civil and inclusive school communities where children are respected, valued and welcome participants. Their program emphasizes social justice and anti-bias.
Beyond the Golden Rule
Beyond the Golden Rule from Teaching Tolerance helps parents teach their children to honor the differences in themselves and in others — and to reject prejudice and intolerance.
A Kids' Book About Racism
A Kids' Book About Racism offers clear descriptions of what racism is and how it makes victims feel, so parents can start the conversation early with their kids.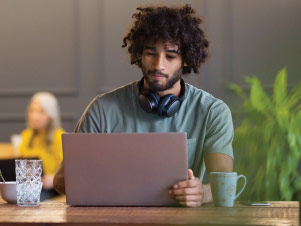 Volunteer to make a difference.
Help preserve African American history.
Help the Boston Public Library turn their collection of handwritten correspondence between anti-slavery activists in the 19th century into texts that can be easily read and researched by students, teachers, historians and big data applications.
Volunteer Now | Verizon Media Volunteer
Elevate the stories from those who served.
Join the African American Civil War Museum to help build a database of the 200,000 African Americans who fought for the Union army in the American Civil War.
Volunteer Now | Verizon Media Volunteer
Support honest conversations with family members.
Letters for Black Lives provides a framework for discussing issues of anti-Blackness and racial injustice. You can help by translating open letters on the organization's platform into different languages to help spread the message. Volunteers can also write their own letter to create more avenues for open and honest conversations on racism.
Volunteer Now | Verizon Media Volunteer
Become a Smithsonian digital volunteer.
The African American story is central to our nation's history. Collections documenting their contributions can be found in the records of every Smithsonian museum. Help make these collections more accessible by becoming a Smithsonian "volunpeer."
Volunteer Now | Verizon Media Volunteer
Transcribe a part of history.
The National Museum of African American History and Culture has collaborated with the Smithsonian to transcribe more than 1.5 million images as part of The Freedmen's Bureau Transcription Project. Offer your skills and help preserve a critical part of African American history.
Volunteer Now | Verizon Media Volunteer
---
Don't forget about our match program.
The Verizon Foundation committed $10 million to seven social justice organizations. Should you want to contribute, we are proud to have a match program to double the impact of your donation of $25 or more. Head here to learn more and get the process started or here for Verizon Media.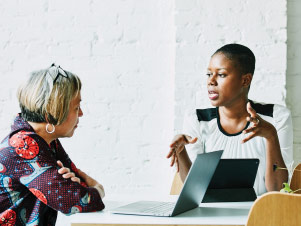 Join an Employee Resource Group (ERG).
ERGs are employee-led groups that engage and empower V Teamers to help you fulfill your greatest potential as we continue to strengthen our commitment to an inclusive culture. Not only will you benefit professionally and personally from participating, but you can also contribute insights and ideas to make an impact on our business and our communities and learn from diverse perspectives and backgrounds.
A learning plan to help you take action.
Racism is hard to talk about. Let's change that. Check out Racial Equity and Justice, a self-paced learning plan in Learning Portal 2.0 available to all V Teamers. Our Learning and Development (L&D) and Global Diversity and Inclusion (GD&I) teams curated resources to build understanding, learn how to provide support and take action. The content in the new learning plan provides a strong view of how systemic racism impacts everyone, educating about its foundations and important topics like systemic injustice, allyship and more.
Use your voice for change.
Your voice matters. We are committed to driving actionable and sustained change within and beyond our walls, but we need your help to flag what needs to improve. Submit your thoughts on how we can create a sense of inclusiveness throughout our community. We know when diverse perspectives and backgrounds come together, the world will shift. Help us define what we want and need to see in the here and now.
Submit Your Thoughts at culture.and.employee.communications@verizon.com
People leader toolkit.
Initiating an open and unfiltered dialog about racism can be challenging, but it's important to engage your team members. We have developed a toolkit for leaders to help structure the conversation and keep it engaging.