Verizon Innovative Learning
#weneedmore kids to see the world of possibilities waiting for them.
In order to compete for the jobs of the future, it's essential for every kid to have access to technology and STEM (science, technology, engineering and math) education.
With about 9 million available STEM jobs – and over 4 million available jobs in science and technology alone – our youth need access to education and resources that will prepare them for success in tomorrow's high-tech world.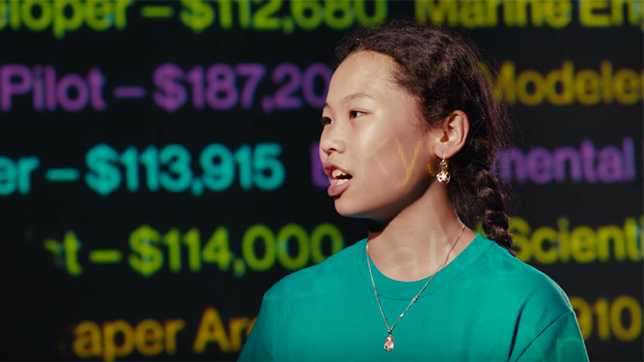 We provide free tech, free access andinnovative curricula.
That's why Verizon, through our Verizon Innovative Learning initiative, has committed $160 million in free tech, free access and hands-on immersive learning in STEM for students in need.
We don't just fund these programs. We also create and administer them in partnership with leading nonprofits. We diligently measure the impact of our work and refine our programs—and it's making a difference.
With a commitment of $160 million, we're impacting over...
Tech immersion
How do you get kids to see possibilities they never dreamed of? By marrying technology, role models and hands-on learning in an immersive tech program, through partnerships with leading nonprofits and universities.
About tech immersion
Digitizing schools
Making a real difference takes more than just technology. Through our partnership with Digital Promise, Verizon equips every child and teacher at select middle schools across America with a tablet and two-year data plan.
About digitizing schools
Teaching design thinking in high schools
This unique program pairs students with local small businesses to create practical business solutions with technology.
About design thinking
Innovative Learning labs
These fun, interactive labs are free and will expose kids to new skills like coding and cool new technologies such as virtual reality, robotics and 3D printing.
About innovative learning labs