We put safety at the forefront. As part of our commitment to safer communities, we continue to take the lead in educating consumers and supporting legislation about responsible driving, public safety, radio frequency emissions and other safety issues.
---
Wireless phone security
Verizon encourages you to protect your mobile phones and offers simple steps to help you avoid device loss and keep user IDs and passwords safe, as well as information for reporting and replacing a lost or stolen device.
---
Wireless Emergency Alerts
We make it a priority to keep communities connected and inform you of imminent threats to safety or missing persons alerts in your area . We do this by providing customers with Wireless Emergency Alerts (WEAs), free wireless notifications delivered to capable mobile devices as part of a new public safety system. There are three types of WEAs:
Presidential Alerts: about news of national authority concern
Imminent Danger Alerts: Severe and Extreme alerts about weather events and threat levels
Amber Alerts: about the disappearance of persons (minor or otherwise)
Device Unlocking Policy
We have a Device Unlocking Policy that covers postpay devices, prepaid devices and the policy for Deployed Military Personnel.
---
Enhanced 911
We provide enhanced location information to emergency call takers so they can more effectively route calls for emergency assistance. The special Enhanced 911 service—also known as E911—that we provide to public safety answering points does two things. First, it automatically delivers the 911 caller's telephone number to the call-taker. Second, it enables the call-taker to obtain information to determine the estimated location of the caller within certain geographic parameters and then to dispatch emergency responders who are within or close to those parameters.
E911 works for all GPS-capable phones, including all wireless phones sold by Verizon Wireless since December 31, 2003.  Verizon Wireless' Enhanced 911 service works only where Public Safety Answering Points (PSAPs) have upgraded to Enhanced-911 capable equipment or systems. Because wireless phones can react to the environment—from weather conditions to surrounding terrain—the enhanced location information we provide to emergency call takers can't guarantee a precise location. In some places, public safety call takers still rely only on the caller's descriptions to locate and dispatch help to people in emergency situations.
Be aware that some third party applications available via your smartphone, and devices other than wireless phones that you may use with our network (such as tablets and laptops), may enable you to use other companies' applications and services to make voice calls.  Verizon Wireless does not provide E911 for these calls and you should always read the terms and conditions of service for these products to learn whether you can reach 911 when using them.
Text to 911
Starting in 2012, Verizon Wireless has enabled texting plans to send "911" SMS messages in a few areas in the U.S. where PSAPs are capable of receiving them.  Messages are limited to 160 characters.  More PSAPs may allow this in the future, but f it may not yet be available in your area.  You should only use this option when calling 911 is not an option.  Always follow the instructions provided by your state or local government.
---
Avoiding potential hearing loss
Below are recommendations concerning steps to avoid potential hearing loss that may result from the unsafe or inappropriate use of electronic devices.
Prolonged exposure to loud sounds is the most common cause of preventable hearing loss. Some scientific research suggests using portable audio devices, like portable music players and wireless phones, at high volume settings for long durations may lead to permanent hearing impairments. These impairments may include noise-induced hearing loss, tinnitus (a ringing in the ear), hypersensitivity to sound and distorted hearing. Individual susceptibility can happen regardless of headphone use.
We encourage you to follow these common-sense recommendations when using any portable audio device:
Set your device's volume in a quiet environment and select the lowest volume at which you can adequately hear.
When using headphones, turn the volume down if you can't hear people speaking near you or if someone sitting next to you can hear what you're listening to.
Don't turn the volume up to block out noisy surroundings. If you choose to listen to your portable device in a noisy environment, use noise-canceling headphones to block out background environmental noise.
Limit your listening time. As the volume increases, less time is required before your hearing could be affected.
Avoid using headphones after exposure to extremely loud noises such as rock concerts that might cause temporary hearing loss.  Temporary hearing loss might cause unsafe volumes to sound normal.
Do not listen at any volume that causes you discomfort, If you experience ringing in your ears, hear muffled speech or experience any temporary hearing difficulty after listening to your portable audio device, discontinue use and consult your doctor.  
Implantable medical devices
Both wireless communication devices and implantable medical devices have tremendous life-enhancing capabilities. However, using a wireless device in close proximity to an implantable medical device—like a pacemaker or an implantable cardioverter defibrillator—can potentially cause interference with the medical device. If you have an implanted medical device, we recommend that you follow these guidelines when using wireless communications devices:
Always keep the phone or wireless device more than 6 inches from your implantable medical device when the wireless device is turned on.
Don't carry your phone in a breast pocket.
When using a wireless phone, use the ear opposite the implantable medical device to minimize the potential for interference.
Turn the wireless device off immediately if you have any reason to suspect that interference is taking place.
Read and follow the directions from the manufacturer of your implantable medical device and reach out to your health care provider if you have additional questions.
---
Internet Protocol version 6
Beginning in mid 2012, Verizon Wireless, together with major Internet Service Providers, home networking equipment manufacturers and web providers permanently enabled Internet Protocol version 6 (IPv6) for our products and services. IPv6, which is a version of the Internet Protocol that directs traffic around the Internet, was created primarily to solve the problem of the depleting supply of IP addresses on the Internet. We expect the transition to IPv6 to be seamless for our customers. Access to web pages using a mobile device will not be impacted.
---
Radio frequency emissions
We pay close attention to issues related to radio frequency (RF) emissions and aim to keep our customers informed. As explained on our website and in the brochure provided with each new wireless phone, your wireless phone contains a radio transmitter and receiver, and emits RF energy during use. RF energy has been studied by scientists worldwide for many years, and research continues.
Wireless phones sold in the United States are subject to federal safety requirements and must be tested and certified for compliance with Federal Communications Commission (FCC) regulations.  If you're concerned about the effects of RF emissions, the link below provides answers to commonly asked questions about the health effects of wireless phones, tips for reducing your RF exposure and research highlights from other informative resources.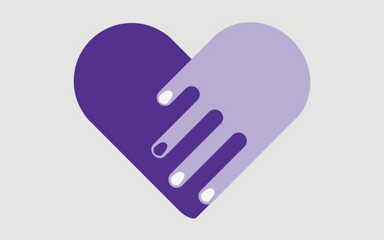 Through HopeLine, we connect survivors of domestic violence to vital resources.