Angie Adams: Intern to Verizon employee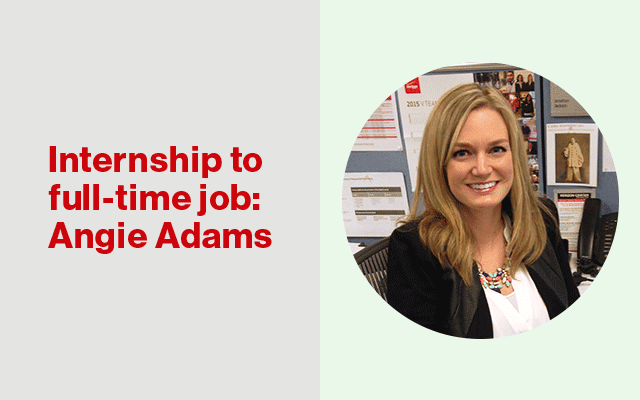 Angie Adams' 2012 internship positioned her for a fulfilling role with Verizon – and her experience is not unusual. Many Verizon interns get jobs with the company and, in some cases, work their way up to senior executive positions.
Angie considered her 10-week summer internship in 2012 a learning opportunity for both herself and the company. "For me, the internship was an extended interview," Angie says. "I was feeling out the company to see if I wanted to start my career with them, and the company was also seeing if they liked me and wanted to make me an offer for full time."
Diving right in to product marketing
Angie was a marketing intern for Enterprise Business Solutions, and while she didn't have much experience helping large business customers with their mobile technology needs, she had a lot of support. "I was a little scared, but the people that were on my team were very helpful," she says. "People were very willing to sit down and help me understand."
During her internship, Angie worked both independently and in collaboration with interns from other departments. For her independent project, she evaluated current and potential relationships with Verizon software partners. One of her team projects studied why millennials preferred a texting app to international messaging and they concluded that the app simply was easier to use. Another team project focused on the marketing for a particular product.
Angie's experiences went far beyond her assignments. "I was surprised at the level of exposure we had to senior leadership," she says. Angie participated in several one-hour chats with senior executives and went to an informative dinner with Tami Erwin, senior vice president and group president, Consumer & Mass Business Sales & Service.
After her internship, Angie graduated from the University of Texas at Austin with a master's degree in marketing and advertising. She joined the Verizon Leadership Development Program and ultimately accepted a marketing position in the leadership development program. She helped shape promotions for the iPhone, researched consumer attitudes and developed strategic briefs for Verizon's advertising agencies.
Tips for prospective interns
Thinking back on her own experience, Angie encourages interns to look beyond their roles and connect with people in the rest of the company so that, in their final interviews, interns can talk about what they did and what they learned about the larger organization. This also helps interns learn about other jobs at Verizon.
As far as her own future, Angie is interested in product development and may look into that later, but for now enjoys what she's doing. "I'm interested to see where the job nets out, and because my current team, the integrated marketing team didn't exist a year ago, it's cool to be part of a new team."