Apache Skateboards kickflips skateboarding into a fine art
One of the first Native American skateboarding teams hosts a virtual skateboarding competition.
Full Transparency
Our editorial transparency tool uses blockchain technology to permanently log all changes made to official releases after publication. However, this post is not an official release and therefore not tracked. Visit our learn more for more information.
More of our content is being permanently logged via blockchain technology starting [10.23.2020].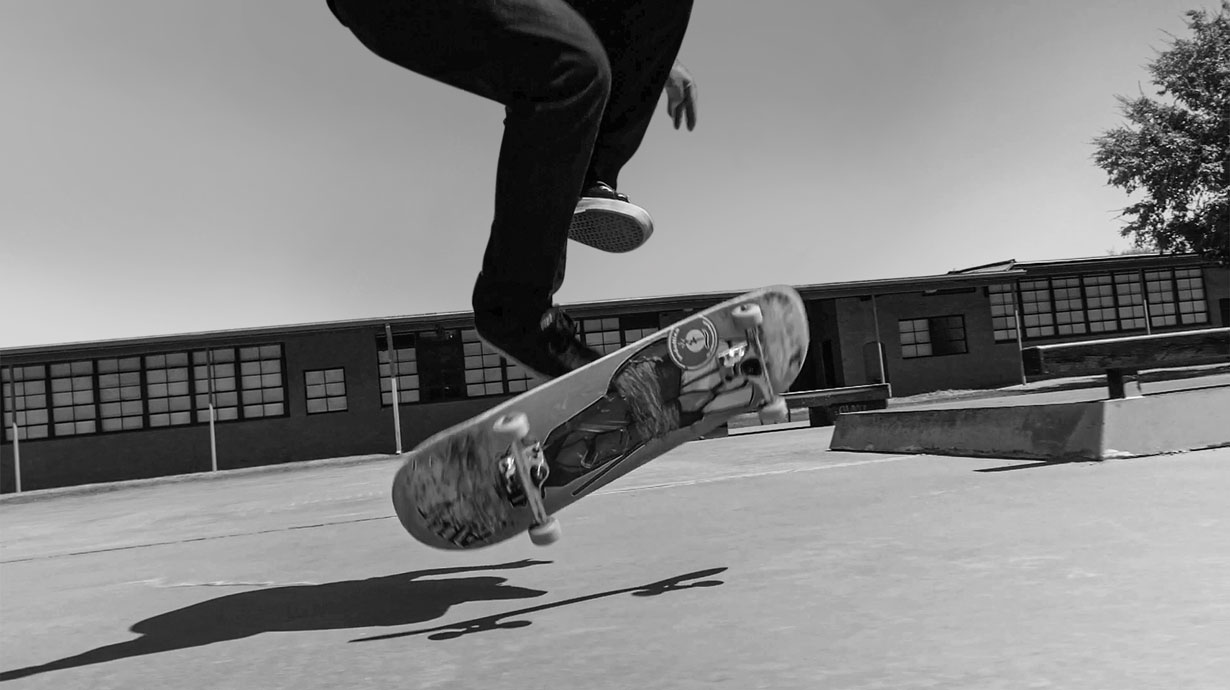 It's summer on "Hell's Forty Acres," and quarantine restrictions are in full effect. But the kids are doing kickflips.
"That's the genius of the kickflip," says Douglas Miles, Apache artist, activist and entrepreneur and founder of Apache Skateboards. "You can do it anywhere."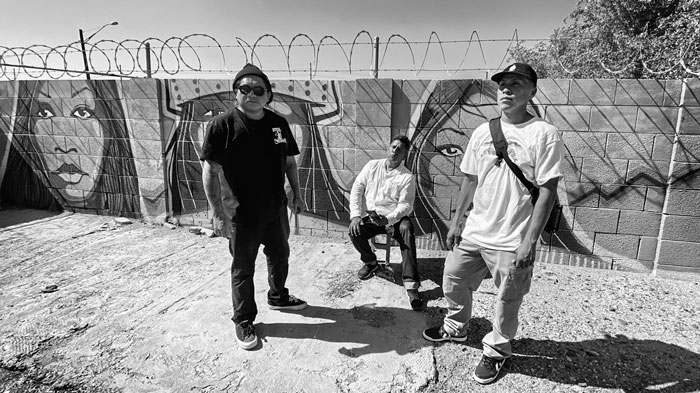 Photo by Douglas Miles Sr.
Douglas, his son Doug Jr. and Tracy Polk started a virtual skateboarding competition on the San Carlos Apache Indian Reservation in Arizona. To enter, skaters submitted a 15-second video of a kickflip to Instagram with the hashtags: #ApacheSkateComp, #ApacheVirtualKickflip and #ApacheSkateboards.
"They're coming from very isolated places," Douglas says about the social media entries.
"We're not allowed to engage … connect," he says, referring to COVID-19 lockdown in his rural community. "That's why mobile technology becomes a lifesaver."
Kickflip across the digital divide
"It sucks out here," says Zen Steele about the increased quarantine restrictions on the reservation. The local skate parks and the roads they'd usually take to skate in nearby Phoenix or Mesa are closed. "They're taking precaution to another level."
Zen grew up around the Apache skateboard community in the early 2000s.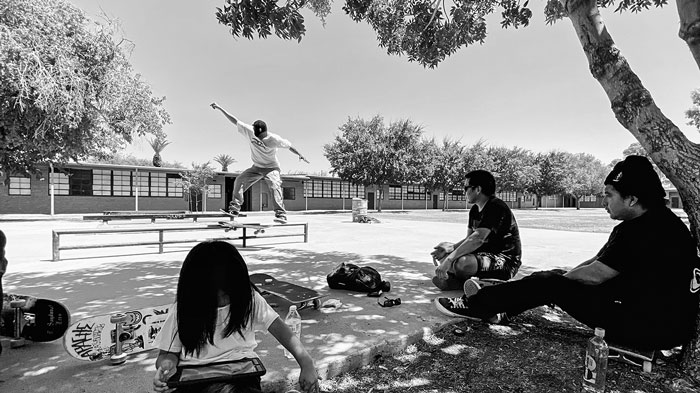 Photo by Douglas Miles Sr.
"Barricades on the highway. You get your temperature checked," says Zen, taking a break outside and talking via the Instagram chat app. So the kickflip contest gives people "something to look forward to."
In recent years, studies have shown that Native American communities in rural areas like San Carlos are among the "least connected" communities in the United States. The digital divide—the gulf between those with access to broadband internet connections and those without—was clarified in 2018 when the U.S. census found that only 53 percent of people in rural, Native communities have access to the internet, compared with 82 percent nationally with a computer and internet service.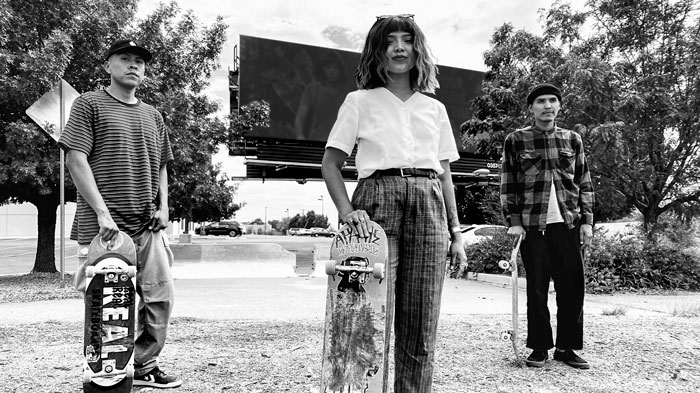 Photo by Douglas Miles Sr.
Factor in the increasing restrictions that Native American reservations have imposed since the pandemic started, and mobile technology provides a way across the digital divide in places like San Carlos. For the skateboarders who rely on the Apache Skateboard community, a hashtag and virtual competition is a vital connection to the larger digital creative movement that's inspired a generation of artists, filmmakers and entrepreneurs across the world.
"Skateboarding saved some of us," says Zen. "Kept us in a straight line. Some skated, some went into gang life. There's not much of an outlet out here."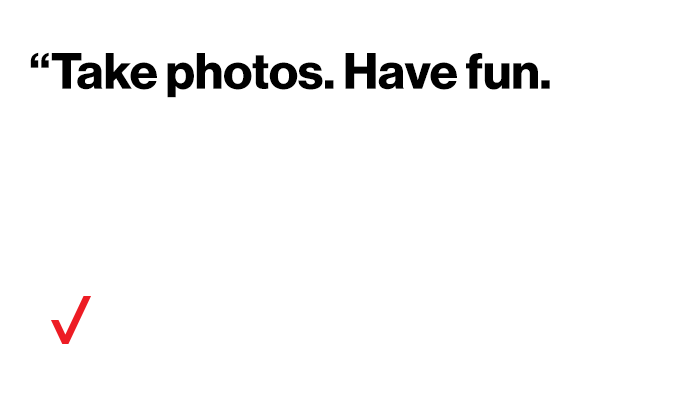 Skate or Wi-Fi
Apache Skateboards started in the early 2000s when Douglas' son, Doug Jr., first saw some older kids skating at the local post office. It was the only place flat enough that kids could go and skate. Suddenly, it seemed like everyone was skating everywhere, Doug Jr. says.
"We'd just skate until it got dark," Doug Jr. says.
They'd meet up at local parks and tribal buildings, shoot videos and scramble to find a place with a free Wi-Fi connection. Then they would upload the videos to YouTube or MySpace.
"It was a challenge to be able to upload that content," says Douglas. "There was still a lot of work involved."
Watching his sons and friends hustle to make and share their art made an impression on Douglas, who was at the time—and still is—selling his Native-inspired prints and doing extensive mural installations around the world. Douglas combines Apache themes with a hip-hop, street graffiti aesthetic.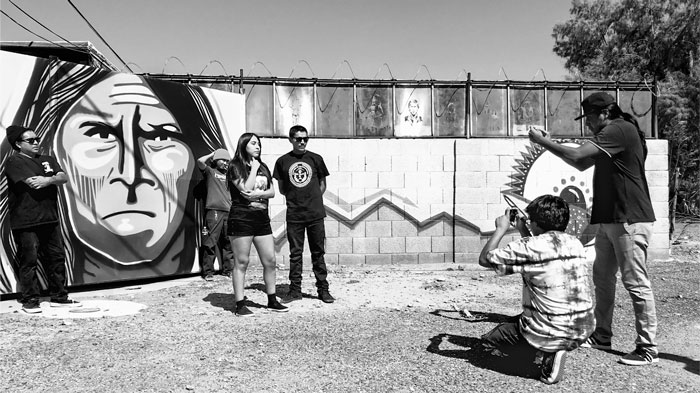 Photo by Douglas Miles Sr.
"I realized right away that Doug and the skaters, they were artists," Douglas says. "I was selling fine art and paintings for hundreds of dollars. But when I brought my own artwork to my community, they couldn't afford it. I always felt bad."
So he started painting skateboard decks and started Apache Skateboards.
"The art becomes useful. They're actually using it," Douglas says. "They're not just hanging it on the wall, they're interacting with it."
"I got to skate where Einstein ate his lunch."
Rebranding his fine arts career into a skateboard team, Douglas called on kids like Doug Jr. and Reuben Ringlero to join up. At the time, Reuben and a friend, Irwin Lewis, were making skating and breakdancing videos with his dad's VHS recorder, and eventually, a camcorder.
"I'd prop it on a crate," Ringlero says about the video camera. "I didn't know that's what I wanted to do yet."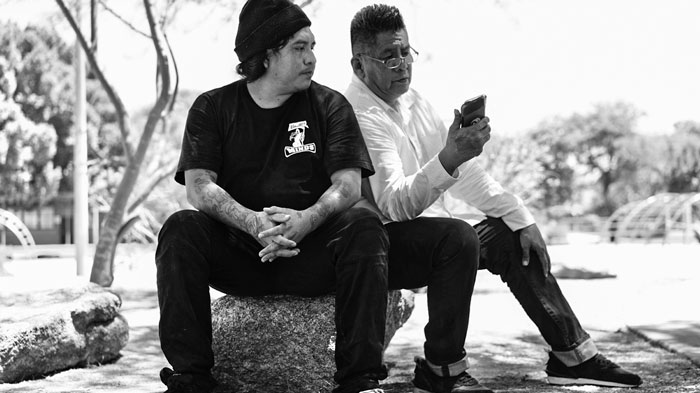 Photo by Douglas Miles Sr.
Whenever Douglas was invited to show his prints, photos or street art at prestigious museums and universities around the world—including Princeton University—he brought the skateboarding team with him to do demonstrations. When questioned about why he needed to bring a skateboard team, Douglas always insisted that the skaters were artists, photographers and filmmakers.
"I got to skate where Einstein ate his lunch," Ringlero says about doing a Native skateboarding demonstration in the Princeton cafeteria.
"Doug wanted to show them that we're Natives, but we're not living up to the stereotype of drinking," Ringlero says. "A lot of my friends are either in jail or they're dead. We were doing creative things. We were skateboarders, photographers."
From skate team to creative movement
Sometime around 2008, when Reuben got a smartphone with a camera "everything changed," Rueben says. The visual crew could instantly share videos and photos to Instagram.
"That's when things started changing," Reuben says. "You put the camera aside and you start using the phone."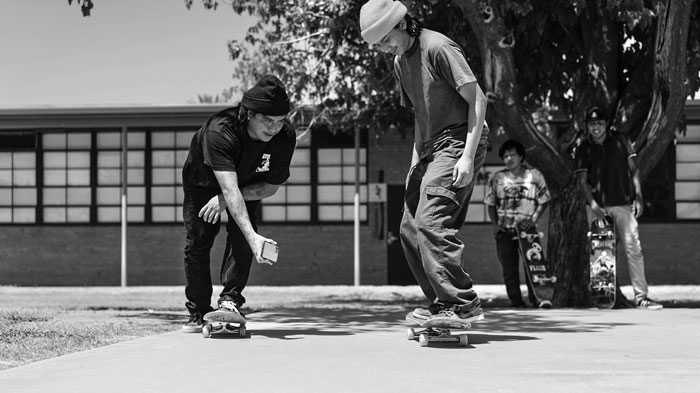 Photo by Douglas Miles Sr.
As the team shared and expanded their digital reach, their creative movement inspired clothing and shoe collaborations with prominent athletes and celebrities, as well as several films, including the "Mystery of Now"—recently featured in National Geographic's short film showcase.
Many skaters in the first generation of the Apache Skateboard community went on to start their own skate companies, pursue film careers or start their own business.
Ringlero went to school for filmmaking and now teaches filmmaking at the Gila River Indian Community. Irwin Lewis is now a photographer based in San Francisco. Douglas and Doug Jr. have made several films together, such as "Apache Leap." Others have started their own skateboard brands: Tracy Polk started Oddity Skate Apparel, and Doug Jr. started Indellica.
"There are a lot of creative Natives," Ringlero says. "Mobile tech allows them to be creative even if they don't have a camera. You just need a phone."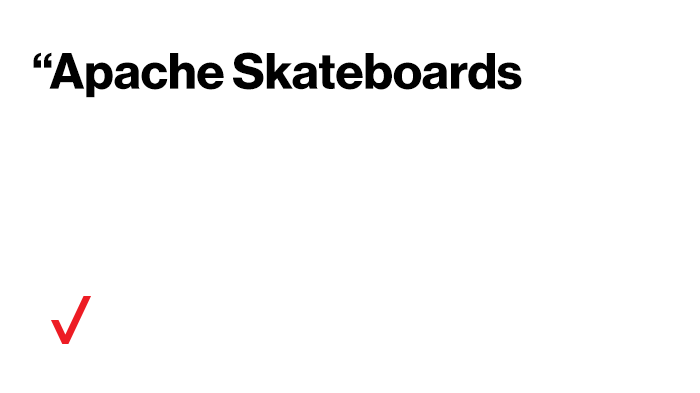 Making art in the pandemic.
Today, making short social, mobile films and art is as much a part of the skate community here as flipping decks. Since the pandemic, Apache Skateboards has made several smartphone films, sponsored a contest and pushed the community to make more art.
Doug Jr. put out a message on social media with a photo of him riding the rail of a chainlink fence.
Keep filming your skating.
Post it.
Make videos with you and your friends.
Use music you like.
If people hate it's cool (it's going to happen).
Explore new spots with your friends.
Take photos.
Have fun.
Have each other's back.
Go skate.
Focus on getting better each day at all these things.
- Doug Jr.
"We didn't and couldn't let the pandemic stop us because we love each other (and what we do) too much to quit," Douglas says about making smartphone films and art.
The winner
In early July, Polk, who is one of the original members of the Apache Skateboard team, messaged Douglas and Doug Jr. about doing a virtual skateboarding competition.
"He said he wanted to have some type of contest over the internet," Doug Jr. says. "And just to keep it fun."
Who won? Fitzgerald Lee. He lives in Mesa, Arizona, and is a member of the Navajo tribe. Years ago, his dad showed him a newspaper article in the Navajo Times about the Apache Skateboard team.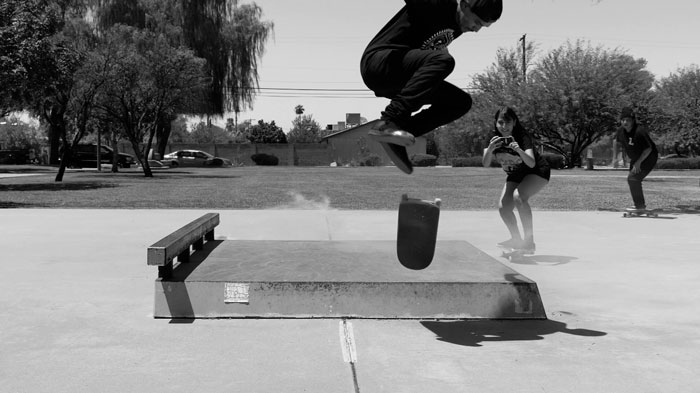 Photo by Douglas Miles Sr.
"Their influence and philosophy to push skateboarding is amazing," Fitzgerald says. His girlfriend saw the contest was happening on Instagram and encouraged him to enter.
Twenty-four people submitted entries, and 800 people voted for the winner.
"The reality of it is, these kids, through the very act of skateboarding, are really just saving themselves," Douglas says. "All I did is give them the tools and the creative platform to have fun."
In the next 20 years, he wants to see more of what's happening now for Apache Skateboards.
"We want to work with more brands, create more film and video projects that create a truer narrative around Native communities," Douglas says. "But we want to do more. More technology. More jobs. We want to lessen the digital divide."
Verizon pledges to provide 10 million youths with digital skills training and 1 million small businesses with resources to help them thrive in the digital economy by 2030. Learn more about our new responsible business plan to drive economic, environmental and social advancement with Citizen Verizon.
Know someone who's creating positive impact using technology and connectivity? Send us a message at story.inquiry@verizon.com. They could be next in our story series.