Digital nomads: The new school of worldschooling
Gahmya Drummond-Bey travels the world and teaches her global curriculum anywhere there's a Wi-Fi connection.
Full Transparency
Our editorial transparency tool uses blockchain technology to permanently log all changes made to official releases after publication. However, this post is not an official release and therefore not tracked. Visit our learn more for more information.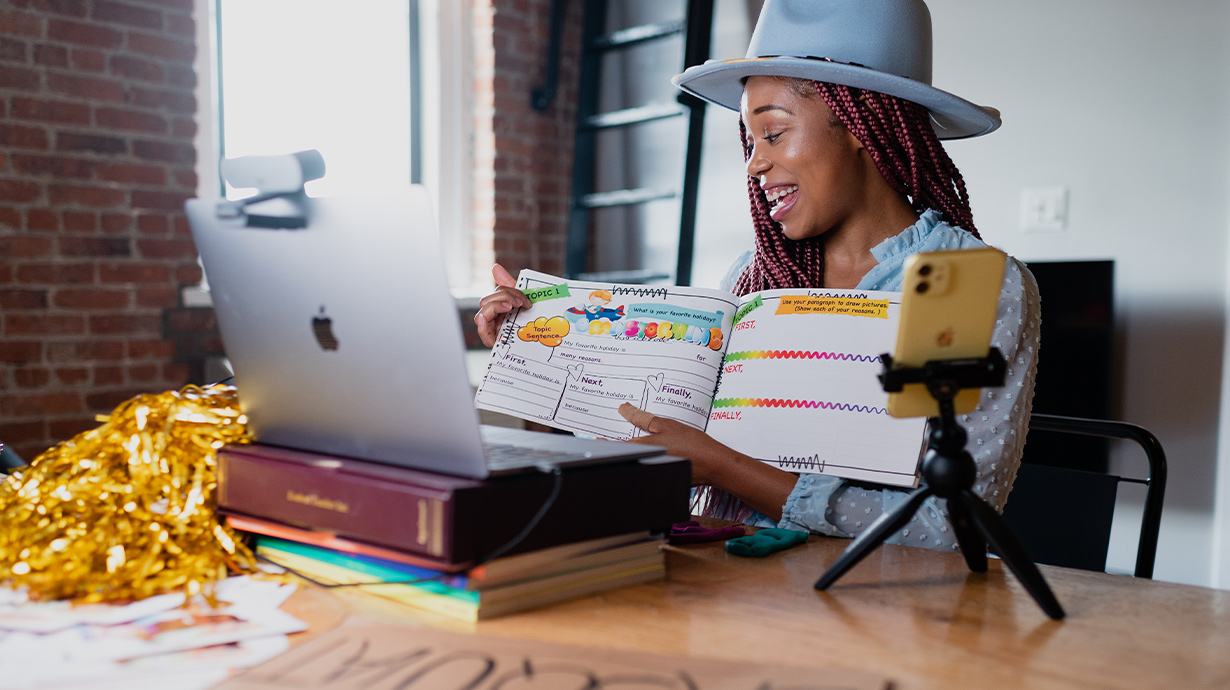 Gahmya Drummond-Bey sits at her laptop in her Brooklyn apartment while the sun shines on her face. She's already mastered one of the first things every digital nomad needs when conducting a video interview: great lighting.
With this nimble setup, Drummond-Bey has redesigned school curricula for children in more than 30 countries, taught virtual school through three pandemics (including COVID-19) and started her own online school for digital learning: Kid Youniversity. She's also part of a growing number of digital nomads trading the traditional office to look for greater purpose and meaning in their work—anywhere there's a good Wi-Fi connection.
"Once you begin to travel with purpose—not to vacation, but really travel to connect—and evolve, you see things through different eyes," Drummond-Bey says.
More recently, she's been settling into Brooklyn after spending a few months on the road creating multimedia content for her Real-Life Black History series. While the locations can change every day, she always brings a laptop, headphones with a microphone, one ring light, one checked bag and one carry-on.
"As a digital nomad, you have to know your tech and you have to know your backup tech," Drummond-Bey says. "I need to make sure wherever I am staying has great Wi-Fi, but also backup Wi-Fi."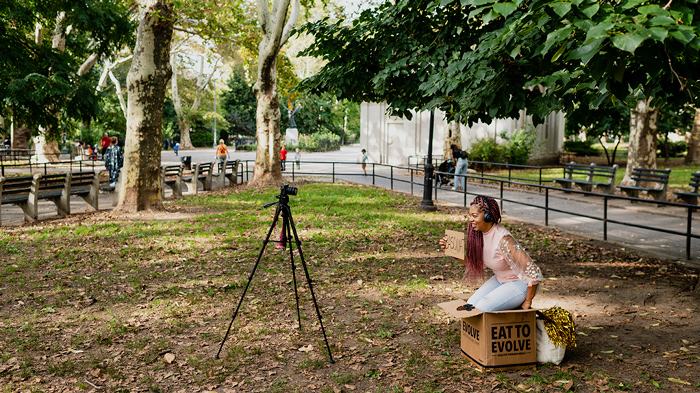 Photo credit: Brian David
From the Peace Corps to digital nomad
Her nomadic journey started in 2006 when Drummond-Bey joined the Peace Corps as a community health coordinator in Turkmenistan. She was working in a health clinic, but due to widespread distrust of doctors at that time, no one came in for a visit. Word got around to the nearby villages, though, that there was an American there, and soon her clinic was filled with dozens of children asking her to teach them English. Learning English in a small village like theirs meant more opportunities to learn and travel, she says.
"These kids that have no opportunities for learning, much less digital learning—people who live in the village tend to have fewer opportunities, and it's illegal for them to travel to the city to get those opportunities."
Drummond-Bey was hesitant at first because teaching wasn't something she imagined for herself. But when she learned how far some kids were willing to go to learn from her—sometimes 3 miles in a desert climate—she decided that she would teach them English and how they could make an impact in their community.
"I was like, 'I guess I'm going to have to get a stick and draw,'" she says. "We had no materials. I would make a poster and get the Scotch tape to laminate it by hand so that it would last."
This experience in Turkmenistan made her realize that teaching was what she wanted to do. She started searching for countries that were most known for their achievement in education. That search led her to South Korea.
"It was in a speech where Barack Obama said that we were [following] South Korea's education model because they were the best." But, she wondered, how do we know they're the best?
Photo credit: Brian David
Teaching through two pandemics in South Korea
She set out to find an answer to this question—but not without challenges.
"[South Korea] ended up being my favorite place to live but was also my most difficult entry," Drummond-Bey says. "They didn't want to hire me, because I was Black. Schools had in their contracts for recruiters that they didn't want any Black teachers."
She finally landed a gig at a school with a rigorous working schedule, a minimum 55 hours a week. In the time she taught there, Korea would experience two pandemics: the H1N1 virus during her first year teaching in 2009 and MERS in 2015. Yet the time she spent there would elevate her career. She gained the support of parents and school administrators, and she designed her own curriculum. She had a specific way of teaching that made parents and schools want her to teach their kids.
"I had one parent say, 'My kid is going to be learning from you after you leave,'" she says.
This digital learning curriculum is now offered on her website, Kid Youniversity. The curriculum focuses on history, social studies and English language arts for students ages 5 – 12. It focuses on the social and emotional needs of children as well. She has lessons on self-love, affirmations, social justice and how kids can impact society now. 
Seeing the success of her curriculum made her want to travel to other places to see if it would have the same impact.
"I decided to become more nomadic and see why different countries were more known for education. Why did so many people quote Sweden and Finland? I wanted to know why Thailand was considered the best. Was it because other countries took education more seriously? Could my digital learning curriculum be impactful in all of these places?"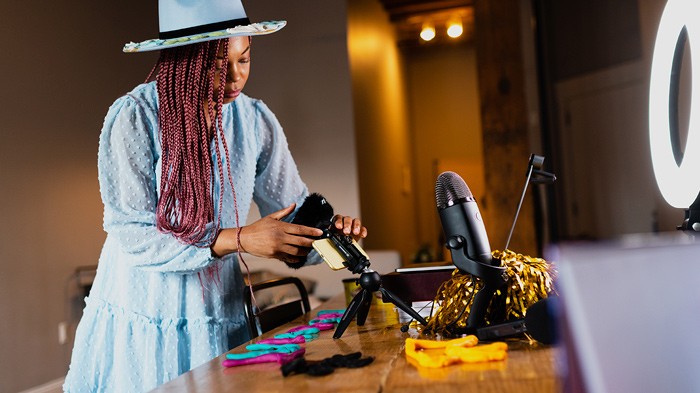 Photo credit: Brian David
Advice for digital nomads: Know yourself, know your tech.
"Leap! You're more ready than you think you are—you just have to know how you will support yourself (financially)."
Aside from leaping, Drummond-Bey makes it clear that you need to know your tech. 
"You're always thinking about minimizing and not having too much stuff. Your tech is part of that because tech can be heavy. That means only having things that are compact and play dual roles. Like headphones with a mic. The lightweight tech that can serve more than one purpose is the way to go!"
For global digital nomads, she says, "I would recommend, number one, a SIM card with a prepaid plan. That is gold!" She has an unlocked phone and buys a prepaid SIM card whenever she lands in a new country. This lets her make calls in any country she travels to, hassle-free.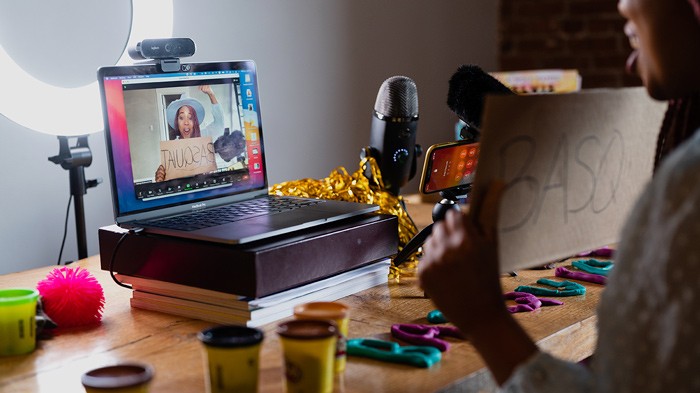 Photo credit: Brian David
Tech teacher
Drummond-Bey is not only a global figure about how education and travel can merge, she's also an advocate for technology being a more significant part of global education. Tech literacy is part of the digital learning curriculum at Kid Youniversity.
The Kid Youniversity platform even helps educators and teachers to navigate digital teaching. Drummond-Bey hopes that as she continues her journey as an educator and digital nomad, schools will evolve and train their teachers to be digital educators as well, even when they are not in the middle of a pandemic.
"What I was hoping would happen (in the pandemic) is that schools would see how tech is an asset to their curriculum and keep it. Unfortunately, what I've seen is that things seem to be shifting back. I am not seeing that people are trying to add more tech and build more skills in tech."
The retreat back from tech seems to be the result of a lack of digital curriculums, Drummond-Bey says. But free online resources like Verizon HQ can help educators skill up in a variety of ways by offering micro-credentials in developing new tools for remote learning, leadership, and understanding the different ways children learn.
What's Next?
Drummond-Bey will continue her Real-Life Black History series in the States until November; you can now view some of her Black history and social justice content on her social media and the Kid Youniversity site. After that, she'll be going overseas again to continue to teach her global digital learning curriculum. She is also making a writer retreat for aspiring authors.
As much as her goals involve empowering others and helping them reach their goals, she also has big dreams for herself.
"I'm going to win the MacArthur genius award one day," she recently posted to Facebook. "I'm going to win an Emmy. I'm going to make education better!!"
Likely with a laptop, ring light, one checked bag, one carry-on bag, Wi-Fi and backup Wi-Fi nearby.
Upgrade your gear and back-up Wi-Fi with the Ultimate Guide for Digital Nomads.