Disney Beach Clean-up Project Leads to "Teen Beach Movie" Screening
Disney Beach Clean-up Project Leads to "Teen Beach Movie" Screening
The Disney Channel's "Teen Beach Movie" had its premiere last Friday evening, much to the delight of teens and pre-teens, not to mention their much-relieved parents.
But a group of employee volunteers from Verizon and Disney – and over 250 of Verizon FiOS TV subscribers – got to view a pre-screening of the summertime hit before the rest of us.  But before they sat in a cool movie theater to enjoy the show, the volunteers participated in a beach clean-up project in Far Rockaway, Queens.  Last Sunday (July 14), a few dozen volunteers from the two companies got together to help in a general beach clean-up, by planting flowers, trees and shrubs, and painting or refurbishing benches.  New York State Assemblyman Phil Goldfeder attended and greeted the volunteers.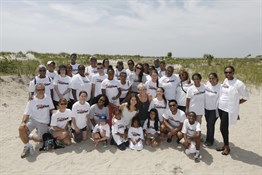 It was all part of Verizon's continuing efforts to assist areas hard hit by superstorm Sandy.
After the clean-up project, the volunteers boarded a bus and headed off to The Regal Theater in Lynbrook, Long Island, for a pre-screening of Disney's "Teen Beach Movie," which premiered on Disney Channel (Channels 250/780 on the Verizon FiOS TV channel lineup) Friday night at 8 p.m.  There they were joined by Verizon customers who had picked up freebie tickets to the pre-screening at FiOS stores in Hempstead, Flushing, Elmhurst and Manhattan.
To make the day even more special, "Teen Beach Movie" stars Ross Lynch (Disney Channel's "Austin & Ally" and Hollywood Records' R5) and Maia Mitchell (ABC Family's "The Fosters"), helped out during the Far Rockaway clean-up and met with the volunteers and FiOS TV customers at the movie theater.
Last week, Verizon and Disney announced the WATCH Disney app for customers.FiOS customers can watch the full Teen Beach Movie early starting right now, on demand, whenever they want, on the device of your choice with FiOS via the WATCH Disney channel online before it premieres on July 19 at 8 pm EST.  So even if you don't make it to a real beach this summer, you can watch Disney's family movie event of the summer.
To watch at home or on the go, FiOS consumers can simply download the apps free in the app store, then sign in with their MyVerizon account username and password.  To watch on a laptop or computer, folks can go to www.verizon.com/tvonline to watch content from one website.  Still another way to watch is to visit WATCHABC.com, and by clicking the WATCHDisneyChannel, WATCHDisneyXD or WATCHDisneyJunior