Disney's Magic Heats Up Summer Streaming on FiOS!
Disney's Magic Heats Up Summer Streaming on FiOS!
Looking around airports and on planes the past few weeks, I'd suggest that streaming live, watching cloud-stored recorded video or relying on TV Everywhere apps has become a bare necessity these days for most parents traveling with young children.
And as more and more families enjoy vacation time this summer, it's quite apparent that a rally cry of vacationers everywhere will be, "Have digital device, will travel!"
So just in time for the surge in travel, several Walt Disney apps, including WATCH Disney, WATCH Disney Junior and WATCH Disney XD, are now available at no extra cost to FiOS subscribers.
Starting today, the WATCH Disney apps allow kids (and youthful adults) to enjoy full episodes of various Disney shows live or On Demand on their on lap-tops, Apple or Android tablets or smart phones.  FiOS customers now have access to 53 "TV Everywhere" channels with the WATCH ABC and Disney additions.
Better still, our customers can watch the full Teen Beach Movie early starting right now, on demand, whenever they want, on the device of your choice with FiOS via the WATCH Disney channel online before it premieres on July 19 at 8 pm EST.  So even if you don't make it to a real beach this summer, you can watch Disney's family movie event of the summer.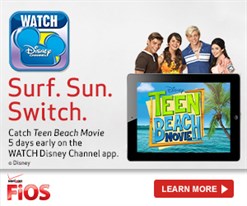 To watch at home or on the go, FiOS consumers can simply download the apps free in the app store, then sign in with their MyVerizon account username and password.  To watch on a laptop or computer, folks can go to www.verizon.com/tvonline to watch content from one website.  Still another way to watch is to visit WATCHABC.com, and by clicking the WATCHDisneyChannel, WATCHDisneyXD or WATCHDisneyJunior Icon below:

I grew up on the Mickey Mouse Show, and as a father of tween girls, I've watched just about every episodic show on Disney since they were old enough to care about TV.  These days, Austin&Ally, Shake It Up, Jessie, Dog with a Blog and Good Luck Charlie are the house favorites.  My wife and I have hosted several Disney Original movie watching parties, and I can keep up with the neighbor kids who speak about Disney in code and with passion.
M. I. C.  K. E. Y.  M. O. U. S. E.  See ya real soon!