Don't only heal the moment. Heal the matter.
As a company committed to diversity and inclusion, we're taking the steps needed to heal and drive positive change.
Full Transparency
More of our content is being permanently logged via blockchain technology starting [10.23.2020].
The events that have unfolded over the past few weeks have sparked a flurry of emotions across the country. Here's how we pledge to lean in and take the steps toward healing and driving positive change.
CEO of Verizon calls for change and action. 
On June 1,  Verizon Chairman and Chief Executive Officer Hans Vestberg spoke out about the current state of race relations and injustice in the U.S. He opened the meeting with candid expressions of sorrow and disbelief, as well as a much-needed call for change and action.
In response, the Verizon Foundation has committed $10 million to aid organizations dedicated to equality and social justice, including:
Be BOLD.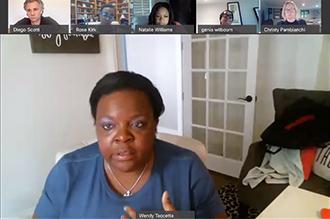 Wendy Taccetta, SVP of Global Commercial Operations for the Verizon Business Group, speaks with BOLD ERG members.
In addition, our BOLD (Black Originators, Leaders and Doers), employee response group (ERG) hosted a safe and thought-provoking discussion via video chat. 
During this discussion, leaders across the business and ERG members shared everything from their personal fears to their own life experiences with racial injustice. We heard from senior business leaders Rose Kirk, Wendy Taccetta, Eric Cevis, Genia Wilbourn and other members of BOLD in a raw and honest dialogue.
Supportive allies were also present, including Verizon's Chief HR Officer Christy Pambianchi, Chief Diversity Officer Magda Yrizarry and Chief Marketing Officer Diego Scotti, sharing their own insights and actions for change.
We cannot commit to a brand purpose of moving the world forward unless we are committed to helping ensure we move it forward for everyone. We stand united as one Verizon.
Hans Vestberg, Verizon Chairman and Chief Executive Officer
Make a difference. 
There's no one-size-fits-all solution when it comes to driving positive change, but what's important is that everyone shows up in their own way and is part of the solution.
If you're struggling with tackling these topics, we encourage you to check out these resources for how to start a conversation on race, as well as how to be an accomplice for change, in which Willie Jackson, a diversity and inclusion expert, hosted a session on how to have difficult conversations during this time.