Banking on the future of 5G and finance
As the 5G coverage expands, the financial services industry can harness its potential. That also has day-to-day implications for how we think about—and manage—money.
Full Transparency
Our editorial transparency tool uses blockchain technology to permanently log all changes made to official releases after publication. However, this post is not an official release and therefore not tracked. Visit our learn more for more information.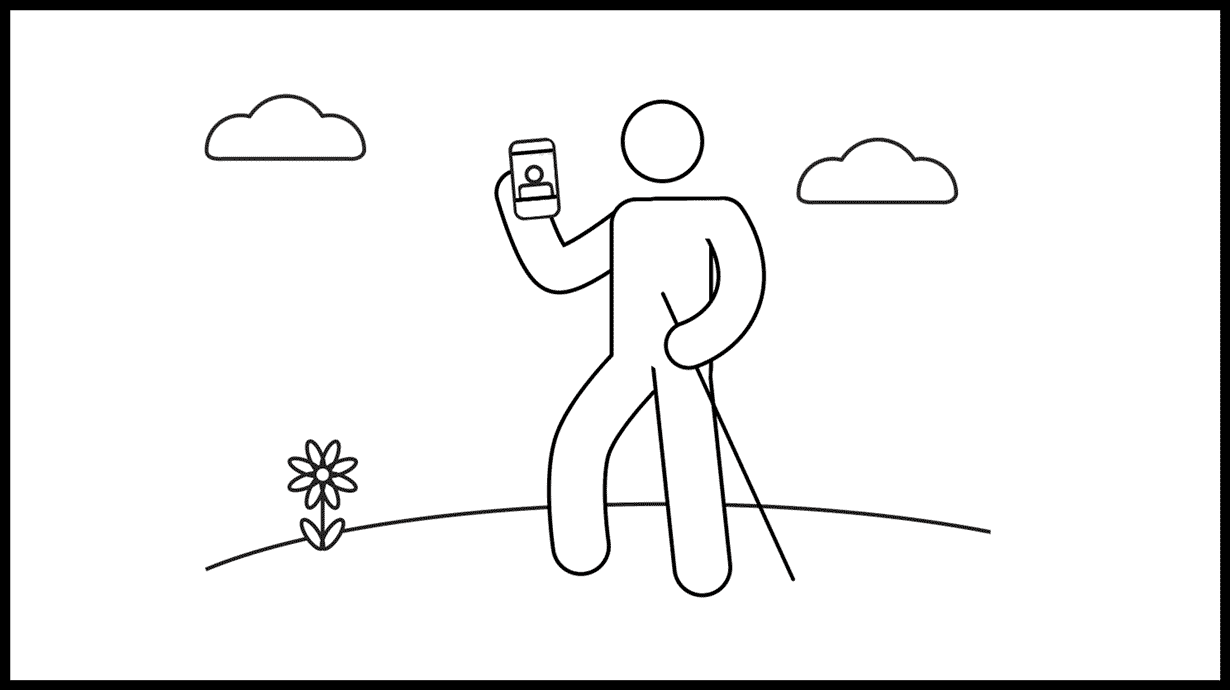 Banking and other financial services are a critical backbone of how we all live our lives. The way that we save, transfer and understand our money is crucial to running our day-to-day errands, how we prepare for secure futures and retirement, and how we run our businesses.
As life-changing technological advances of 5G networks emerge, the financial industry should experience leaps forward in capabilities that could transform how we interact with traditional banks and investments, as well as transactions and commerce.
Here's why things should change, and a preview of the technologies we'll all see in the next few years. Plus, I spoke to Christian Guirnalda, Director of Verizon 5G Labs and Innovation Centers to find out what is already being implemented and what he sees in the future of finance.
Rethinking the street corner bank: from transactional to conversational
5G isn't just about the ultra-fast smartphone in your pocket. "It's also about physical locations that can take advantage of network capabilities, like mobile edge cloud computing," says Guirnalda. 5G and Verizon 5G Edge, a cloud computing platform that brings compute and storage services to the edge of the mobile network, create a fine-tuned ecosystem, providing enterprises the low lag and high bandwidth needed for applications involving computer vision, augmented and virtual reality, and machine learning. This can enable traditional banks to become highly interactive and more conversational in near real-time. 
Imagine going to a bank and having the 5G experience. "Almost all devices and tablets will be connected to one another," Guirnalda explains. "Video intelligence will evolve for our safety and security." It will also personalize our interactions.
A consumer, for example, could opt-into allowing a financial institution to use biometric data or facial features to confirm their identity. Walking up to a bank teller, then, 5G connected devices at the counter could verify a customer's identity. The teller behind the counter could then be seamlessly provided with the customer's financial history and account information and provide a personalized greeting. Real-time processing due to ultra-low latency levels could also give that teller information that helps them recommend products or services that could be right for that customer
And then there are ATMs and mobile apps. "When you think about it, these banking extensions essentially have been the same for a long time," Guirnalda says. "We explore how they can become a digital human." That means going beyond dispensing money, checking balances and devouring checks and becoming, well, almost human.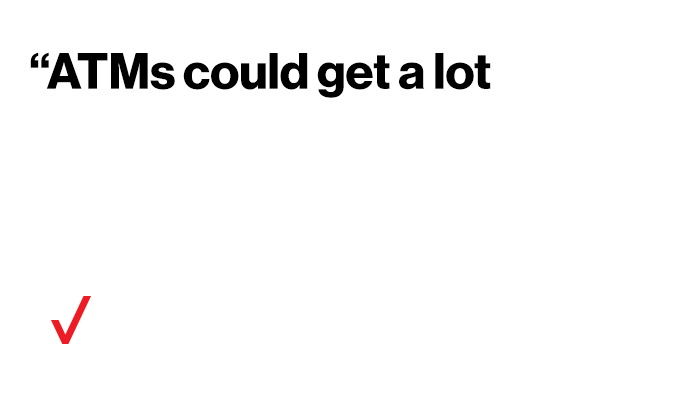 ATMs could get a lot smarter and morph their screen based on the customer who is using it. So, a 60-year-old could be served one experience while a 20-something could have a completely different screen. The ATM functions could also become much more personalized—beyond just asking if you want to check your balance or get cash.
Mobile apps could follow that same route in the future of finance . For example, say you have a fraud question, or you need to ask about your interest rates, or you need to authorize a big purchase on your line of credit. 5G's ultra-low latency could allow you to also have personalized interactions with remote tellers or chat bots via video sessions over platforms like BlueJeans. "That way, banks can have good conversations with customers wherever they are," Guirnalda says, whether that's standing on the street corner where their bank used to be or sitting on the beach halfway across the world.
Although banks currently have versions of digital assistants, 5G's higher computing power will allow for more conversational interfaces. In short, you should be able to ask deeper questions and get deeper answers. And then there's the potential for these chat bots to resemble and emote like IRL humans. 
One real-world example of this is Soul Machines. The company has created digital humans that are so real you can see your reflection in the avatar's iris. The platform—built on Human OS—allows digital humans to react in real time, contextualizing conversations and allowing them to respond in an authentic, emotional way. This means empathy and conversation should replace traditionally more transactional chatbot interactions.
Newer systems should also be more accessible. 5G speeds could allow for simultaneous language translation, which means you could have the same in-person experience whether you prefer to speak in English or Korean. The interactions could also instantly be adapted to suit people who have vision, hearing or speech disabilities.
Rethinking the corner store: a seamless wallet that saves you time
Certain experiences, like shopping transactions, don't require the level of empathy of finding out why your credit score dipped. If anything, they need to be virtually invisible. And consumers agree.
Today, 66 percent of shoppers say contactless checkout is a top priority while shopping safely while in-store. Four out of five consumers say they'll continue to use contactless payments in the future.
Recently, guests at the Indy 500 experienced an autonomous convenience store from AiFi, powered by Verizon 5G Ultra Wideband. Visitors were able to scan an app, enter, and purchase an assortment of snacks, beverages, and Indy 500 merchandise using AiFi's portable computer vision enabled NanoStore — without having to worry about waiting in line to check out. "I walked in, picked up a race car for my kid, walked out and then got a receipt," Guirnalda recalls. "Simple as that."
The economics of this, he says, tie into financial management and banking. For example, to set up a grocery store all you would need is a 5G connection with minimal need for staff and physical sales machines. And you probably don't need to buy an expensive cash register for your small business. 5G could process the transaction in real time, which can ultimately democratize a lot of this technology for smaller businesses and consumers. This could have real-world benefits like reducing food deserts since setting up fresh markets could be much cheaper and require fewer employees.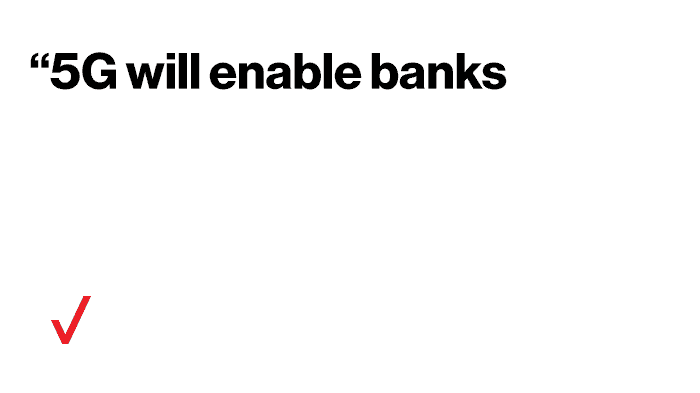 Similarly, bank branches won't be as dependent on location. With 5G technology, a bank branch could "pop up" anywhere connectivity is available. In this way, 5G could enable banks to travel and meet the needs of customers anywhere connectivity is available, democratizing who can have access to financial products and where.
Similarly, Verizon has partnered with Mastercard to explore ways that the Mastercard suite of products, including contactless payment and touchless shopping experiences, can use 5G technology to meet customer needs on a global scale in preparation of the future of finance.
Not only that, but you could choose to share the data you generate using your 5G devices—your shopping habits, your travel profile—to help banks to further personalize all the services they can offer for you. For example, Mastercard could provide contextual offers, like a coupon for a free dessert, the next time you visit your favorite restaurant.
Advice for the future of finance: investing and managing wealth
Financial education and literacy are the keys to success. But how do these conversations happen today? "Younger generations are coming with digital tools native to them," Guirnalda says. "Just look at TikTok—that's an immersive platform being used for financial content distribution, not just cat videos." It's becoming more common to find creators asking how they can improve the well-being of individuals. And it's inherently mobile.
5G can also pave the way toward more immersive augmented reality (AR) and virtual reality (VR): Because 5G is wireless and can allow for the lightning-quick transfer of data, devices that use large amounts of data for their operation—such as AR and VR devices—should begin to innovate in ways that make them more useful.
That has the potential to expand who has access to financial advice and education about their finances. If more young people can start off on well-advised and solid financial footing, it could lead to better habits around investing and saving in the future.
Think of sitting down with holographic financial advisors or content creators to discuss your progress toward retirement in your living room—they sit on the sofa and you on the love seat—but in reality, they're in their own homes or offices and are streamed in via ultra-low latency AR. These technologies could continue to lower the threshold for more Americans to get valuable financial advice.
The bright future of finance
The financial industry started in buildings. You can see them on Wall Street and main streets. But the future of banks is likely to be a more decentralized one, especially for the customers, and 5G networks can enable innovations and increase mobility across the industry. "Bringing new technology to industries like banking is what we do at the 5G Lab," says Guirnalda. "We don't just wait for the future—we build it."
Ultimately, infusing 5G into our core banking services—savings and retail banking, institutional banking and transactions and commerce—can move banking from transactional to contextual and conversational. And through that, every person and small business can be more empowered to take control over their own finances.