Game changer: How the Phoenix Suns and Verizon 5G are transforming sports
By combining Verizon 5G with cutting-edge applications, the Phoenix Suns are working to change the fortunes of their franchise and redefine how NBA teams are built and developed.
Full Transparency
Our editorial transparency tool uses blockchain technology to permanently log all changes made to official releases after publication. However, this post is not an official release and therefore not tracked. Visit our learn more for more information.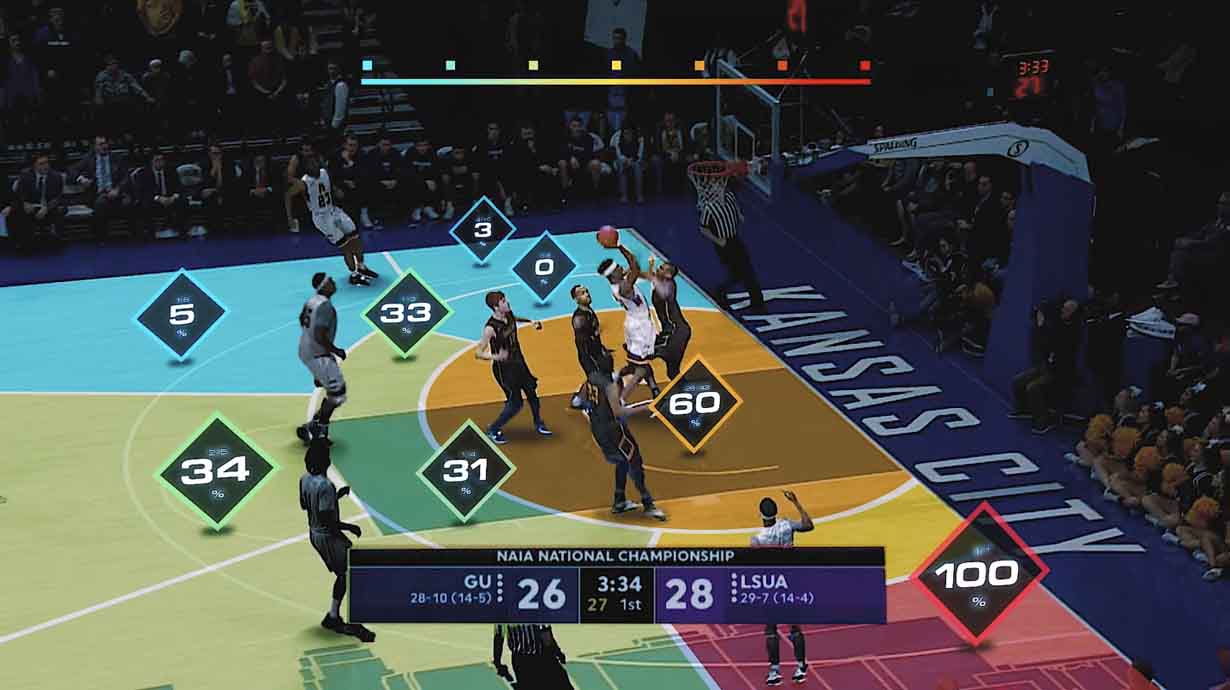 The Phoenix Suns have risen again and recently made it all the way to the NBA Finals. In the history of the NBA, only five other teams have improved by 30+ wins in one season, and the Suns' turnaround this year is nothing short of inspirational.
So what's made the difference?
Obviously, the talented players, smart coaches and savvy management brought in since 2019 get the lion's share of the credit. But there's more to the story. The Suns are also pioneering the use of innovative technologies such as Verizon 5G and advanced analytic tools to gain hidden insights that are helping them improve decision-making and enhance individual and team performance. And it's all happening in a revolutionary, world-class practice facility, the likes of which have never been seen before.
The Verizon 5G Performance Center: The future of NBA training facilities
Step into the 53,000-square-foot Verizon 5G Performance Center and you might think it's just another palatial practice facility. But there's much more to it than the eye can see. It is literally reinventing what a training center can do.
Tucked away in the nooks and crannies of the courts and workout areas are 150 HD cameras, sensors, nodes and 3D force plates that can track the motion of players and the ball. Using Verizon 5G Ultra Wideband connectivity, the Suns are merging computer-aided motion analysis, player and ball tracking, and shot tracking—three usually isolated technologies—into one integrated system.
This revolutionary 5G system can provide nuanced insights to a degree not possible until now, and it could change the very nature of NBA training forever.
Introducing a new age for sports applications
NBA teams have been using technology for years to analyze performance, but no franchise is doing what Phoenix is. The Suns and WNBA Phoenix Mercury partnered with Verizon to unify standalone technologies into one resource that provides near real-time analysis of player performance and biomechanics, so coaches can better understand and support player and team development.
"This facility was designed with focus and intention," Suns General Manager James Jones said. "My hope is to bring necessary analysis of biometric movement and basketball performance together in real time so that our coaches and trainers can make critical evaluations in practice, during games and throughout the development of our players like never before. In short, I want us to be smarter and more efficient."
At the heart of the 5G Performance Center are several advanced systems that can capture near real-time data during team practice sessions and workouts, giving coaches information about player movement, the flight of the ball during a shot, individual biomechanics on the court or in the weight room and more.
The Noah Shooting System uses passive computer vision to monitor the arc, depth and direction of shots by all players in the gym, providing insights for performance. Coaches can use the data provided by Noah to make technical adjustments to a player's shooting mechanics during a practice session and enhance muscle memory for correct shooting technique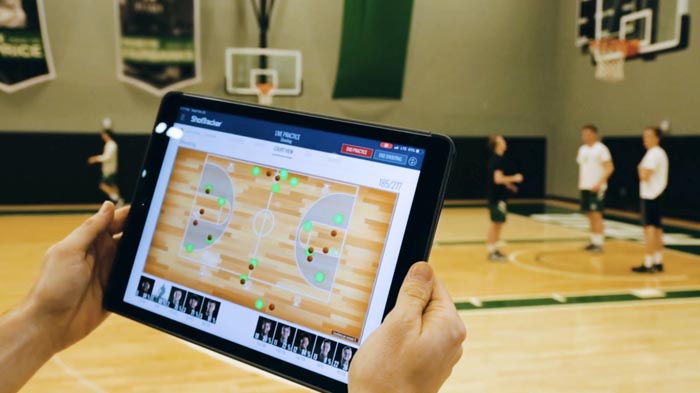 ShotTracker is a sensor-based system that tracks all shots and captures the principal axes of a basketball shot, including distance, flight path, shot arc and angle of entry, providing near real-time feedback that can be used in training sessions and to support ongoing daily and weekly progress monitoring. Verizon engineers collaborated with ShotTracker, a Verizon Ventures portfolio company, on the design of a smaller sensor that is used high above the basketball court

SIMI Reality Motion Systems provide motion-capture technology on the court and in the weight room, which can help coaches and players better understand movements and biomechanics, and, in turn, help to detect fatigue and potential injury. The sophisticated systems analyze limb length, degree of joint flexion and movement patterns of limbs, and then use that data to produce total-body kinematic assessments. This is vital to maintaining player fitness over 100-plus games over a season and is particularly important in managing playing time for players returning from injuries

3D force plates measure biometric movement patterns on a three-dimensional plane, including impact force, balance, acceleration/deceleration, and launch and land angles. While 2D force plates have been in use for some time, Verizon 5G-enabled technology brings the full three-dimensional data together to provide deeper insights
The Verizon connection: Powering performance innovations with 5G
The use of analysis tools like these is nothing new; many NBA teams use similar tools to acquire data and insights. What is new is how the Suns integrate Verizon 5G to bring these technologies together into one holistic data set, in near real time.
Using the high-speed, high-bandwidth, low-lag processing capability of 5G Ultra Wideband, data from ShotTracker and Noah can be fed into SIMI's high-end motion-capture analysis software to create a complete dataset that delivers vital information in near real time. This unique ability to see integrated data almost immediately could give the Suns an advantage over other NBA teams and could be a game changer for the league.
"The 5G Lab keeps the Suns … on the cutting edge," Jones said. "Verizon's powerful 5G technology is seamlessly incorporated throughout our facility in a way that is unprecedented in the NBA and American professional sports today. That cohesion provides our staff with unparalleled opportunities to efficiently unlock each athlete's fullest potential."
Verizon's role goes beyond providing high-speed 5G coverage for the facility. From the beginning, Verizon collaborated with the Suns to develop new ways of applying advanced technology to support their development objectives. Verizon specialists helped redesign sensors and cameras so they could be ideally positioned to capture data. Verizon software engineers helped build a platform that not only supported these separate systems, but also enabled them to be connected into a single source of information.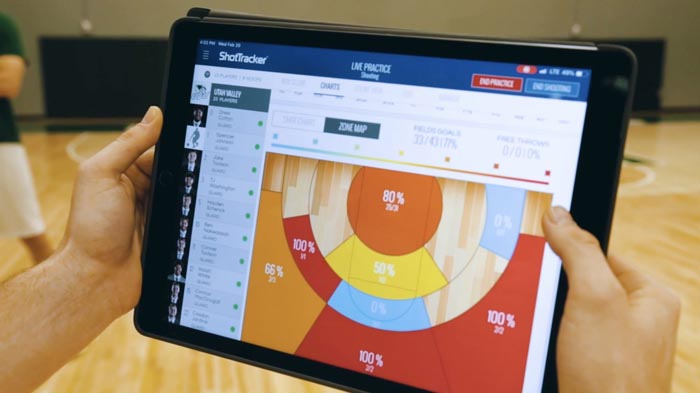 Getting insights from biomechanics
Sports kinesiologists have long known that certain physical and biomechanical characteristics make an athlete better suited for one sport or position over another. By combining insights from these technologies with movement tracking, the Suns are now able to better identify and develop natural abilities and to increase performance.
The results: Setting a new standard for the NBA
The Suns are seeing promising results from their collaboration with Verizon and are confident that this new application of digital technologies will change the way basketball is played.
"Working with the Phoenix Suns to build the Verizon 5G Performance Center, a first of its kind 5G innovation lab dedicated to athlete performance, has tremendous implications for the sports industry overall," said Brian Mecum, Vice President of Device Technology for Verizon.
"With this partnership, we have created a pipeline of innovation to develop use cases around performance, training, health and wellness that will help us continue to push the boundaries of what is possible with Verizon 5G Ultra Wideband."
With the Verizon 5G Performance Center, the Suns plan to not only continue with their remarkable turnaround, but set a new standard for franchise development that will shape the future of sports.
Next up: Using 5G to transform the fan experience
Not content to settle on just team development, the Suns have big plans for using Verizon 5G Ultra Wideband to transform the live game experience.
Fans increasingly want to bridge the in-person experience with the digital one, and 5G's massive capacity, speed and low lag can enable immersive video engagements.
Starting next season, fans attending games at the Footprint Center can use their 5G phones to enhance the game experience by watching live action and instant replays from seven live camera angles. These alternate angles will give fans a closer and more immediate view of the action and deliver an enhanced experience that provides greater value and promotes fan loyalty.
5G Ultra Wideband is available in parts of select cities, stadiums and arenas.