Get Up & Going With UP by Jawbone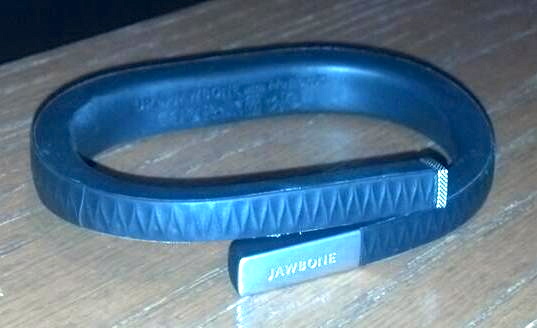 This is a guest post from Tim Tender (@TT_7), who travels the country working for Weather Central as a trainer/software implementer. Today, he shares his experience using the UP by Jawbone®.
Hey everyone! My name is Tim Tender, and I travel the country visiting TV stations and installing weather computers. Since I am on the road quite a bit, Verizon Wireless recently asked me to try out some phones and gadgets and talk about my experiences.
I'm not an intense athlete, but I am a big fan of doing things. I play hockey, created my own board game, have hosted a music trivia gameshow and have recently gotten into mountain biking. At my cousin's recent graduation, my advice to her and her friends was simply to "do things." I told her I didn't care if it was something as small as going to try a new pizza place or something as large as running with the bulls… just do things! (In hindsight, maybe I should've been more careful with my word choice, but she's a good kid. She'll be fine!)
The first accessory I was given for a trial was the UP by Jawbone. I'll admit I had my doubts at first, but it was kind of appropriate since I like "doing things" … as I had just told my cousin and her friends. I like to stay active and stay healthy, but I really didn't think a device like this would have an impact on my life. I was wrong.
Out of the box, you plug it in to get it set up and it asks you how many steps you'd like to set as your goal. The default is 10,000, and that's where I left it. There's also an idle timer. If you sit for too long without taking a step, it can vibrate or buzz to let you know you have been sitting for too long. I set that at 30 minutes. I found myself doing more each day because I wanted to hit my goals. If the band buzzed, I found myself wanting to get up. I was genuinely healthier because I was wearing the UP band.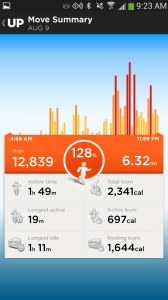 I also found myself wanting to get more sleep because it would track my sleep patterns. At night, you push a button on the band and it goes into sleep mode. From there, it'll track your deep and light sleep, how long you were awake throughout the night and what time you actually fell asleep.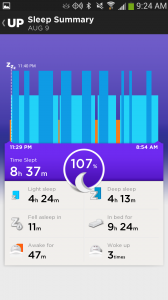 The app is available on both Android and iOS. Via the app, you can keep track of your food intake, keep up with other friends who have the band, track all your stats with vivid graphs, and even set smart alarms that will transfer to the UP band to wake you up at the best time based on your sleep patterns.
As far as the band itself, I found it to be pretty comfortable. You can wear it in the shower and while doing pretty much any of your daily activities. It may take you a day or two to get used to wearing it, but pretty soon, you'll forget you have it on.
After trying out the UP by Jawbone, I can say it was a great tool to stay healthy. I think the best way to sum it up is: Get UP and get going!
For more Verizon Wireless news, subscribe via RSS feeds in the right rail. to subscribe to all posts, or individual state news.