Ghost Kitchens: How 5G can innovate the restaurant industry, one delivery at a time
You might never see a ghost kitchen, but with the help of 5G they could change everything about the way we do takeout. 
Full Transparency
Our editorial transparency tool uses blockchain technology to permanently log all changes made to official releases after publication. However, this post is not an official release and therefore not tracked. Visit our learn more for more information.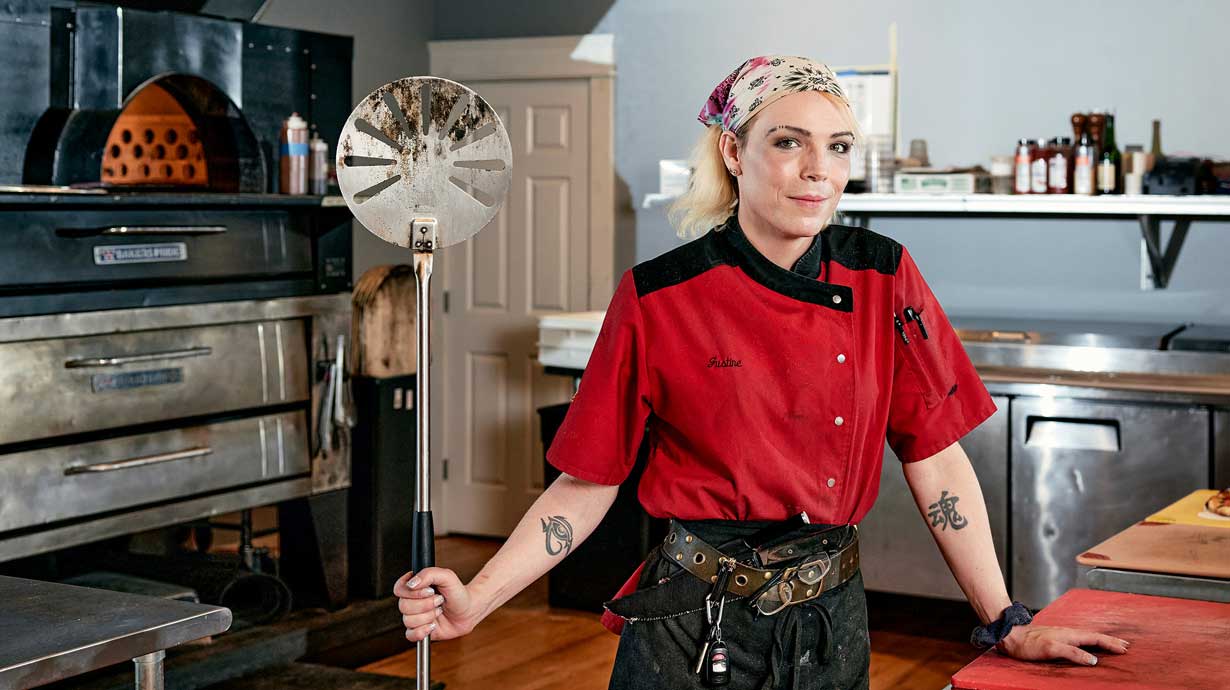 It's 5 PM and in one corner of a huge warehouse space, one restaurant crew is cleaning up and clocking out while 500 feet away, a sous chef is cracking eggs and whipping up a hearty Béarnaise sauce for that night's special. Down the hall, a different restaurant crew is cranking out biscuits and bacon to fulfill orders for their all-day breakfast ChowNow offerings. Throughout the factory, screens display delivery orders as they come in. This is a ghost kitchen. 
The ghost kitchen concept (sometimes called cloud kitchens, dark kitchens or virtual restaurants) is the successor to earlier, let's-try-this-concept-out trends such as food trucks, food halls and chef incubators. In my years as a food and travel writer I've seen a lot of these trends, and ghost kitchens have taken lessons from their predecessors and pushed even further. 
Ghost kitchens give chefs the opportunity to experiment with different menus without being burdened with sky-high overhead, staffing and other costs, and consumers get more access to high-quality, diverse cuisine. And as this concept becomes more popular, 5G technology could help make these kitchens even more efficient and faster. 
What is a ghost kitchen?
Ghost kitchens are chef-led kitchens that exist exclusively for online ordering and delivery. Generally, a few chefs and entrepreneurs share the same kitchen (as well as the costs of running it). The idea started popping up about five years ago but has recently exploded due to the ever-increasing costs of running a brick-and-mortar restaurant, ever-narrowing profit margins and, of course, the Covid-19 pandemic that brought dining rooms to a standstill. 
"Ghost kitchens remove the barriers of entry that so many young, talented chefs face when opening a restaurant, either in a small town or a big city," says Julie Wallach, formerly the chef and owner of Manhattan's late, great restaurants Tipsy Parson and Little Giant. "They are a logical step for younger, tech-savvy chefs and restaurateurs. The brick-and-mortar restaurant business will always be important to communities, but virtual restaurants can help add revenue and exposure to a new or existing business."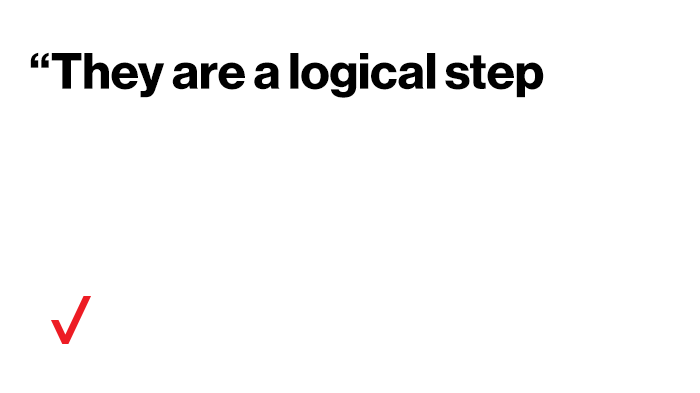 As diners and entrepreneurs begin to settle into the perks of chef-driven food delivery, it's become clear that ghost kitchens are here to stay. They could also continue to get faster and better at delivering great food with little friction to the process, thanks to 5G and faster data processing not to mention the potential for drone delivery. 
The future of food delivery is now
Already, meal delivery orders increased by more than 150 percent from 2019 to 2020, and according to market research firm Euromonitor, ghost kitchens could be a $1 trillion global industry by the year 2030.
Ghost kitchens accommodate mainly delivery, but customers can also do take out from some. Here a pick-up order is being put together. Photo credit: Michael D. Wilson
True to their ghostly name, these kitchens manifest in many different ways: from commissary or coworking kitchens, which allow rising young chefs to share cooking and cleaning space, refrigeration, storage, cookware and sometimes even staff and marketing; to kitchen pods, which are small shipping containers that have been outfitted with kitchens; to incubator kitchens, where chefs use space in a traditional, existing restaurant kitchen to try out a new menu concept better suited to the delivery model. Alternatively, a ghost kitchen might make use of a traditional restaurant kitchen during down hours.
Wallach points out that a ghost kitchen could help augment a restaurant's bottom line, potentially saving it from shutting down. "Little Giant could have spun off a biscuit delivery business without all the capital involved in a brick and mortar," she says. 
One of her former employees has seen the potential. Tylor Boring, an ex-Top Chef contestant who was the chef at Wallach's restaurant Tipsy Parson, is creating a virtual restaurant in Seattle called Tropic of Culinary. Right now he's operating an elegant meal delivery service, but soon he might be using delivery apps to send out his tasty menu items—like whole roast lemon pepper chicken, halibut for two and mushroom quiche. 
Restauranteur Karen Nason had just moved from New York City to her hometown of Gorham, Maine, to open a wine bar when the pandemic hit. An industry veteran, Nason heard through friends about this new ghost kitchen concept. She figured students at the local university would make a strong customer base and that more families might start ordering delivery due to the pandemic. 
Within a month, she'd reconfigured an empty restaurant into Karen's Kitchen and signed up on the Toast delivery app. "We were very busy from the get-go," she says. "On a regular weekend evening, probably up to 150 orders." 
The ghost kitchen setup allows her to offer customers six different menus with a variety of specialties—from burgers to pizza to Thai—and basically operate several restaurants out of one location. "So, a family can each get what they want. One person can have Thai food, or a kid can get a pizza. Mom can order the bliss bowl," she says.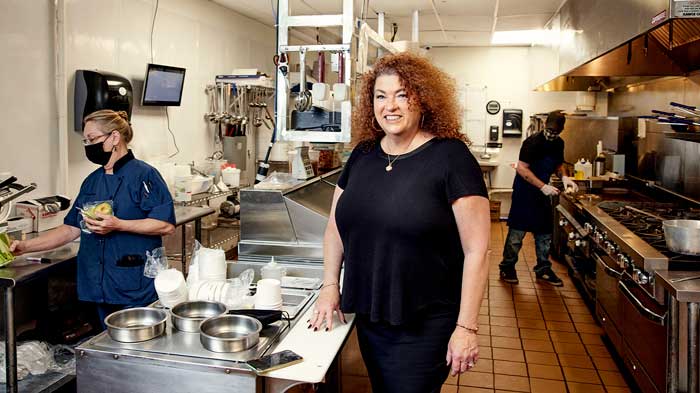 Karen's Kitchen owner Karen Nason started her ghost kitchen concept after another restaurant she'd opened was shut down by the pandemic. Photo credit: Michael D. Wilson
The Toast platform lets Nason track exactly how much she's selling of each item so she can easily plan out her food orders. The platform also sends all the deliveries to a huge monitor in the kitchen to update chefs on new orders.  
Even with the pandemic coming to an end, she plans on keeping her ghost kitchen going for two reasons. For one, she thinks families—especially ones with kids—have really enjoyed ordering in since the pandemic made their delivery options much tastier and diverse. "A lot of places, all you could get delivered was a pizza," she says.  
And now that she can re-open that wine bar, customers who get hungry can order from her ghost kitchen menu and get it delivered to their tables for free. "It's a twofer, for me. It's just a win-win situation." 
Perfecting quality and speed with 5G
While traditional restaurants have a number of factors on which to stake their reputations, including a desirable location, seductive atmosphere and fascinating people-watching, ghost kitchens are destined to live and die by the quality of their food and speed of service.
That's where 5G could help. Behind the scenes, chefs might be better able to secure the freshest ingredients in real time and provide their customers with transparency about where they source their tomatoes or wild-caught salmon. This is because 5G enabled sensors can allow for tracking smaller items than what can be economically monitored with current technology.
Tracking ingredients from "farm to fork" requires complex systems, but 5G opens the possibility for making that end-to-end monitoring and tracking of food far easier and accessible. 
In addition, monitoring food safety more consistently and accurately will be easier with 5G technology. The FDA is currently rolling out its blueprint for a New Era of Food Safety that will make food more traceable and make it easier to respond to outbreaks like recent E. coli outbreaks in produce. FDA representatives have noted that 5G technology can help since this blueprint will rely heavily on blockchain technology, machine learning, AI and the Internet of Things (IoT)—all of which should perform better with the data processing speeds enabled by 5G. 
But 5G could also let ghost kitchen chefs utilize smart restaurant equipment, IoT sensors and, maybe, even robot helpers to streamline operations. For example, sensors could track the number and type of delivery containers needed at rush times or track the number of eggs in the refrigerator while the robot helper does tasks that can be automated like toasting hamburger buns. The potential volume of sensors and low latency required by the robots should operate more smoothly with the help of 5G. This could also help owners like Karen Nason automate their billing processes, decrease staff and streamline their bookkeeping and vendor relationships.

From a customer experience perspective, high-speed internet and dramatically reduced latency times allow restaurants to quickly and easily update their website and social media on a daily—or even hourly—basis, keeping them in constant touch with their customers. Online ordering platforms reward customer loyalty by storing their favorite menu items and even allowing for notes and prompts customized to their ordering habits.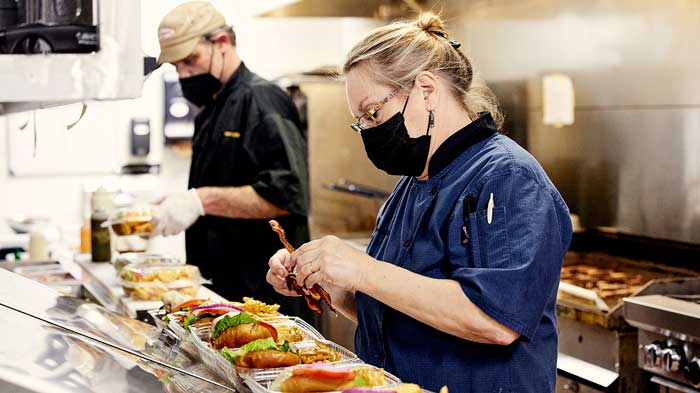 The varied menus at Karen's Kitchen means that chefs might prepare a variety of cuisines for one order. Photo credit: Michael D. Wilson
Down the road, ghost kitchens might be able to use 5G to turn their delivery drivers into drone operators—with the ability to send out fresh meals to diners in any location. Want some bibimbap in the middle of a park? The ghost kitchen will send a drone to your GPS location to drop it off. Imagine Nason using an automated drone to shuttle orders quickly from her ghost kitchen to her wine bar. 
This drone-to-door (or picnic blanket!) service is getting even closer to realization thanks to Hyper Precise Location—a software that provides a stream of real-time global navigation satellite system data to enable location accuracy within 1-2 centimeters for users on most mobile networks. This could enable highly-accurate, but low-cost location capabilities for drones very soon.  
While ghost kitchens will never become our beloved corner cafés or fine dining establishments, 5G is helping to create a world in which both they and IRL restaurants might not only peacefully exist but grow and thrive. And if, like me, you fondly remember watching chefs like Julie Wallach work their magic in an open kitchen, there might be a future where your favorite ghost kitchen chef lets you stream the making of your dinner in real time or has an AR app that lets you feel like you're standing in the middle of the action. 
"This won't replace a neighborhood restaurant experience, nor would I want to live in a place where the local restaurant can't exist," Wallach says. "But this might help an independent brick-and-mortar restaurant without big investors survive and fill in the gaps financially on slower nights."
Excited about all the new menus ghost kitchens might deliver with the help of 5G? Share this article on Twitter.