How 5G can help thin apps thrive
Thin apps can dramatically change how we use our devices.
Full Transparency
Our editorial transparency tool uses blockchain technology to permanently log all changes made to official releases after publication. However, this post is not an official release and therefore not tracked. Visit our learn more for more information.
We don't just enjoy mobile apps—we depend on them. We use them to order dinner, read books with kids and deposit checks. There truly is an app for just about everything. So much so that Americans downloaded 218 billion of them last year alone. Today, most of us spend more time using apps than watching live TV.
Enter 5G, the newest wireless cellular network. This new technology will be an enormous leap forward. This has day-to-day implications regarding how we will manage money and experience culture, and even how we could take the bus.
Much of this is due to 5G's performance characteristics, such as its potential for higher speeds, lower latency and much greater capacity. But we'll also see remarkable changes in the type of experiences we have, because apps will be thinner.
Thin apps and 5G are a powerful combination.
So what is a "thin app"? Simply put, it means an app can hold more of its data in the cloud instead of right on the device. Provided your device has the necessary processing power and display capabilities, this should allow apps to do things we can't easily accomplish with 4G, such as play 4K videos smoothly and have 3D experiences.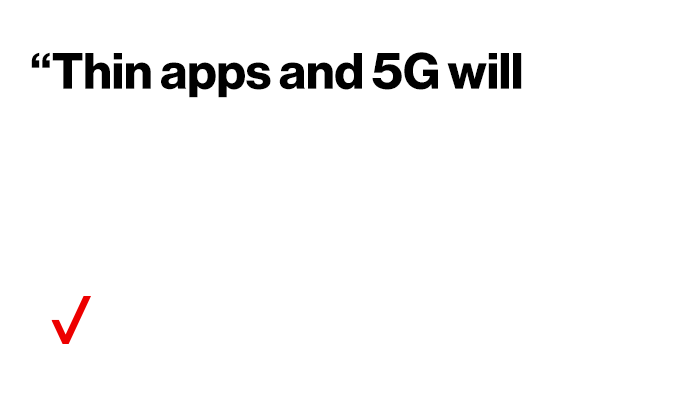 Thin apps have been possible with IT servers, but they're expected to take off now due to virtual and cloud storage systems. A thin app's code, data and functionality are stored on an outside server and then delivered to the user over the web. There's no need to install any special software programs, work with a database or otherwise modify anything on your computer. Because the app can be stored in one central location, it's also easy for its developer to upgrade or roll back the application as needed.
Thin apps and 5G will impact just about every type of industry. But they don't work alone.
Thin apps and multi-access edge computing (MEC) speed things up.
Multi-access edge computing (MEC) is another important technology that works with 5G to speed things up.
MEC means moving compute and storage services to the edge of the wireless network and closer to a user's device, instead of at some far-off data center where it takes data longer to move back and forth. That provides a much faster end-to-end processing speed.
It means thin apps experience significantly lower latency, which is the delay between sending and receiving information. It allows users to transfer huge amounts of data in almost real time.
Thin apps and 5G allow for practically real-time communication and dramatically expand the possibilities of what we can do with our devices and apps.
Where thin apps and 5G will thrive
When MEC is used with 5G, there's a vast opportunity for apps in whole industries to leap forward. Their thin apps will not work the same way with 4G—it's the combination of MEC and 5G that can bring about dramatic innovations.
Cloud gaming is already getting a major upgrade thanks to 5G speeds. Microsoft xCloud, Amazon Luna and Google Stadia are examples of companies investing heavily in cloud gaming. Being able to stream video games from web servers instead of downloading games and waiting for updates lets you take advantage of faster processing time and very low latency. Thin apps and the cloud allow for a significantly faster, clearer and better gaming experience.
Another industry thin apps and 5G could dramatically impact is telehealth. Thin apps and 5G technology can allow a medical provider working remotely to have much more robust video connections with their patient, no matter where each is located. The apps and 5G can provide easier access to medical records, greatly improved viewing of remote 3D imagery and even better possibilities for telesurgery. The vastly improved technology has many applications for a mobile medical industry.
How thin IoT apps and low latency will work together
Because the 5G, MEC and thin app combination allows such low latency, we see a lot of money and development going toward smart, connected cars by companies such as Waymo (formerly the Google Self-Driving Car project), Apple, Ford and others. It's estimated there may be 14 million semi- or fully autonomous vehicles on U.S. roads by 2025.
Autonomous vehicles will create a tremendous amount of data that must be processed and analyzed closer to the location where the data is generated for driver and pedestrian safety when these vehicles are moving quickly down a highway or crowded street. That is where thin IoT apps could be essential. Being able to release software updates for apps in connected cars in near real time will also be critical.
Educators could also leverage thin apps to refine digital teaching tools. Improving remote learning through the advanced technology could level the playing field for students, allowing reliable connections between teachers and students and providing fast downloads and seamless communication among classmates. Students could use their phones to have unparalleled and immersive experiences that go far beyond the classroom, like an exploration of an Egyptian pyramid—from many thousands of miles away—or even a distant guest lecturer who interacts with remote students as a hologram.
5G technology can also support AR and VR in the cloud, whereas 4G sometimes struggles to support them in a VR headset.
Thin apps and IoT
5G and thin apps should mean the ability to connect billions of sensors with other interconnected devices. Using 5G to host that unprecedented amount of thin app–gathered data in the cloud can mean turning our cities into much smarter ones.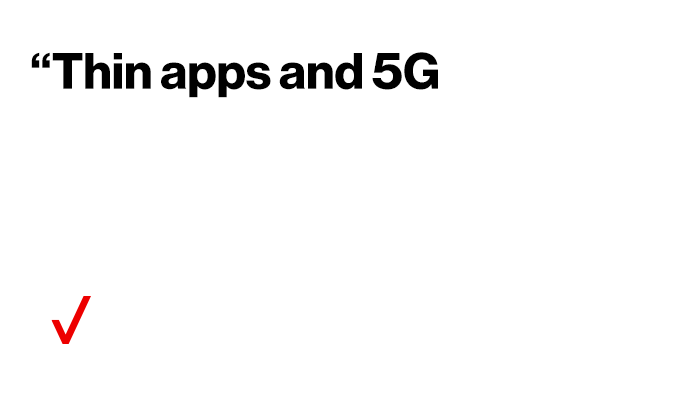 Barcelona is one example of a "5G Smart City of the Future." Its large-scale pilot smart city program, which is based on 5G networks and MEC, explores creating cloud-based IoT apps and other services that improve emergency response, public safety, education, e-commerce, manufacturing, broadcasting and more.
But it's not just behind the scenes where thin apps will impact us. We'll see it right in the apps we download and use every day. Videos will load on our phones in minutes. Our video calls will be crisp and clear. We'll be able to use our smartphone apps to control more of our home's appliances, smart speakers and security cameras with less lag. We'll be able to measure and monitor our vital statistics efficiently – right at home, using an app that offers the option to transmit the data to health care professionals, saving time and money.
The possibilities for thin apps coupled with 5G and MEC are truly vast. They might change our lives in ways we haven't even imagined yet, and we can already see how 5G today is paving the way for tomorrow's innovations.