How To Run a Successful Photography Contest With Social Media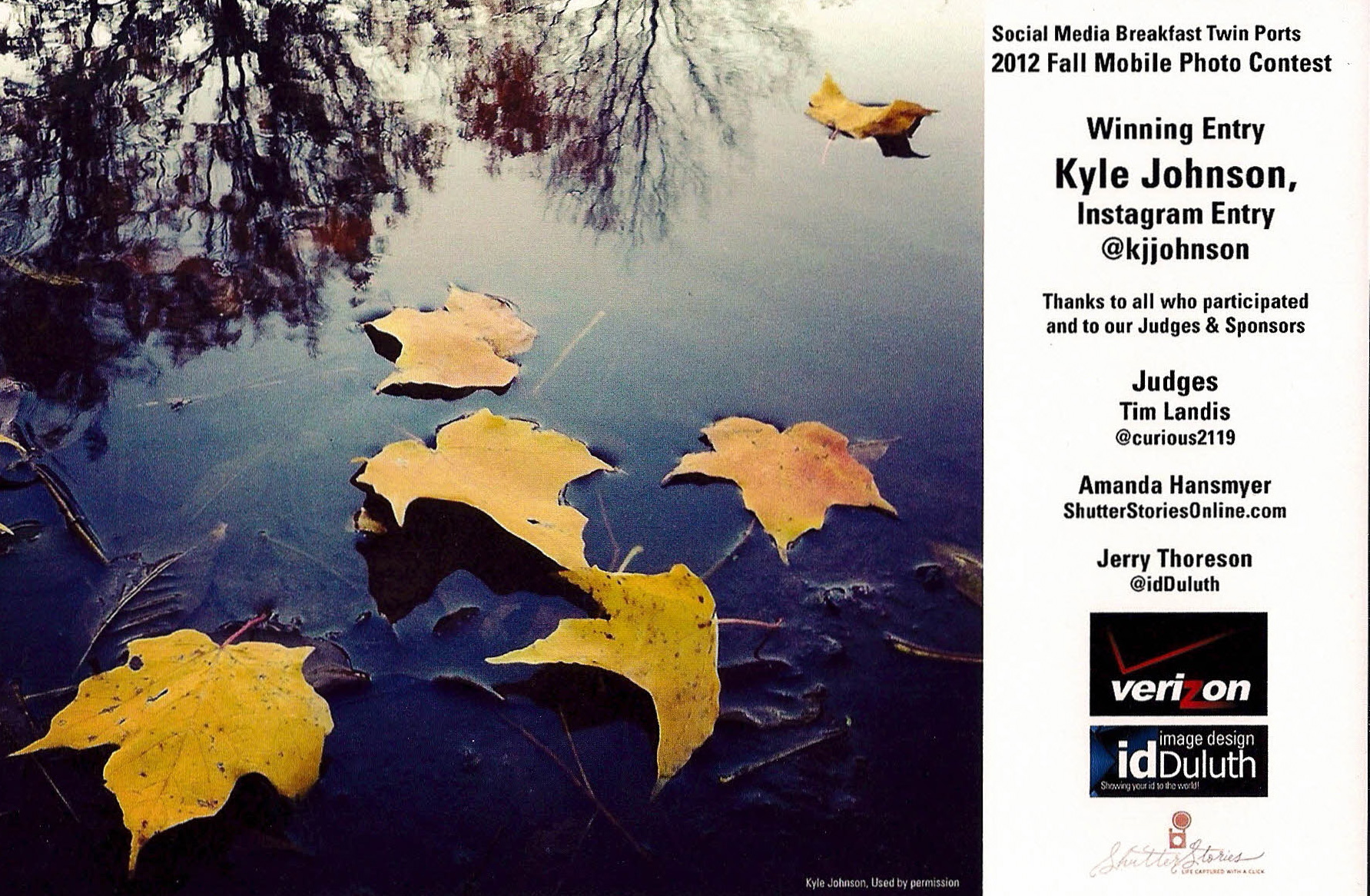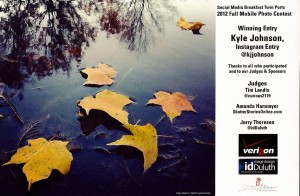 This is a guest post from Patrick Garmoe, a social media strategist with PureDriven in Minnesota.
I've had the pleasure of twice having Verizon Wireless support the Social Media Breakfast Twin Ports group I help run each month in the Duluth, MN and Superior Wisconsin areas. Recently, Verizon asked if we wanted to do something a bit beyond a standard giveaway at our monthly meeting.
In addition to providing two of the three speakers for the panel, Verizon gave away a free Samsung Galaxy S III smartphone at the meeting's conclusion and a Samsung Galaxy Tab 2 to the winner of a month-long photography contest.
But even with a great prize like Verizon devices and our audience of 55 attendees, the crowd does not flock to any contest easily these days. It seems like every small business here and likely where you live is running a Facebook contest. So I put together a team to run the contest.
Here are the key things we would tell anyone who wants to run a good contest:
- Think of a good contest concept and bounce it off a bunch of people. If the idea is not catchy or the contest is too much of a bother to enter, it's doomed from the start, even if you are giving away a tablet or other excellent prizes. In this case, Verizon's sponsorship allowed us to bring in Albert Maruggi of the Twin Cities PR firm Provident Partners to lead the discussion on photography, and I worked with him and others on the concept.
- Make sure you abide by the rules of the platform. Many of the contests on Facebook could technically be shut down by Facebook for not following its terms of service. I recruited Jerry Thoreson from idDuluth who specializes in Facebook marketing contests to set up the ShortStack app we used on Facebook to collect the photos. We used ShortStack because it is inexpensive, simple and it allows us to easily obey Facebook's rules related to running contests.
- Unless you want to find judges, sell the contest as a "sweepstakes" so you can choose at random. Since Verizon provided us with a great prize, we went through the step of finding two great photographers — Instagram phenom Tim Landis and amazing Duluth photographer Amanda Hansmeyer of Shutter Stories — to actually choose the best photo.
- Prepare a list of rules, but don't expect people to read them. If you Google "Facebook contest rules," you can find many versions of rules, and you can take one and tailor it to your needs. Feel free to copy our rules. The apps make it easy to link to those rules. Also, be sure to mention who receives the e-mail addresses and for what purposes. We named which of our sponsors would receive the e-mail addresses and clearly stated it would be for e-mail marketing purposes.
- Quietly launch the app a few days before the contest starts, and have several people test on a laptop, tablet and phone. Nothing is worse than launching a contest and having a bunch of people complain about having issues entering. Potential participants are quick to give up if something does not work on the first try, and you don't want the technology to hamper people from entering. Check out the contest app we created.
- Go beyond Facebook. Since part of the subject matter dealt with Instagram, we incorporated that platform by allowing photographs to enter simply by tagging the image with the hashtag #vzwcolorsduluth, which had the added bonus of branding for Verizon. Out of the 90 entries, about half came via Facebook and the other half through the hashtag.
- Don't overcomplicate things. We steered clear of Twitter because we wanted to limit entries to two channels. We tried to keep the rules as simple as possible.
- PROMOTE, PROMOTE, PROMOTE! I say this because it is the most critical, but often hardest and probably most often neglected, piece of any contest. Ideally, you should provide a sheet to all the key sponsors with a proposed promotion schedule. On Monday post on Facebook, Tuesday on Instagram, Wednesday on Twitter, etc. We took several minutes after the main presentation to walk our audience through the contest. Then we posted at least weekly on our group's Facebook page. The team running the contest and Verizon employees also promoted it to their social networks. Be sure to also regularly mention the contest using popular local Twitter hashtags. Posting on other local blogs would be smart, as well. Take advantage of the contest to expose a lot of potential new members to check out your group. I also made a point of telling people to enter the contest with a link to the page when I saw a good picture they posted. In addition, as a monthly sponsor, PureDriven promoted the event through our e-mail list. Because we use Eventbrite to send invitations, I was also able to send an e-mail to everyone who attended the previous month's meeting to remind them of the contest when they still had a week to participate. We find contests of a week to a month are all good time frames. Remember, consistent contest promotion should occur throughout the length of the contest.
- Expect a big rush at the end. In many contests I've been part of, most people wait until the last minute. About half our entries came in the final few days of this month-long contest.
- While Facebook advertising if done well can expose the contest to more users, relying on it as a primary means of generating entries has never proved very effective for us. We did not run advertising as part of this effort.
- Instead of running Facebook ads, build an audience on a Facebook page through publishing good content and other methods, and then run a contest to push your Facebook audience on to your group's e-mail list by asking for e-mails to enter. Contests also work well to help energize those who have already liked your page. We've also seen good results with paying $10 or $15 to promote posts in front of a larger audience than just those who are really active on the page.
- Do what you can to celebrate the winner, and gain as much visibility after the contest is completed as possible. We worked to make sure the winner attended our meeting so he could publicly accept the prize, and we created a physical copy of the picture on postcards for attendees (see photo at the top of this post).
Do you have other suggestions on how to run a contest through social media?
Patrick Garmoe is a social media strategist with PureDriven, an e-commerce web development company operating in the Twin Cities, Duluth and the Iron Range, MN. In addition, he is co-founder of Social Media Breakfast Twin Ports with Molly Solberg of Duluth Pack. All opinions expressed above are entirely those of Patrick Garmoe and not necessarily the opinions of Verizon or anyone else mentioned above.
For more Verizon Wireless news, subscribe via RSS feeds in the right rail.