Indianapolis Power & Light Company Explains Why Businesses Should Support Verizon HopeLine
Indianapolis Power & Light Company Explains Why Businesses Should Support Verizon HopeLine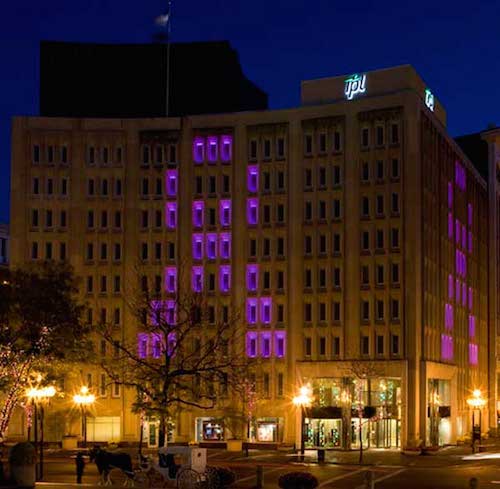 After Verizon teamed up with the Indianapolis Colts during Domestic Violence Awareness Month this October for a phone collection, it didn't take long for other community partners to step up as well for Coburn Place Safe Haven. Coburn Place is a transitional facility for domestic violence survivors that has helped countless families, including housing 1,013 kids.
Several businesses and partners in the Indianapolis area are making a difference setting up HopeLine boxes to collect no-longer-used phones, tablets and chargers from their employees and customers, including Indianapolis Power & Light Company.
It's a great way to engage with employees and offer anyone an opportunity to take action for a good cause — connecting domestic violence survivors to vital resources.
Under the collection program, a person who no longer has use for a device can drop it into a HopeLine box provided by Verizon. Verizon HopeLine boxes and bins are always in corporate stores, but we can provide collection boxes to a company, as well. Devices are accepted in any condition from any carrier. The donations help victims of domestic abuse feel safer and less isolated by providing them a way to call emergency support services, employers, family and friends.
Donated devices are refurbished and offered to law enforcement and domestic violence agencies to distribute to survivors and clients. Those who receive the phones also have 3,000 free minutes to use and 9,000 free text messages. If a device can't be re-used, it's recycled in an environmentally friendly way to convert into useable material for cash grants that are distributed in Indiana to organizations such as Coburn Place.
We asked Indianapolis Power & Light Company, which has Verizon HopeLine collection boxes in its downtown office this October, about its commitment to the cause. We talked with Brandi Davis-Handy, who is the director of external communications at IPL, for this brief Q&A about HopeLine.
Q: IPL has a long commitment of service in the Indianapolis community. Tell us why your organization has teamed up for the HopeLine from Verizon phone collection drive this month?
A: IPL recognizes the importance of giving back to our local community. We have a responsibility to our local neighborhoods to consistently improve the areas where we work and live. We learned of the Verizon phone collection through one of our employees who serves on the board at Coburn Place Safe Haven. This collection drive is a win-win. We are able to support those in the community who need our help and our employees can clean their junk draws and get rid of old cell phones.
Q: IPL is engaged with Coburn Place Safe Haven. Is it important for your company to make community connections and ask employees to contribute for nonprofit board service?
A: Absolutely. IPL employees serve on more than 90 local nonprofit boards and spend more than 28,000 hours volunteering each year. They are passionate about bettering their community and are engaged at a multitude of levels.
Q: IPL is well recognized in the city for "lighting up" its downtown headquarters building for special events and other occasions. How do you decide to use the building when you make a public statement of support?
A: The lights on our downtown headquarters are used to recognize holidays, local conferences, sports events, festivals and even weddings. One of the greatest assets for our window lights is for the ability to spread awareness of issues throughout the Indianapolis area, which is why we featured the purple ribbon in our windows for domestic violence awareness earlier in October.
Q: Does your company match service and donation hours of your employees volunteer?
A: IPL has a PowerGrants program, where our employees are able to nominate a local non-profit organization to receive up to $10,000. Each year, we give out $150,000 through this program to assist the organizations our employees support. That is part of the $2 million that IPL contributes each year in sponsorships. In addition, our employees know that IPL supports them by helping find volunteer opportunities to fit their interests.
Q: Anything else you'd like to add about your company's community service?
A: IPL is committed to helping our community thrive and encourages our customers to connect with us on Facebook and Twitter to see how our employees are making a difference.
For more information about sponsoring your own community HopeLine drive from Verizon, visit: http://www.verizonwireless.com/aboutus/hopeline/.
For more Verizon Wireless news, subscribe via RSS feeds in the right rail.