Internship leads to Verizon career, travel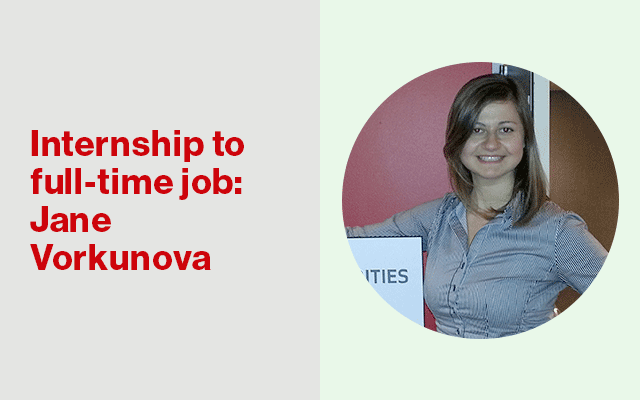 When Jane Vorkunova started her internship with Verizon, she never expected to end up working outside the US. But just a few years out of college, she's living and working for Verizon in Reading, England.
Jane's adventure began with a Verizon internship between her junior and senior year as a business management major at Rutgers University. "Verizon has a strong presence at Rutgers, so I learned about [the internship] through the university," Jane says. "I was interested in working for a large technology company, so Verizon was definitely on my list."
Learning on the job
During her internship, Jane worked in human resources, supporting the business-to-business team. In her role she interviewed external candidates and staff from HR and other departments. It was her job to recommend to managers how to interview candidates and then conduct the final interview herself.
"It was a little bit intimidating," Jane says, especially when interviewing people with many years of sales experience. "I definitely gained a level of confidence and business acumen." Jane also had support from management. "My manager was quite open with me. I was able to talk through things from the hypothetical down to the operational."
Leadership Development Program
A few weeks before the end of Jane's summer internship, she interviewed for the two-year Leadership Development Program (LDP) and was soon accepted.
To provide a broad exposure to the company, the LDP allows participants to rotate through several roles. Jane had the opportunity to work in a variety of HR areas. During her second year, she joined the HR Business Partner team and helped build a development program for Verizon recruiters.
"I liked the flexibility, the open thinking and being able to look at problems from a hundred different ways," she says.
Opportunities to travel the world
In her current position as a human resources business partner for the EMEA region (Europe, the Middle East and Africa), Jane supports about 1,500 employees and helps company leaders hire high-quality staff and develop their skills.
Travel is part of Jane's job, and that's fine with her. "Being able to travel to Europe is pretty cool," she says. "It was important to me to leave New Jersey and see the whole wide world out there."
"Most of our [EMEA] employees are in the UK, the Netherlands, Germany, France and Ireland, so getting out to those sites and building those relationships are very important," she says. "This role has taught me that there's quite a thrill in stepping outside your comfort zone. When I came here I had no knowledge of European laws or business, but you grow as long as you're open."
Career advice for interns
As a former intern herself, Jane is eager to offer tips about starting a successful career with Verizon. First, she advises students to think about their professional goals and narrow the companies they're looking at based on that. Certainly, if you want to work at a company like Verizon, you should do your research.
Once the internship starts, Jane says, remember you're there to learn. Some students come in thinking they already know it all. Instead, she says, it's better to be humble with "… a sense that I'm here to learn something, and I'm here to build relationships with people who have lots of experience and provide value to them."
Finally, she recommends making the most of the time you have by talking to people in a variety of roles and being open to learning. "That's going to be the foundation for the rest of your career," she says.