Life is a continuous pivot.
Meet Ariel Cole from our Product Development team.
Full Transparency
Our editorial transparency tool uses blockchain technology to permanently log all changes made to official releases after publication. However, this post is not an official release and therefore not tracked. Visit our learn more for more information.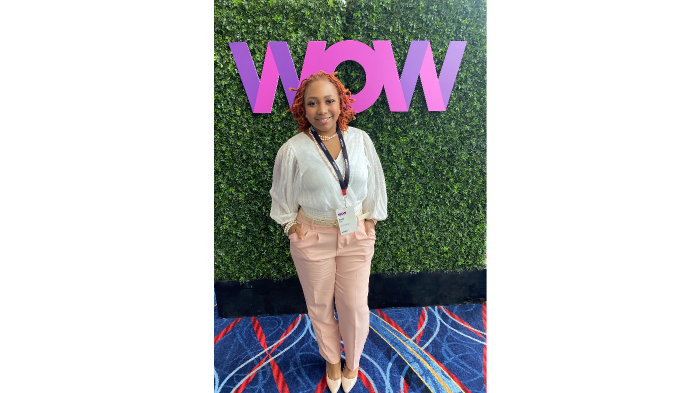 April is "Celebrate Diversity Month" at Verizon, sponsored by the Verizon UNITED employee resource group (ERG). UNITED is a group of V Teamers from different cultures, religions, orientations and abilities who come together to create cultural moments that matter. UNITED's 2023 theme is "When UNITED, it's a small world."
Each one of us is a multifaceted individual. We may be mothers, fathers, sisters, brothers, students, mentors, athletes or writers. Similarly, we have many cultural sides, like being Afro-Latino or being gay and disabled. Simply put, we are not just one thing. Just like the cuts on a precious stone, it's the many sides that reflect our light so beautifully. The more we can recognize our intersectionality and learn from our differences, the smaller our world becomes.
We're pleased to shine the light on UNITED ERG member Ariel Cole who has benefited from the support of her peers and grown personally and professionally through life's pivots.
Mastering the art of pivoting and embracing change.
Ariel began her career with Verizon as a retail store Solutions Specialist in October 2016. In less than a year, she was recruited to launch a new smart store in Atlanta. Shortly after the store opening, Ariel utilized Verizon's paid parental leave benefit to care for her new baby girl. 
Returning with a plan.
Upon her return, Ariel met with her manager to discuss available paths for professional development and continued growth with Verizon. With her sights set on becoming a Solutions Manager, Ariel remained committed to that plan – taking advantage of learning resources at Verizon and participating in an internal leadership development program. She focused on showcasing and honing her leadership skills. Her efforts were noticed, and she was given the opportunity to take on the role of Interim Solutions Manager. 
Setbacks are temporary. 
In 2020, COVID-19 reshaped our workplace and how we did business. When many of our retail locations were temporarily closed, we gave our frontline employees the option to assist with in-store and work-from-home assignments. This temporary redeployment of our Retail workforce helped us continue to support our customers during the beginning of the pandemic.
Ariel turned what many would consider a setback into an opportunity. She spent her time leading and participating in virtual engagements and volunteer activities to keep her team motivated and feeling connected. "During this time of uncertainty, it challenged me as a leader to imagine new ways of engaging and creating connection."
As our stores began to return to business as usual, Ariel was asked to take on a Specialist role in a new location."Though this was not part of my professional plan, I took this re-route as a learning opportunity to explore new areas of impact." 
Shifting gears in her career.
As she was re-integrating back to work, Ariel researched corporate roles that would utilize her extensive retail and customer service experience. She wanted to shift gears and found a great opportunity on the Verizon Connect User Experience and Research Operations team. She applied and proactively reached out to members of the team to learn more about the role and where this new career path could take her. After a few rounds of interviews, Ariel was offered the role as UX Research Operations Specialist.
Leveraging her experience from retail, Ariel advocates for customer research findings, collaborates with cross functional-teams, and develops communication sharing structures to bring those research insights to life.
"I'm so excited and motivated to continue learning and growing. No path is linear; it's important to remain steadfast, committed to growth, and open to new opportunities and challenges. I'm excited to see what else is in store for me." 
The support of her ERG community.
"What I enjoy about UNITED is the focus on the strength in our differences and the opportunity uplifting voices for all." For Ariel through the pivots in her career, Verizon UNITED has been a great sounding board and community of support for Ariel. UNITED fosters an environment of inclusivity through allyship, development, wellness and social responsibility to make the world a better place through community.