New Verizon FiOS Store Blooms in Brooklyn
New Verizon FiOS Store Blooms in Brooklyn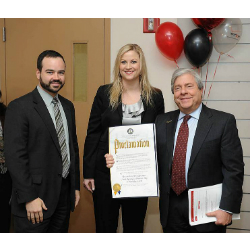 There's nothing hotter than Brooklyn right now.
Whether it's the move of the Brooklyn Nets into the borough or the brand spankin' new Barclays Center where the Nets are playing -- and which has quickly become a major concert and entertainment venue -- or the new trendy neighborhoods attracting hipsters and young professionals, Brooklyn is on the move.
Adding to the hotness of the borough, Verizon on Wednesday, Jan. 16, opened its second FiOS store to serve its customers in the borough. 
Located in the hustling and bustling Downtown Brooklyn area at 65 Willoughby St. (also known as 360 Bridge St.), the new store is the go-to destination for all things FiOS. The new Downtown location joins its sister FiOS store at 3010 Avenue H in Flatbush.
At a grand opening ceremony, Brooklyn's biggest cheerleader, Borough President Marty Markowitz, said, "I am delighted that Verizon is opening this store. You're in a great neighborhood. This area is growing, growing, growing."  Markowitz also read from a proclamation, officially calling the day "Verizon FiOS Brooklyn Store Grand Opening Celebration Day in Brooklyn, USA."
To mark the event and the opening of the FiOS store, Verizon made a $2,500 donation to the local chapter of the Police Athletic League, and presented PAL officials with a check.
At the grand opening ceremony Verizon representatives provided demonstrations of FiOS services, including the speed and capabilities of FiOS Quantum Internet speeds and the company's Home Monitoring and Control service. Festivities continued with giveaways for customers and store visitors, a drawing for basketball tickets, and an HD TV. 
The Willoughby Street store hours will be 9 a.m. to 6 p.m., Mondays through Saturdays.