Secrets From a Tech Recruiter: Michael Pezzote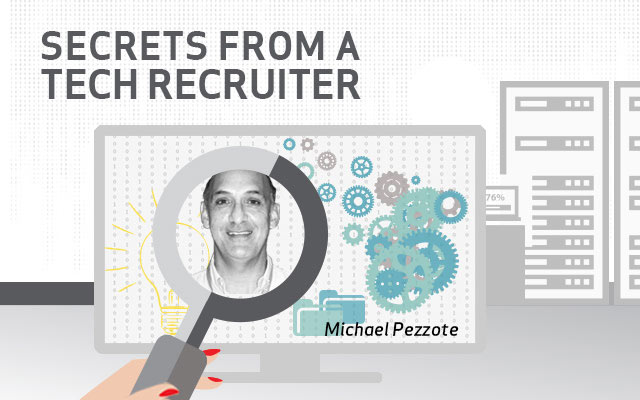 Our talent acquisition team is looking for software engineers who want to create products that will revolutionize the consumer marketplace. We want candidates, who can wow us with their tech-pertise after they've already impressed us on paper. If you're ready for the next step—the interview—here are recruiting secrets to help you stand out from the crowd, ace the software engineering interview and start you on a path of innovation and challenge.
"When you ask an applicant to tell you what they're responsible for in their current role and they're able to articulate exactly what they do and how they do it—I love candidates like that." — Michael Pezzote, Talent Acquisition, Miami, Florida
Ways to wow our talent acquisition team when it's time for a formal (or informal) chat:
Tell us what you've built. The best candidates are well-versed in the platform, product or OS they'll be working with before we even chat. If we say, "Can you tell us about a utility library you've built?" you'll say, "How much time have you got?" One tip: Review our page for the inspiration and ideas that drive our own software engineering team.
Prepare for the interview, sure, but be ready to interview us as well. Our in-person conversations are meant to assess your technical know-how. But it's also here where you'll meet team leaders and other software engineering talent to make sure you mesh with both the role and your possible future colleagues.
Demo your problem-solving skills. You'll likely get called up to your canvas—the whiteboard—during your interview. Don't simply complete the coding task you're assigned: Elaborate, offer details and articulate each step of the process. Now's the time to show you're flexible enough to work in varied environments to develop a superior end product.
Reveal the person behind the developer. Meeting in person is where you get a chance to show us your personality and enthusiasm for software engineering. If coding's a hobby in addition to a paycheck, tell us; if you love to experiment with new platforms on your own time, let us know.
Come back for more insights in the next installment of our Secrets From a Tech Recruiter.