Tackling E-Waste in the Heart of Times Square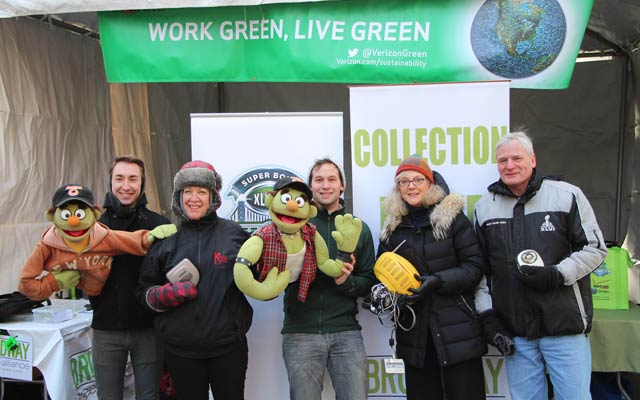 Update* Check out photos from yesterdays event below:
http://www.flickr.com/photos/verizonphotos/sets/72157639588663913/
----
Got an old cell phone, printer, or some electronics that have been collecting dust? Help cut your carbon footprint by recycling it!
The NY/NJ Super Bowl Host Committee, National Football League, Verizon, and Broadway Green Alliance will be partnering to collect and safely recycle electronic waste tomorrow, Wednesday January 8th from 10am to 2pm at Duffy Square in Time Square, New York City.
In addition, actor Jason Jacoby, with his fuzzy green puppet Nicky from AVENUEQ as well as Adinah Alexander from KINKY BOOTS. In addition, Mark Lotito from JERSEY BOYS, Marva Hicks from MOTOWN, and a few other crew members from LION KING will all be on site hauling e-waste at noon!
Check back throughout the day tomorrow for photos, videos from the event!