Teaching With Tablets: Changing the Classroom Dynamic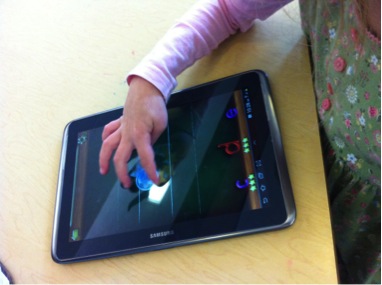 This is a guest post from Crystal Mazur, owner and director at Wishing Star Childcare in Wisconsin.
Technology is changing how we teach every day—whether it's college or daycare. Balancing the use of technology with classic teaching methods can be a hard task to accomplish. So when I was given the chance to use the Samsung Galaxy Note 10.1 tablet in my daycare center to explore the teaching with tablets method, (Wishing Star Childcare in Menomonee Falls, WI), I was very excited.
I picked several games and educational apps. There were plenty of apps to choose from on Google Play, many even offering a free version. There was certainly no shortage of educational, yet entertaining, apps for the many ages of children I take care for.
Here's a glimpse at some of the free apps my daycare children enjoyed using:
Babies & Toddlers
My ABCs by BabyBus: Learn colors through sight, sound and touch.
My Numbers by BabyBus: Understand numbers and quantities while playing in an underwater scene.
Tracing ABC: Designed to help children print letters, numbers and shapes.
Toddler Colors: Music and colorful buttons to help toddlers learn colors.
Ages 3 and Up
What's Different?: Follow the ladybug guide to find objects missing in colorful scenes.
Learn with Fun: Teach kids about fruits, vegetables, shapes and colors.
Where's My Water?: Help Swampy the alligator find water through creative, physics-based puzzles.
Not only was there an abundance of great apps for the children at my daycare to enjoy, but the Galaxy Note 10.1 also had a few features that made it even easier to use with the younger children.
The tablet settings, paired with the Google settings, made it difficult for a small child to easily access the Google Play store and make unwanted purchases.
I was able to easily arrange the screen for children to navigate.
It was simple to childproof the tablet, locking it so the kids couldn't use it without my permission.
The large screen is advantageous. All the locational buttons and home buttons are placed so the kids don't easily touch them and exit out of the program.
While my daycare's time with the tablet may have only been for a short while, I can easily see why so many schools are transitioning to teaching with tablets. The Galaxy Note 10.1 carried with it the perfect balance of education and fun that easily keeps young children engaged.
For more Verizon Wireless news, subscribe via RSS feeds in the right rail.