Tech Trendsetter: Indiana Sports Publisher Phillip B. Wilson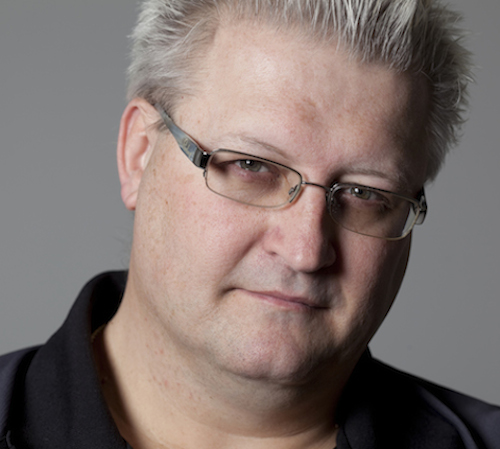 Meet Phillip B. Wilson, who is the Colts/Pacers publisher for Scout.com, Indy 500 fan, Famous chicken buddy, and author of "100 Things Colts Fans Should Know & Do Before They Die."
Wilson spent a good portion of his career at The Indianapolis Star, but has reinvented himself as an online sports publisher – who relies on mobility and a dependable Verizon connection out in his stadium and arena perches. We sat down with Phil B. and asked him what it takes to stay on top of the NFL and NBA teams in Indy.
Q: What is ColtsBlitz.com and PacersPress.com?
A: Scout.com has aggressively broadened its sports online ventures to include professional sports and hired me in August to cover the Colts and Pacers. After two decades at The Star, I decided to try something new and be part of Web pages devoted to both teams. It's been a lot of hard work, but I signed up for it and knew what I was getting into. It's all about trying to give fans more, not necessarily the expected coverage but looking for interesting stories and other offerings that personalize the athletes and separate our sites from others on the worldwide Web. It's an ongoing process. Some days, you don't know if there are enough hours in the day. You stick to the grind and keep plugging, always looking for ways to make it better.
Q: Tell us how you manage a typical day relying on wireless and connectivity. Do you feel any journalist who hustles and knows (his/her) subject matter can be a successful publisher?
A: My laptop and iPhone are vital in this endeavor. I'm constantly checking the Internet, particularly social media, to see what information is out there. I access Twitter, Facebook and Google+ on my iPhone and post links to stories and videos on my MacBook laptop. It's helpful to be able to post comments and answer fan questions on the phone because nobody carries a laptop everywhere. You want to keep an open line of communication with fans. And when news breaks, it's all over the Internet within seconds, so timing is of the essence.
As far as the publisher title, it's just that. A journalist proves worth with dedicated reporting, valuable insight and unique content. I still consider myself a journalist. I just happen to publish my work on two Web sites. We see so many people claiming to be authorities on the Internet. I try to remind everyone on a regular basis that I'm connected to both teams, have covered the Colts for 16 years and the Pacers off and on since the mid-1990s, so the experience and access validates the work.
Q: What is the one item or device you could not live without?
A: That's a toss-up between the iPhone and laptop. I guess I lean toward the laptop because I edit video on there in addition to posting stories and videos to the sites. I can do some of that on my phone, but it would take more time. One of my first concerns when leaving my previous job was technical support because I know how the world stops when you don't have a laptop to do the work. You hate not having a phone, too, but you can get by in the short term.
I've retained the services of some friends who run a small side business in technical consultation to ensure I've got help if I need it should I encounter problems on my laptop. The other fear is how the home wireless system functions. I've often come home because my wireless connection is faster than in media rooms with so many reporters using the same system.
Q: What was your most transformative technology moment when you moved to Ind.Scout.com?
A: I don't know if it was so much a singular moment, but you realize everything you do can have immediacy on the Web. You post stories/videos, share them with 18,000-plus Twitter followers and 4,000 Facebook friends and the hundreds connected on Google+. You do whatever you can to get that work out there to the public. If there's a mistake or typo, you can correct it in a matter of minutes. Fans become your editors, and I'm appreciative.
I had a mistake in one story, the year an athlete entered the NFL. Someone corrected me, and I was grateful. A quick change, editing the player's tenure by one year. If there's something that breaks late at night, you can turn it around quickly. That's the power of the Internet. You don't need to wait to see it in print. Immediate reaction is important. Everybody knows what happens in games, and reporters do their best to find interesting angles from locker-room interviews.
But what about during down time? What projects demand attention because they're unique? I wrestle with quantity versus quality content every week. There's so much to do, but you don't want it to be stale or simply straight-forward reporting. When you're gassed at 3 a.m. trying to push yourself to offer perspective, sometimes it's smart to catch a few hours of sleep and do it in the morning with a clear head. Other times, you keep writing.
After the Colts lost to New England Sunday night, I filed two stories and a video from the stadium, then came home and worked until 7:30 a.m. to file four more stories. There was a lot to share with fans and I didn't want to quit working just because of the late hour. I was exhausted by the time I finished, but it was satisfying, knowing I gave it everything I had after an important game.
Getting back to moments, there have been several instances where an email or tweet has appeared on my phone and I've had to spring to action or stop what I was doing to crank something out quickly. A player is hurt, a team signs somebody, a controversy is brewing over a statement made. You're always watching the phone and ready to act.
Q: If you were going to advise other journalists to make a jump like you did to publish great content online, what would you say?
A: It's all about developing credibility with the public. I've had that to a certain extent from years of reporting, being on radio and TV locally, but you can't rest on that. It's still what have you done for me lately, to a certain extent. So many new journalists think it's about having a sharp opinion. It's not. Everybody has an opinion. What experience do you have to offer such insight? What background can you cite to make your analysis more worthwhile?
When doing a recent story on how to defend New England tight end Rob Gronkowski, I relied on a past interview with former defensive guru Buddy Ryan as well as examples of defensive strategy shown through the years by Patriots coach Bill Belichick. You don't have that unless you've been in the trenches, you've paid attention, you've learned from what you've seen in covering the NFL for so long.
Aspiring reporters need to bridge that experience gap as much as possible by reading what others are writing, noting who is being mentioned as sources. I can say whatever I want, but if I'm quoting experts to make the point, it's more credible with the public. Breaking news, of course, is the quickest way to establish credibility. But those are the hardest stories to get. When popular topics need to be broached, find the best sources to reaffirm to the public that you're tapped in with what's going on.
For more Verizon Wireless news, subscribe via RSS feeds in the right rail.