Verizon HopeLine Provides "Glimmer of Hope" to Dubuque, IA Community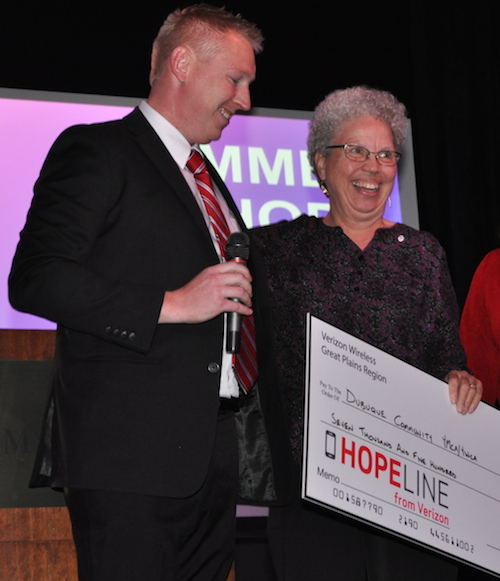 The Dubuque Community YMCA/YWCA Victim Services Shelter hosted its 9th annual Glimmer of Hope Fashion Show earlier this month. The popular event features local law enforcement officials walking the runway and raised more than $25,000 from more than 250 guests.
Zach Zousel, business manager for Verizon Wireless, presented a $7,500 HopeLine from Verizon grant to shelter director, Sister Charla Bulko. Last year, the shelter ceased to receive federal crime victim assistance funding, making community fundraising and support even more critical. The HopeLine grant ensures that the shelter will be able to continue serving victims of domestic abuse in Dubuque County in Iowa.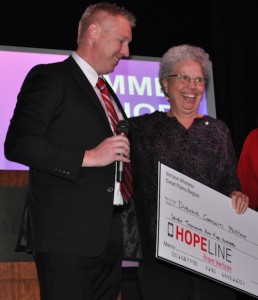 Zach Zousel presents the HopeLine grant to Sister Charla Bulko.
"We will be here again next year thanks to Verizon and HopeLine," Sister Charla said. "This check makes it possible to tell you that everything we raise from the Glimmer of Hope event goes directly to the care and support of the victims we serve at the shelter."
The mission of the Dubuque domestic violence shelter is to educate the community and provide shelter and safety to victims of domestic violence and sexual assault. The emergency shelter is the only 1 of 2 non-federally funded shelters in the northeast region of Iowa, among only 13 other shelters, funded or not, in the state.
To donate or learn more about the Dubuque Community YMCA/YWCA Domestic Violence Shelter, please call 563.556.1100 (toll free: 1.800.332.5899) or visit the website.
For more Verizon Wireless news, subscribe via RSS feeds in the right rail.