Verizon Response Team supporting vaccine distribution efforts nationwide
Full Transparency
Our editorial transparency tool uses blockchain technology to permanently log all changes made to official releases after publication. However, this post is not an official release and therefore not tracked. Visit our learn more for more information.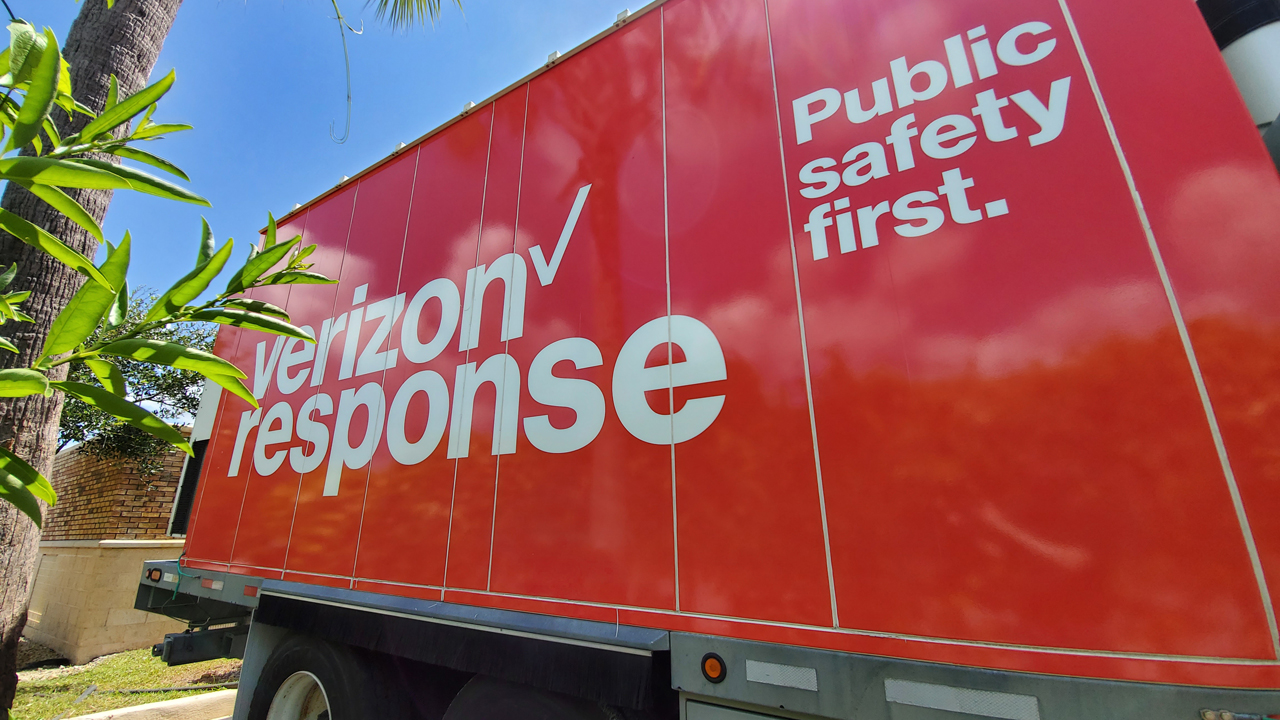 Verizon Frontline platforms and technology have been delivered to support 157 agencies at vaccination sites in 73 cities in 24 states.

The Verizon Response Team's (VRT) support efforts will be highlighted during a May 5, 2021 webinar entitled "Enabling Vaccine Deployment."

Verizon Frontline is the advanced network and technology built for first responders, developed over three decades of partnership with the public safety community.
BASKING RIDGE, N.J. – The 56,000 seats in Dodger Stadium sit empty. The 16,000 parking spots surrounding the venue, where, just months ago, fans tailgated in anticipation of the Los Angeles Dodgers' National League Championship Series matchup against the Washington Nationals, are unoccupied.
Across the country, in Wake County, North Carolina, there is no sound of skates on the ice at PNC Arena. The home of the National Hockey League's Carolina Hurricanes is closed. No fans wait in line for concessions at the 20,000 seat-capacity stadium and the venue's parking lot is, like the rest of the country, eerily quiet.
It's April 2020 and if, or when, the Dodgers or the Hurricanes will play again is a question far less important than how the nation will recover from the devastating effects of the COVID-19 pandemic...if at all.
A year later, as much of the country prepares to open up vaccine availability to anyone over the age of 16, the Dodgers are once again playing at Dodger Stadium and the Hurricanes have returned to the ice in Raleigh, N.C.
A lot can change in 12 months.
The Dodger Stadium parking lot has now served as both the single largest COVID-19 testing site and one of the largest vaccination centers in the United States. Where once souvenirs and hot dogs were sold to fans in jerseys and baseball caps, shots are now given to people in masks who have waited with as much anticipation for their dose of COVID-19 vaccine as they did for Dodger home games.
The essential front line workers at this mega-vaccination site have worked tirelessly to deliver an average of more than 10,000 doses per day since the Dodger Stadium location opened in January. In its first nine days open, the site administered a dose for every one of the 56,000 seats in the famed venue.
The parking lot at PNC Arena has also transformed into a mass vaccination center. More than 3,000 doses a day were given to residents of North Carolina's Wake County at this location.
There are sites like those in Los Angeles and Raleigh throughout the country as America's front line health care workers continue their battle against COVID-19. And, at each of these sites, those administering the vaccine depend on a strong, reliable and secure network for the transmission and tracking of protected patient and vaccine data to the Center for Disease Control's Vaccine Administration Data Systems (VAMS).
Many of the locations where these vaccine distribution centers are located do not have the ideal network capabilities in place to meet either security or reliability requirements...particularly on the short notice with which many of these centers needed to be set up. Sites have been established in empty parking lots, at race tracks, in vacant shopping malls, in college basketball arenas and in the heart of Times Square in New York.  In many of these instances, those on the front lines have collaborated with trusted partners like Verizon to develop the network solutions necessary to enable the most efficient distribution of the vaccine possible.
Since the first dose of the vaccine was administered in the U.S. in December of 2020, Verizon has been working with front line health care workers and state, local and federal agencies across the country to ensure that they have the network and equipment they need to effectively deliver the vaccine.
In Los Angeles, for example, the VRT set up a secure mesh wifi network to ensure all areas of the Dodger Stadium parking lot being used for vaccinations received reliable coverage, enabling a fast and safe online registration and patient data entry process and helping the health care workers on scene to increase the number of doses they were capable of giving per day. Secure standalone networks were also established in New Hampshire, Ohio, North Carolina and Illinois - among other sites.
Verizon also provided mobile network coverage in rural, hard-to-reach areas so public safety agencies could track vaccine distribution in these locations, and furnished state and local municipalities with loaned, mission-critical devices (tablets, routers, smartphones) so they were able to more efficiently and, in some cases, through contactless QR code reading, register those receiving vaccinations.
Since the vaccine began rolling out, Verizon Frontline platforms and technology have been delivered by the VRT to support 157 agencies at various vaccination sites. The VRT has assisted public safety agencies with network support and loaned more than 1,000 devices to our partners in 73 cities in 24 states, demonstrating Verizon's lasting commitment to our nation's first responders - a commitment developed over nearly three decades of partnership with those charged with keeping the nation safe.
This commitment continues as the country passes 200 million doses of vaccines administered, the crack of the bat is once again heard at Dodger Stadium and skates carve up the ice at PNC arena.
For more information on the vaccination distribution effort, register for the Verizon-sponsored "Enabling Vaccine Deployment" webinar scheduled for May 5 at 2 p.m.
Verizon Frontline (www.verizon.com/frontline) is the advanced network and technology built for first responders – developed over nearly three decades of partnership with public safety officials and agencies – to meet their unique needs. From network priority and preemption and a commitment to real interoperability, to developing and delivering the most innovative product roadmap, Verizon Frontline is built on America's most reliable 4G LTE network, and will be able to harness the transformative power of 5G.
VRT provides on-demand, emergency assistance during crisis situations to government agencies, emergency responders, nonprofits and communities on a 24/7/365 basis. VRT members set up portable cell sites, WiFi hotspots, free charging stations and other devices and solutions that enable communications and/or boost network performance.