When crises come, the Verizon Response Team is always ready
Full Transparency
Our editorial transparency tool uses blockchain technology to permanently log all changes made to official releases after publication. However, this post is not an official release and therefore not tracked. Visit our learn more for more information.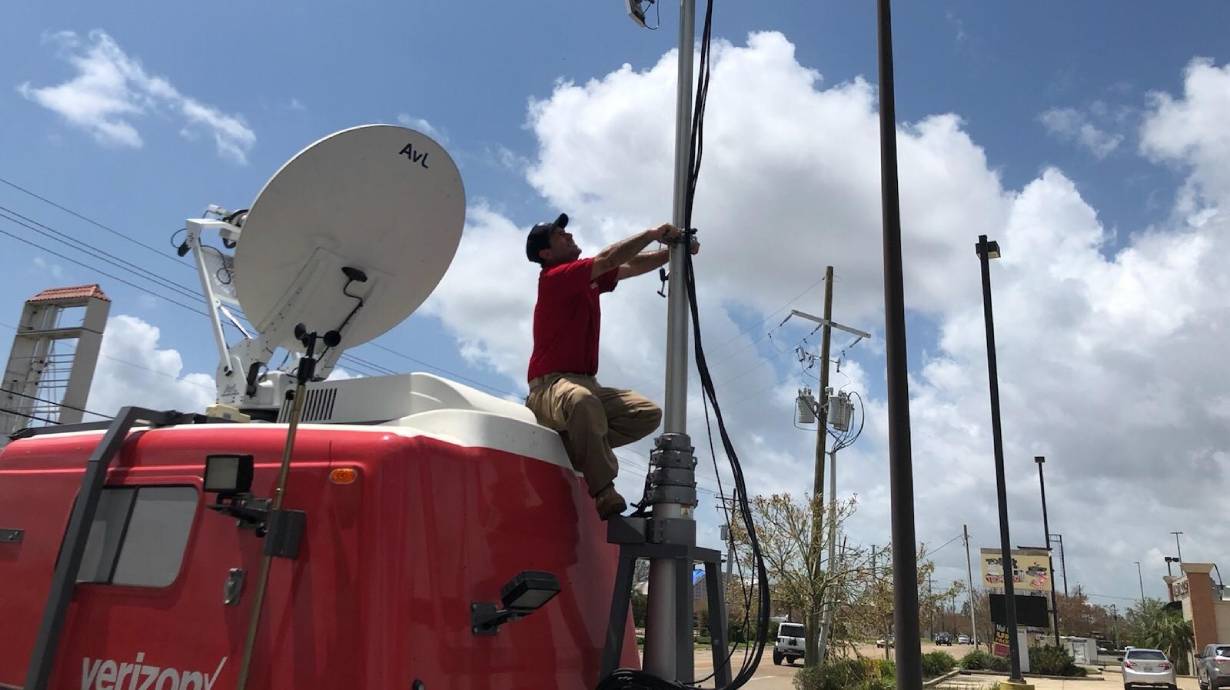 The year 2020, by most accounts, has been like no other. Government agencies were faced with meeting the needs of citizens during an unprecedented crisis while themselves adjusting to a "new normal." Wildfires ravaged several states in the western part of the country, and the 2020 Atlantic hurricane season was the most active on record. All year, the Verizon Response Team worked alongside first responders to assist in times of crisis, working with governments and first responders on more than 2,000 engagements supporting pandemic, wildfire, hurricane response and other emergency efforts. And, for the first time, the VRT was activated during a nationwide response.
The VRT provides on-demand, emergency assistance during crisis situations to government agencies, emergency responders, nonprofits and communities on a 24/7/365 basis. VRT members set up portable cell sites, WiFi hotspots, free charging stations and other devices and solutions that enable communications and/or boost network performance. The team is on standby to aid in response efforts for Winter Storm Gail.
"Our ability to be on the ground with those we serve gives us a chance to engage in a meaningful way and be significant in our actions," said Trent Griggs, one of the Verizon Response Managers. "Working as part of the national Verizon Response Team is something to be proud of. In times of need, we are able to support first responders and help them serve their communities."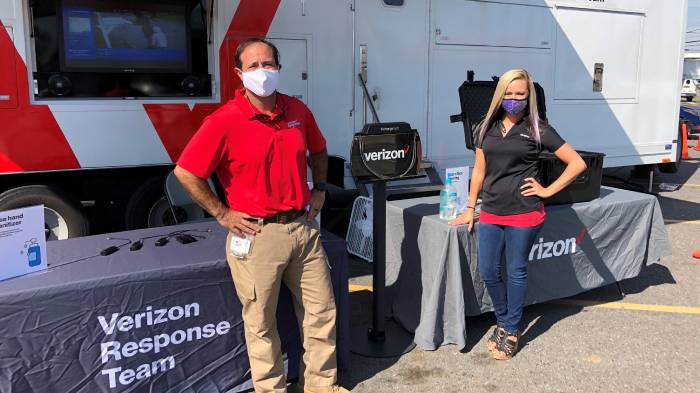 Trent Griggs and a local representative helping charge phones for first responders as part of Hurricane Delta response.
Pandemic response: 450 engagements across 40 states + DC
Due to Covid-19, the VRT has provided services and support across 40 states and the District of Columbia, activating for the first time nationwide. Team members handled 450 engagements and deployed more than 2,600 devices, while working closely with network engineers and sales teams to provide mission-critical communications for our customers and the communities they serve. As part of pandemic response, VRT assisted with enhancing or creating communications for Covid-19 hospitals, testing sites, PPE distribution centers and contact tracing field offices serving federal, state, county, municipal and DoD agencies.
Wildfire response: responding to more than 100 wildfire events in 11 states
As an active wildfire season tore through the western parts of the country, a team of 24 dedicated, full-time Verizon Response Managers, working in partnership with network engineers, supported 11 states by responding to more than 100 wildfire events in communities and remote locations. During these efforts, teams supported frontline firefighters, government agencies, community resource centers and evacuation shelters with over 300 mission-critical engagements and deployed more than 1,800 devices during 2020.
Storm response: supporting the most active Atlantic hurricane season to date
When the derecho hit the midwest, dams failed in Michigan, and 31 named hurricanes came through the Atlantic, the VRT again sprang into action. VRT was active in assisting public safety and the communities they serve in 8 storms: Cristobal, Douglas, Hana, Isaias, Laura, Sally, Delta, Zeta and Eta -- impacting 18 states. Storm assistance included more than 250 engagements and more than 1600 devices deployed.
"Hurricane Delta hit the city of Jennings (La.) pretty hard," said Mayor Henry Guinn. "In a matter of hours, teams from Verizon were onsite making sure our emergency responders and residents were connected. We were thrilled to have communications up and running so quickly."