What Makes a Perfect Thanksgiving?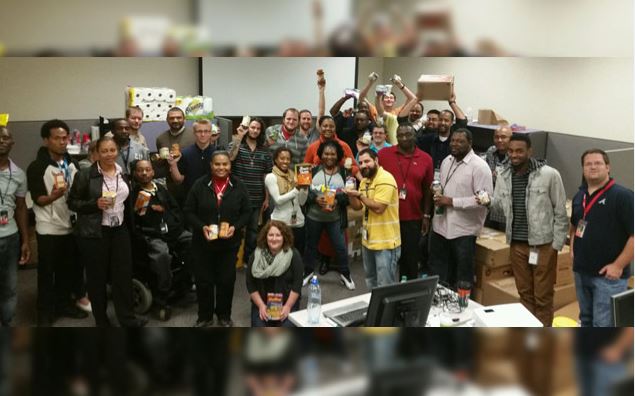 The holidays are a perfect time to gather with loved ones and reflect on all that we are grateful for.
For Charmeka "Meca" Brown, the holidays aren't just about having grateful thoughts; it's about putting these thoughts into action by helping those in need.
Brown, along with her  colleagues on the technical customer service team -- Jared Ellis, Tishaun Ophelia and Kathy Ross -- organized a food drive that will bring holiday joy to many in need this season.
The Power of Gratitude
Brown coordinated a shopping list of suggested nonperishable items, including gift cards to local supermarkets.
She knew her fellow teammates would bring in the goods for a food drive, but she decided to take it a step further by adding a special incentive: rewarding food with more food.
The Verizon team with the largest number of donations would win a pizza and a movie party. Team members were eligible to win an individual prize as well -- for every 10 individual items donated, members were entered into a drawing for a gift card.
It's no surprise that the food came rolling in. 
A Culture of Giving
Over 3,400 items – food and wireless phones – were donated to the Transition Family Violence Services center, a nonprofit organization that assists families dealing with domestic violence situations.
Thanks to Brown and her teammates, these families will enjoy a wonderful holiday feast this year.
This culture of giving is instilled year-round at Verizon, but it's especially prevalent during the holidays, where the spirit of giving goes a long way.
"This was absolutely awesome work by the team and represents our Verizon team culture at its best," says Curtis Adamson, director of technical customer service.
This article was contributed by Lillian Doremus, who is on the communications team at Verizon.