Whose land are you on? Text to find out.
Canadian organization Native Land Digital works to spread awareness about Indigenous people through open-source map technology.
Full Transparency
Our editorial transparency tool uses blockchain technology to permanently log all changes made to official releases after publication. However, this post is not an official release and therefore not tracked. Visit our learn more for more information.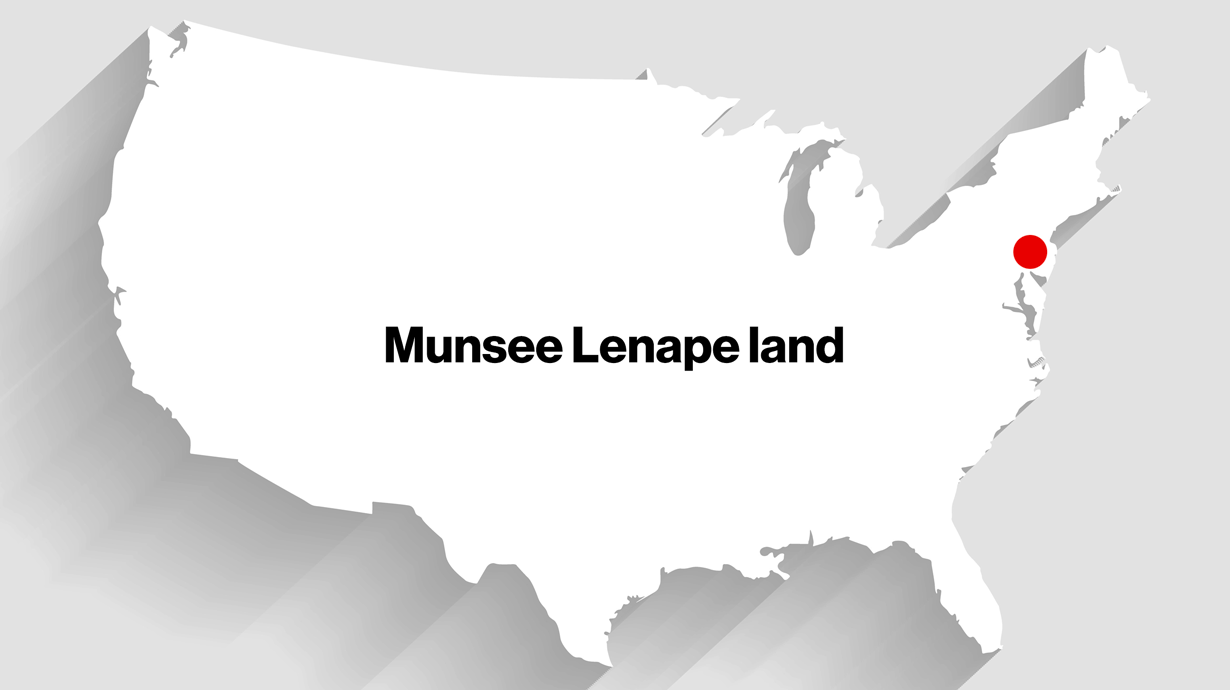 First things first. Text your address to 907-312-5085 to find out which Indigenous lands you're living on or visiting. We'll wait.
Maybe you live on Munsee Lenape land in Brooklyn. Maybe you're crossing the Golden Gate Bridge on overlapping territories of the Ramaytush, Ohlone and Muwekma tribes. Or perhaps you're hiking the mountains of Colorado on Cheyenne land.
The text bot you're using is based on the data from Native Land, an open-source platform where users can learn about the Indigenous territories, languages and treaties that surround them.
Since 2015, the interactive map has added to the accessibility of a complex history that is helping nonnatives and natives alike reconcile with a tumultuous past in order to create a more just future.
Indigenous history is now.
Today there are approximately 476 million Indigenous people worldwide, in over 90 countries. In North America, there are more than 1,100 tribes—562 in the United States and 630 in Canada.
Still, a study conducted by Pennsylvania State University found that 87 percent of content about Native Americans being taught in K–12 U.S. schools only included pre-1900 context.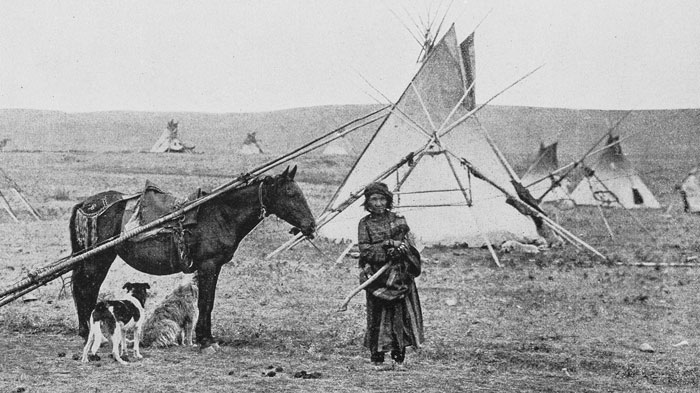 Native Land helps users learn about historic and modern locations, languages and treaties of native people across the world.
Leena Minifie, a founding board member of Native Land and a member of the Gitxaala nation, says that when she was growing up in British Columbia, her public school experience was similar.
"When I went to school, the dominant narrative in history, social studies and everything was just, of course, the white perspective," she says. "White history and white male figures, and just maybe there were two teachers who would teach 'some Indigenous stuff.'"
But Native Land Digital is changing that.
Learning the land: A digital approach
In 2014, Vancouver-based web developer Victor Temprano sought to find a way to use his web skills to further education about Indigenous land rights and ownership as part of wider involvement in activist movements.
As a settler, or nonnative person, Temprano was concerned about many of the issues raised by using modern state and federal boundaries on a map of Native Lands, since those lines represent a colonial way of thinking. So he created Native Land Digital, to prompt others to think about the Indigenous history of the land they occupy.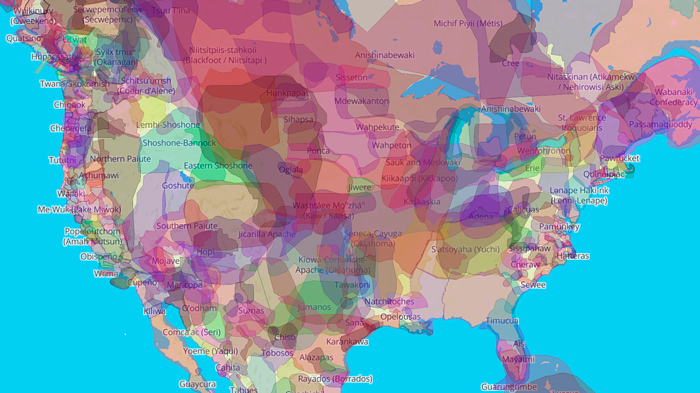 Native Land maps are a constant work in progress with contributions from the community. They encourage feedback to help fix any errors found. Photo credit: Native Land
Today, Temprano continues to work within Native Land in technology and logistics, but the organization has grown to encompass many more Indigenous members, both staff and volunteer. A majority-Indigenous board now guides and leads work on the completely open-source platform and the Executive Director is Christine McRae.
Using the Native Land platform is simple. Via a search bar on the website or app, users type in an address, and a purely geographic map appears, one without those state or federal lines. It's overlaid with color blocks that represent the tribes, territories and languages associated with the area.
In many cases, more than one tribe comes back because of overlapping territories. And that's due to the complex nature of tribal relationships, Minifie says.
"In some instances, several communities use shared spaces peacefully. So there's shared seaweed-collecting camps and shared fishing places. And in other cases, natural migration, periods of food scarcity, Western government interventions and lawsuits, and conflicts between tribes can mean that one connection point has up to eight different nations on top of it. So there are shared spaces and contested spaces, and we want to honor both with the map."
Staff members encourage users to send in any corrections or additional information to make the database as robust as possible. Users can follow links to official tribe websites and find, for example, an in-depth history of the Wichita tribe, facts about the Eastern Shoshone Nation's program to bring buffalo back to the Wind River Indian Reservation, or a traditional Seminole recipe for sofkee.
"We're trying to change the way people think," Minifie says. "Planting that seed of opening their minds. That first seed is, Oh, I'm on somebody's traditional territory. And then from there, the next question is, Who are those people? What do I know about those people? What have I been told about those people and their lands? To the very important question: What is my relationship with the people of these lands and the land itself?"
The map also shows relationships to the land. "It's not just the people on it, but then how do they relate to the animals, the plants, the land itself," Minifie says. She and her team want the map to prompt users to see different ways of thinking and being in this world. "It's a lofty goal to come from one map."
Based on website traffic numbers, it seems people are genuinely interested in digging deeper. The site sees about 3.8 million visitors a year. But on Columbus Day this year the website crashed from the amount of traffic. And last month, on Thanksgiving Day, the website had 150,000 visitors, more than seven times its daily average.
Offering peace and giving respect
While many visitors may be nonnative people wanting to learn about Indigenous culture, Minifie says, Native Land can be important for Indigenous people like herself.
"I think there's a lot of room for settlers to learn and have their introduction to Indigenous history and get interested," she says. "But I do think that Indigenous people use it all the time too. When we're going to other places, people look up where they're going to."
One reason, Minifie says, is an act called a land acknowledgment, which is ingrained in a lot of Indigenous cultures.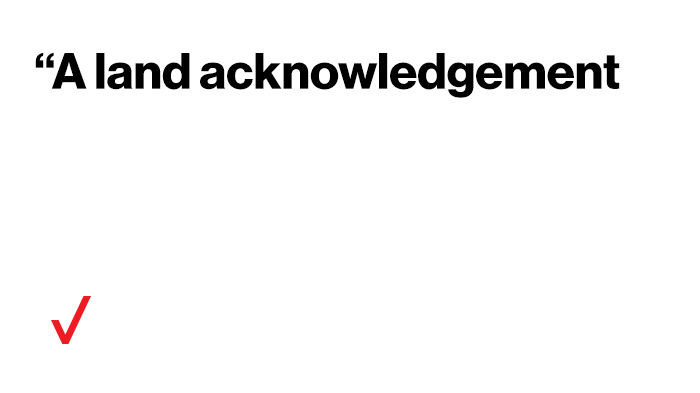 "It's like how in some cultures you would remove your shoes before going in somebody's house," Minifie says. "A land acknowledgment is about presenting yourself and following somebody else's rules and giving respect and knowing that you're there in a good way. Each land acknowledgment has a lot of complexed  and nuanced protocol internally to each nation."
To help people navigate these nuances, the Native Land website outlines how individuals can craft a land acknowledgment statement before an event as a sign of respect. Tips include researching the people, the history of land treaties and the pronunciation of names, and not sugarcoating the history.
The ceremony to commemorate Indigenous people's principal kinship to the land is becoming more frequent across the globe. During the Macy's Day Thanksgiving Parade this year, a land acknowledgment took place that highlighted the Lenape territory of Manahattan where the parade is traditionally held. In Toronto, a land acknowledgment to the area's native people—that includes four tribes—appears on 160 bus shelters throughout the city.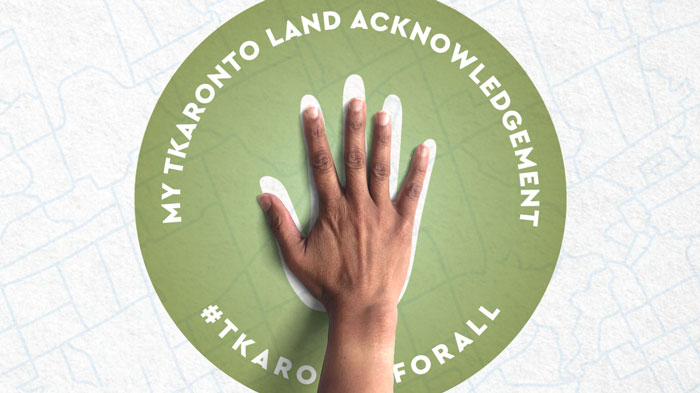 A land acknowledgment in Toronto means recognizing that TkaRonto  — the original name of Toronto — is the traditional territory of many tribal nations. Photo credit: City of Toronto
It is a small gesture with great significance that shows how individuals and organizations can take part in an act of reconciliation, honoring the land and Indigenous heritage.
And as the pandemic leads more people to engage with technology and spend more of their lives online, Minifie hopes that Native Land will become a larger part of the conversation around Indigenous rights.
"It's all about the story of people," she says. "Native Land democratizes information, storytelling and history. Thousands and thousands of years of stories that were just not even told are now online."
To learn more about Native Land Digital, visit native-land.ca.
Verizon's employee resource group — Native Americans of Verizon (NAV) — is providing greater opportunities for Native American employees to share their rich heritage and culture, and achieve greater professional success at Verizon.  Members also collaborate on how to best serve Native American customers and local communities. NAV is open to all employees who have an interest in learning more about American Indian and Alaska Native cultures.
In 2011, Verizon created the Verizon Sovereign Nation team to establish meaningful and successful tribal relationships – not only as business partners, but as community partners. As our customers within Indian Country have needs and priorities that differ from other government agencies, Verizon launched this initiative to expand networks and steadily upgrade 4G and LTE services.
Verizon is also helping bring tribal communities together with innovative solutions, like conserving water on the Lower Brule Indian Reservation and helping Hualapai Police improve officer safety and accountability.
Know someone who's creating a positive impact using technology and connectivity? Send us a message at story.inquiry@verizon.com. They could be next in our story series.