Work-Life Balance Works. Just Ask Verizon's Award-Winning Author.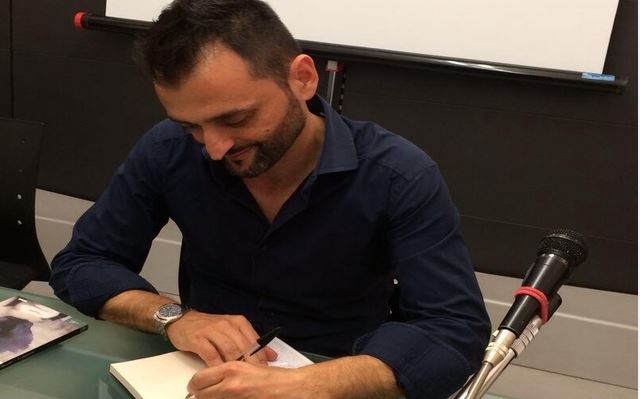 Your nine-to-five job doesn't define you. In fact, employees are often recruited based on their unique talents and interests off-hours – not just their professional credentials.
Claudio Bianconi is an example of how employees achieve work-life balance at Verizon: succeeding in the office while pursuing personal interests.
Bianconi is a client executive on Verizon's Italian sales team, a father and an award-winning author. His novel, "Le Apparenze" (The Appearance) was published this year in Italy and Greece.
In this interview, Bianconi discusses his journey as an author and shares some tips on achieving work-life balance.
Claudio, if you'll forgive the pun, what's your story?
I've been writing regularly and seriously for the past 10 years, but since my teenage days I've been interested in writing in some form or another – beginning with composing lyrics for songs to play on my guitar. What started as a hobby developed further while studying creative writing and story-telling as part of my sociology and communication sciences degree. 
At Verizon, I am on the Italian sales team, where I am responsible for some high-profile customers.
What inspires you to write?
Like most writers I have a great love of reading and an endless fascination with people. I start by observing people around me, slowly imagining and building their individual personalities and behaviors, and then weaving those parts together into a cohesive story.
Oh really? Are there any Verizon employees we'll recognize?
I can reassure you that … [my characters] are entirely fictional and are not based upon my team members at Verizon. 
Since not all of our readers will know enough Italian to read your novel, can you tell us more about it?
Well, it's a thriller called "Le Apparenze" (The Appearance) set in the beautiful city of Rome, which is my home and a place I love and know very well. It starts off as a simple story, but one which then quickly turns into a complicated and intriguing mystery. I would say it is more in the style of Hitchcock than Dan Brown. 
Tell us about winning the Walter Mauro Award for your book.
It was a huge honor, winning the award earlier this year. My colleagues were astounded as they had no idea that I was a writer – I had never spoken of it before. The award is dedicated to the late Walter Mauro, who was an accomplished Italian writer, poet and leading literary critic. He was also an important member of the Dante Alighieri Society, which acts to protect the Italian Language abroad. 
Any tips for other colleagues, who may want to follow your example and pursue a serious hobby while working?
I think the key to success is to stay focused on your goal, whatever it may be -- career, family or something else that you are passionate about. Remember, if you have passion for what you are doing, the pursuit and achievement of your goal is not a chore at all; it should be enjoyable. For me, writing is the relatively easy part. The more difficult thing is to find a subject to write about that is absorbing and compelling. Once you find that, you'll have the energy and enthusiasm to see it through to its ending.
This interview was conducted by Siobhan Dudding, who is on the communications team at Verizon.