Can you print history in 3-D?
Curators and conservationists are rebuilding ancient worlds with cutting edge technology.
Full Transparency
Our editorial transparency tool uses blockchain technology to permanently log all changes made to official releases after publication. However, this post is not an official release and therefore not tracked. Visit our learn more for more information.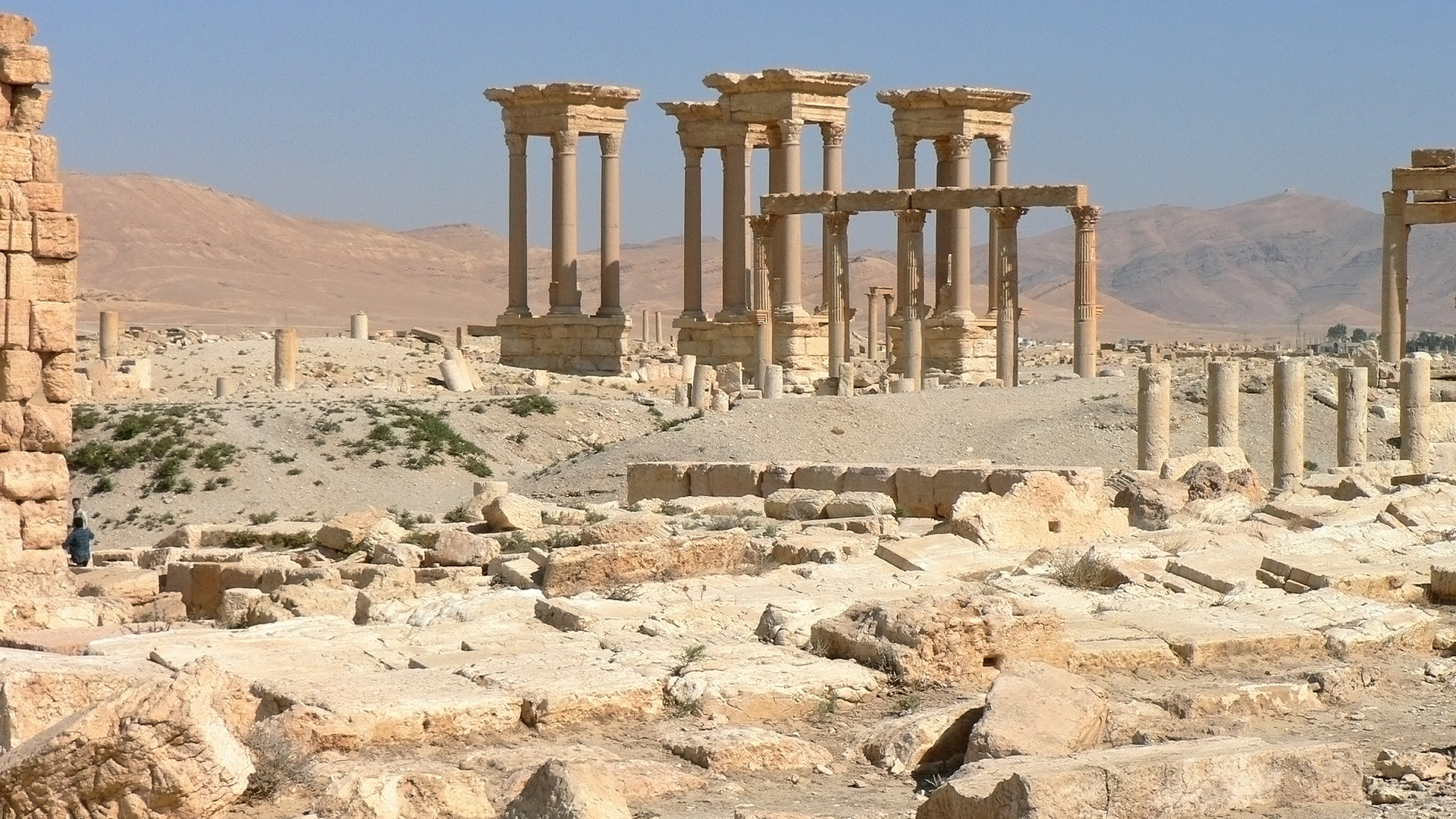 When soldiers from the radical ISIS army captured the Syrian city of Palmyra in 2015, they knew the world was watching. To make a statement, members of the group attached dynamite to the Palmyra archway monument, built by Romans in the third century, and detonated it. Historians from around the world were stunned: the internationally recognized ruin was now rubble. Could anything be done to help rebuild a priceless piece of antiquity?
Surprisingly, history's best ally may be cutting edge technology. 3-D printing can do a lot more than pump out a keychain on demand. Museum curators and archaeological conservationists are utilizing fabrication machinery to create detailed replicas of artifacts, affordably and quickly.
In response to ISIS' destructive rampage, the Institute for Digital Archaeology printed a life-size replica of the Palmyra Archway, which was later exhibited in Washington, D.C., New York, and Italy. Design plans for the replicas were created, in part, by photos taken of the original artifacts. The organization's "Million Image Database" collects photos of historic sites taken by volunteers at sites around the world in case they're ever needed for future study.
"3-D-printed replicas of artifacts have clear value for research, education, and exhibit design in museums," explained Brendan Ciecko, CEO and founder of Cuseum, which partners with art and history museums to create augmented reality apps to enhance visitor experience.
Often artifacts are too timeworn and delicate to consider moving or touching, and Ciecko said this greatly limits how closely they can be examined by researchers. "However, developments in 3-D printing technology have enabled such objects to be reproduced in detail, so they can be handled and studied without risk of damage to the original."
And there's another advantage to producing these detailed replicas: They contribute to more tangible and interactive museum experiences. "Do not touch" signs are commonplace in museums, but Ciecko said 3-D-printed replicas have the opposite impact. 
"Audiences can be encouraged to pick up, touch, and explore these reproductions in a multi-sensory way," he explained. "This can be especially instructive for children, as well as visually impaired visitors, who benefit from tactile learning experiences." 
The American Museum of Natural History has helped students reconstruct dinosaur bones with 3-D printing. The British Museum uses 3-D printing to make their collections available to audiences in other parts of the world. On the website for Washington, D.C.'s Smithsonian Institution, viewers can see virtual 3-D versions of the Wright Brothers' famous aircraft and even examine the spot where a British cannonball damaged the USS Philadelphia gunboat during the Revolutionary War.
3-D printing is also being used to help restore historical sites, like the fire-damaged Notre Dame cathedral. The architectural historian Andrew Tallon captured Notre Dame in unprecedented detail, which will prove invaluable to the restoration of the historic structure, said Kent Mages, CEO of Custom Color 3D Printing, a Chicago-based additive manufacturing company that partners with universities, museums, and theater companies in need of small production runs of props or replicas.
Michael Raphael, CEO and president of Direct Dimensions, partners with American artist Jeff Koons as part of his fabrication process. For Koons' "Liberty Bell" project, the company scanned the original and spent a year manipulating the raw data. Then it took Koons seven years "to fabricate the most accurate reproduction of the Liberty Bell that mankind can do – or afford," Raphael explained.
Since Koons' pieces have set record auction prices among living artists (one work sold for $58.4 million, and another one sold for $91.1 million), Raphael said Koons can afford to invest quite a bit into the fabrication.
"By utilizing 3-D laser scans of historic artifacts, buildings, and fossils, various organizations are able to accurately capture digital models down to the most minute detail," Mages said.
So, how does 3-D printing work? It starts with 3-D scanning, which creates a digital model of the artifact that can be saved into digital software. "Since the scanning is 3-D, it can capture the nooks and crannies, small features and textural aspects of the artifact," explained Sarah Boisvert, founder of the Fab Lab Hub, (fab as in fabrication). She is also a consultant for the MIT Fab Lab and several museums that are also part of the Fab Lab network. "Scanning also is optical so there is no damage to the artifact, unlike when old methods poured plaster or resin for molds onto the original item." The beauty of a digital file is that it can be saved and copied, and also printed on other types of materials, like metal and ceramic.
5G technology and Verizon's Intelligent Edge Network are creating new possibilities to more easily scan real objects for 3D rendering. A handheld volumetric scanner that creates detailed renderings of objects and entire scenes was demonstrated at Mobile World Congress Americas in October.
3-D printing is quick and inexpensive, but those are relative terms. According to Boisvert, 3-D printing tends to be slower than other types of manufacturing technologies, and when using a material like metal, it can be quite expensive. 
For all of the benefits of 3-D printing, there may also be some concerns, such as the potential for forgery. "Chemical analysis, material composition, and context are things that are uniquely imbued upon the object, and forgeries are likely not an issue," said Ciecko. "However, it does raise questions of ethics where one might scan an artifact, make an alteration, and then place it on public display."
Reputable institutions are expected to verify and authenticate an artifact's background, but he admits an individual or group could create fake objects that could be passed off as authentic to the undiscriminating eye.
While Palmyra and Notre Dame may never be exactly the same as they once were, 3-D printing may help bring them back to their glory and maintain them for years to come.
For more information, see:
Restoring and replacing classical ornamentation with 3-D printed objects
Institute for Digital Archaeology
Rebuilding ancient Palmyra with 3-D printing
Using 3-D printing to recreate world heritage sites
For related media inquiries, please contact story.inquiry@one.verizon.com