How drones help the environment and tackle climate change
How drones help the environment and tackle climate change
Scientists can research more accurately and cost effectively
The colony of fur seals on Phillip Island, just off Australia's southern coast, is large and not particularly easy to count. While millions of tourists visit the scenic destination every year, tracking the animal population on the remote "Seal Rock" section of the island has long been a challenge for biologists. Traditionally, tallying these seals required several researchers rowing out and visually confirming the inhabitants. The manual process wasn't completely accurate and could be distracting to the lounging locals. 
In the past several years, a new overseer has taken on the challenge. A drone hovers above the herd, capturing images of the shaggy sunbathers. Counting the fur seals with a small, unmanned aerial vehicle is much quicker than transporting researchers by boats to the same site, explains Dr. Rohan Clarke, senior lecturer at Monash University, who leads a team that tracks the seal rock population as well as Australian sea birds.
An animal survey that used to take one to two days can now be completed in an hour. "The footage gives us a much better insight into population change over time when compared with more traditional and much more labor intensive ground counts," says Clarke.
Drones also create less disturbance. "As you get to using the smaller, off-the-shelf quadcopters, the disturbance levels are really quite small," he explains. 
While drones are often associated with action sports videos and military maneuvers, biologists and ecologists are finding unmanned flying vehicles and underwater robots can be excellent assistants. Thanks to machine learning and other technological advancements, drones are helping to clarify ways in which climate change is altering the earth and, in some cases, directly combating ecological problems.
Clarke's team is helping to develop on-board software that will be able to detect the bright green fishing netting seals occasionally get wrapped up in. "If we can detect seals in real time, we can make appropriate decisions about proper response," says Clarke. If a cluster of seals are entangled, "It may make sense to then put a boat in the water to fix the problem."
Drones' ability to access remote areas makes them particularly invaluable to scientists and researchers trying to understand how changes in weather patterns are affecting rainforest trees, mountain air and underwater ecosystems. Cornell University researchers have used drones to measure surface reflectivity, logging how much solar energy a landscape reflects and absorbs. A team of scientists from the University of Nottingham employed UAVs to survey climbing vine plants and better understand how they may affect the carbon balance of tropical rainforests.
Underwater, scientists have sent drones to collect sediment samples and analyze climate change's impact on ocean life. The wind-powered Saildrone fleet "patrols" the high seas and relays data in real time. A Saildrone unit can operate indefinitely thanks to its robust design, sonar capabilities and ability to harness renewable energy. The fleet measures radiation, salinity, chlorophyll and pH levels, among other things. The team behind the Saildrone hopes to send the drones into hurricanes to better understand the behavior and impact of the storms.
Mariah Scott, president of the drone operations management software company Skyward, notes how drones are being used for climate change-related emergencies. "As climate change continues to take a toll on the built world, we've seen public utilities, insurance companies and engineering firms come to rely on drones as key tools for inspecting essential infrastructure in the immediate aftermath of a disaster — as well as for ongoing mapping of coastlines and flood-prone areas," says Scott.
Ground-based drones are also helping to slow down deforestation, coastal erosion and plant seeds. DroneSeed works in post-fire areas to replant whole areas of forests using drone technology. BioCarbon Engineering has created a tree-planting drone that launches seed pods from 10 feet above the ground. Japan's National Institute of Advanced Industrial Science and Technology is currently using a cracker-sized, half-ounce drone to pollinate individual lilies — a job that would be mind-numbingly difficult for humans.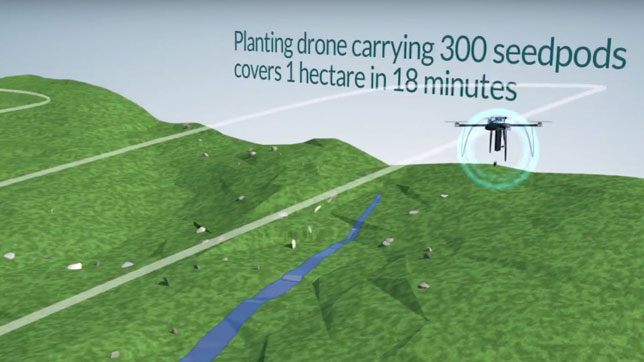 Dr. Paul Salaman, CEO of Rainforest Trust, a charity that saves rainforests, recently told the Leonardo DiCaprio Foundation how drones can also help with land-use planning. "Drones help produce detailed maps of protected areas and can aid in identifying the best locations for trails or park infrastructure, limiting the footprint of park development," says Salaman. "They can also help identify new areas important for protection, and monitor and track species in and around protected areas to help identify migrant routes, nesting locations and other vital habitats." 
Clarke sees the advantages for scientists working with drones quickly growing. Not only are aerial surveys easier than ground ones, they're also more cost effective, allowing research budgets to stretch further. Drones may even be life savers. A study about wildlife biologist mortality showed plane crashes that occurred during aerial surveys are a leading cause of occupation-related deaths. "We don't want to take field researchers out of the field, but if we can reduce the risk, all the better," says Clarke. 
For research, the potential is astounding, particularly for spatial ecology. Outfitted with the right sensors, Clarke says drones can do almost anything that's being done now but often more accurately and cheaper.
In the fight against climate change and the preservation of the environment, technology like this may help lead us to a more sustainable earth.
For more background, see:
Cornell Research and Climate Change
For related media inquiries, please contact story.inquiry@one.verizon.com
For more on the Fourth Industrial Revolution, please visit
this page
.