Innovating across the digital divide for Native American kids
Today, advocates are putting routers on school buses, building mini robots and talking to their elders about how to get rural schools connected—and more Indigenous youth represented in STEM.
Full Transparency
Our editorial transparency tool uses blockchain technology to permanently log all changes made to official releases after publication. However, this post is not an official release and therefore not tracked. Visit our learn more for more information.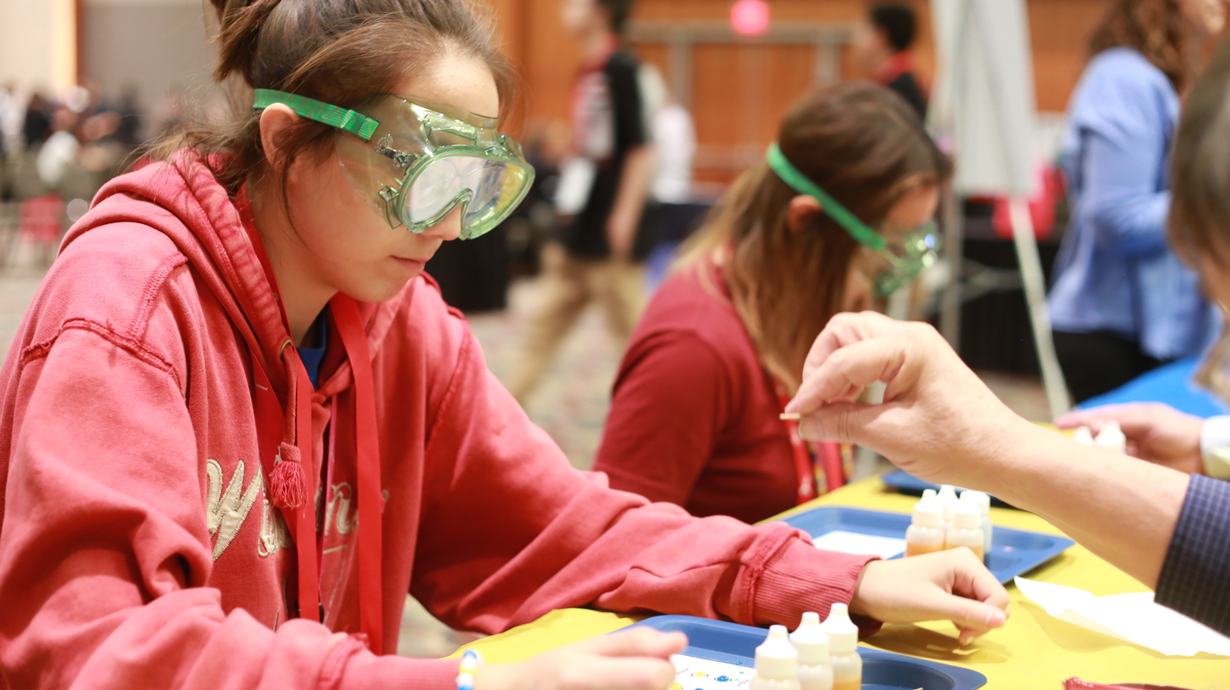 For many kids growing up in Native American communities today, fast food and fast internet go hand in hand.
"Students have access to the Internet and wireless devices at school, but when they go home to do homework, they still need access to the internet," says Anita Hart, the National Tribal Liaison for Verizon Business Group. "And unless we have that connectivity, they're going to McDonald's or sitting outside of the school."
Hart coordinates with entities under the tribal government, including 132 K-12 schools that are tribally controlled, helping them with wireless phones, IoT (Internet of Things) solutions, distance learning and telehealth. She's one of several advocates working to bridge the digital divide for Native Americans, who historically face challenges in connectivity, education and jobs.
Although the Biden Administration has secured more than $13 billion to make significant infrastructure upgrades to roads, bridges and high-speed internet for Tribal lands, unemployment remains higher for Native Americans than any other racial group. By conservative estimates, more than 18% of people on tribal lands lack broadband internet access. Outside of tribal areas, only about 4% of people lack broadband.
While students wait for infrastructure upgrades in their hometowns and schools, people like Hart are working to find innovative ways to get kids connected. In honor of Native American Heritage Month in November, we asked two Verizon team leaders about the company's current projects and efforts to eliminate the digital inequality on Native American reservations in rural areas.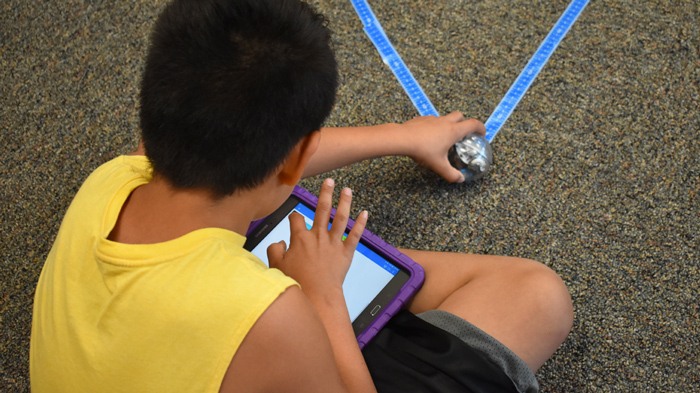 Image credit: Lati The American Indian Science and Engineering Society
Step one: Rebuild the infrastructure
"Native Americans have generally lagged way behind the rest of the country in terms of the amount of bandwidth delivered to the schools," says Byron Genner, Senior Client Executive for Verizon.
Genner works with a team to develop solutions that advance the Bureau of Indian Education's mission to provide a high-quality education to Native American students.
Through a government-wide contract, Verizon is in the process of transitioning older data lines to newer, high-speed access lines to support faster Internet connections. According to Genner, the initiative to enhance service on these reservations and communities is expected to impact the education of close to 40,000 students on 64 Native American reservations across 13 states.
"By deploying more bandwidth, Verizon is giving these schools the ability to download data-rich programs and access interactive educational tools and applications," says Genner.
"In many cases, the additional bandwidth requires special construction such as microwave towers or fiber optics cable. This means it could take at least until the middle of 2023 for the network upgrade to be completed," explains Genner.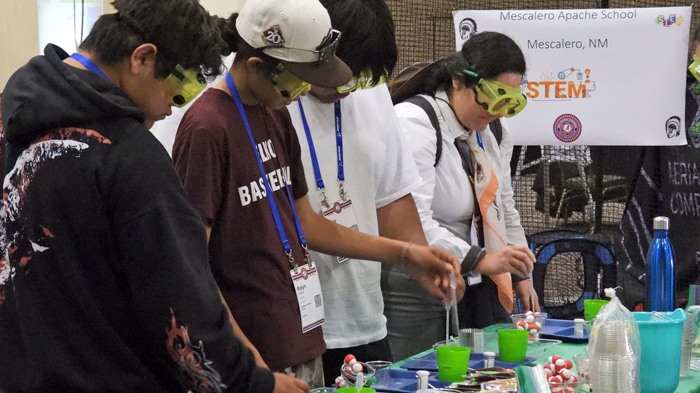 Image credit: Lati The American Indian Science and Engineering Society
Step two: Provide wireless solutions while schools wait on upgrades
Verizon has also been working for more than a decade to bring digital equity and inclusion to Native American communities and schools by implementing wireless solutions such as Wi-Fi hotspots, routers, tablets and smartphones with Verizon cellular connectivity.
One novel solution has focused on providing Wi-Fi for students where they live: "We can put wireless routers in school buses, and put those school buses near homes and communities," says Hart. "A school bus with a router can broadcast a Verizon wireless signal to allow students to connect and upload assignments."
In addition to its initiatives with the Bureau of Indian Education and ongoing efforts with tribally run schools, another way Verizon is helping Native American and Indigenous youth is through its Employee Resource Group Native Americans of Verizon, which has over 2,000 members.
The group includes Native Americans and their allies at Verizon.
"We'll go into schools and do STEM events. We've participated with Boys and Girls Clubs, sending out robot kits and getting our engineers involved by having them talk about engineering and how they got into it," says Hart.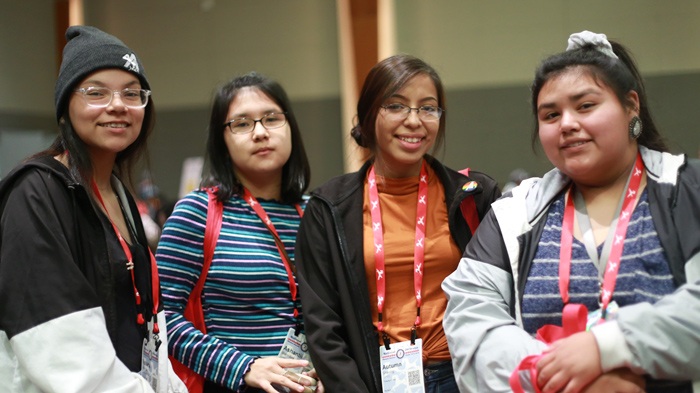 Image credit: Lati The American Indian Science and Engineering Society
Step three: Give kids ongoing exposure to Native American people working in STEM
Currently, Native American individuals make up just 0.4 % of the STEM workforce. Increasing representation is another aspect of achieving equity and inclusion, according to Dr. Benjamin Quanah Parker, a software research and development engineer at Intel, and a member of the Squaxin Island Tribe.
Raised in the Seattle suburb of Auburn, Washington, Dr. Parker spent his childhood traveling back and forth with his grandparents and mother to where she grew up in Turtle Mountain Reservation in North Dakota.
Dr. Parker is a recent graduate from Portland State University with a Ph.D. in mathematical sciences—and one of only 37 Indigenous people to have earned a doctorate in math. His journey and access to science and technology began through his tribe.
"In junior high school, I participated in the Squaxin Island Tribe Summer Youth Employment Program. Basically, it gives a lot of young kids a job and a chance to understand everything from tribal administration to natural resources," says Dr. Parker. "I worked in our tribal government natural resources department with some of our techs and hydrologists. We did a lot of quantitative measurements of stream flows. That was my first dive into STEM-related careers, and it bloomed outward from there."
Encouraged by his mother and grandparents to pursue a career in medicine or engineering, Dr. Parker started to find his true passion in high school.
"In high school, I ended up joining the math team and preparing for math competitions. I learned a lot about how to navigate mathematics from the experience," says Dr. Parker.
In 2012, while working toward his master's degree from Rochester Institute of Technology, Dr. Parker attended a conference for AISES, a nonprofit organization whose mission is to increase representation of Native American people in STEM studies and careers. The experience helped him to find a community of other Indigenous scientists, engineers and role models.
"AISES is really important. [The conference] is a place where I could hang around a giant group of other Indigenous nerds who enjoy what they do," says Dr. Parker. "Those friends include Indigenous mathematicians, computer scientists and another friend who's getting tenure at Berkeley right now in California."
"There are culturally centered workshops and a room full of elders. You just sit at a table with them and talk about what's going on in your life. You can have casual conversations," Parker says.
Introducing students to Native American and Indigenous professionals through student chapters and conferences by nonprofits like AISES could impact the number of those students who decide to pursue careers in science and technology, Parker says.
"It's important that we have people who are Indigenous—and other minorities—in these fields representing the communities that they come from," says Dr. Parker. "They should be able to see someone who is like them, or who looks like them."
Ready to learn more?
Explore these resources for parents and Native American and Gen Z children.
Nonprofits to explore:
Society for Advancement of Chicanos/Hispanics & Native Americans in Science (SACNAS)
Learn how Native Americans of Verizon are serving Indigenous people and sharing their heritage.