Family tech talk: 20 questions for you and your kids
These questions can help you build tech boundaries, create more meaningful connections and build a safe haven where kids can talk to you about anything they may find online.
Full Transparency
Our editorial transparency tool uses blockchain technology to permanently log all changes made to official releases after publication. However, this post is not an official release and therefore not tracked. Visit our learn more for more information.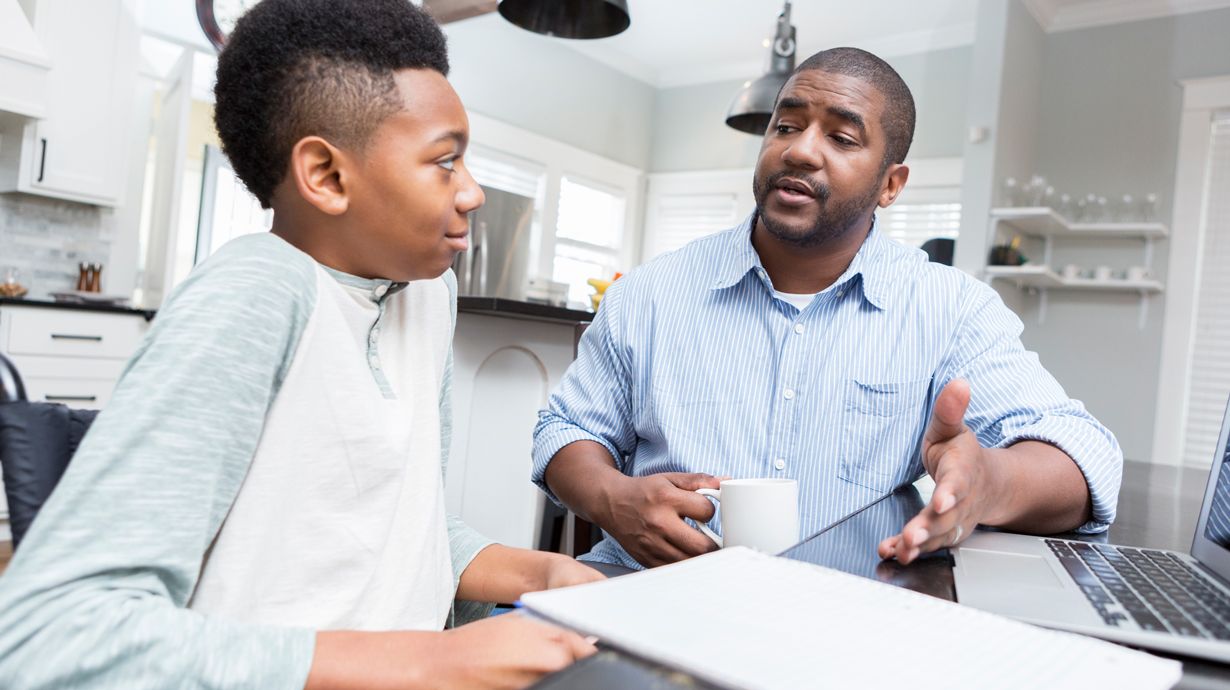 Technology is now a part of the childhood experience for most kids. So it's important to equip them with the basic skills they'll need to make it a positive one by having the family tech talk. As a parent, futurist and bestselling author of books like "Parenting High-Tech Kids," I often remind families that this process isn't solely about setting limits on screen time and devices. Rather, caregivers should also make a point to have ongoing discussions with kids about online safety and digital citizenship—and to make subjects like social networking and high-tech etiquette regular subjects of the tech talk.
As you think about how to have conversations with your kids about the many ways technology permeates their lives, it pays to look at the topic from several angles. For example: What high-tech gadgets and devices will be allowed? What forms of content and communications are appropriate? And what general rules should kids be following as they go about using these solutions in your home?
Following, you'll find 20 questions that can help shape the family tech talk —and help you promote healthy tech habits and good decision-making from childhood into young adulthood.
What devices of ours can connect to the internet, and how will we keep an eye on their use? Cell phones, computers, TVs, smart devices and even high-tech toys now boast online connectivity. Knowing which gadgets allow your children to access the web or internet and communicate with others, and how you can keep tabs on these exchanges, is critical.

Do we understand the capabilities of all electronic devices in our home? For example: Some popular video game systems can let you play solo or alongside hundreds online—but they can also let you download music and movies or chat with strangers, share text messages and upload photos or videos to the internet. Understanding all the ways that devices let children connect and communicate online can help you determine whether you're comfortable introducing them into your home, and where it's appropriate to set limits and parental controls.

What kinds of activities and online interactions do your children like to engage in? Some kids enjoy going online and playing free games with thousands of others, while others prefer writing fan fiction or creating silly videos to share. It's important to incorporate this question in your tech talk to understand what activities kids are up to online, the type of websites and services that they like to frequent, if they're age-appropriate and whether you're comfortable with these digital interactions. Enthusiastic as they are, kids are often happy to share information when asked and will be happy you're taking an interest in the things that delight them as well.

What times of day or occasions will we designate as free of high-tech devices? For example: You may wish to ask kids to shut down their phones during meals and family get-togethers, or one hour before bedtime to help them get a good night's sleep. Likewise, you'll also want to explain when it's OK to use cell phones in public, and when screens need to be turned off so you can enjoy quality time.

What are our house rules for using high-tech devices and internet connectivity? During your family tech talk, be sure to explain when devices can be used or need to be put away. Set screen time limits, such as roughly 30 – 60 minutes a day for younger children and up to 3 – 4 hours for older teens. Discuss what websites and content are appropriate for those devices. Likewise, you'll also want to decide if you'll be monitoring and tracking activity, and set some ground rules about behaving appropriately online. Many online sites offer free family "contracts," like this Family Online Safety Agreement, that you can download and sign that provide helpful guidelines and explain high-tech rules clearly.

What are the consequences if your household rules are violated? It's important in your tech talk to be up front with kids about what inappropriate high-tech behavior looks like and what the consequences for engaging in it will be. This may mean limiting screen time, taking away devices or temporarily restricting access to favored apps, games, sites and services. In addition, you'll also want to make it clear under what conditions the child's privileges and devices can be earned back.

Have we implemented the device or app's parental controls and privacy restrictions? Many popular high-tech devices, apps, web browsers and operating systems offer built-in parental controls and age settings that can help you restrict children's activities, set time limits on device use and filter questionable content. Make a point to use these tools, and set a PIN or password that your child won't be able to guess. For example, don't use birthdays or anniversaries.

Will we be monitoring children's online access? How and to what extent? Numerous apps, software programs and system settings can help you keep tabs on children's online activities, the sites and services they use and the time they spend on the internet. Numerous free or paid apps and solutions, such as Smart Family, can also help you keep an eye on online interactions and set screen time limits. In addition to determining if and how you'll maintain an eye on their digital activity (which is highly recommended), you'll also want to consider: Will you tell your children? And to what extent will you virtually be looking over their shoulder?

What should we do if we encounter questionable or inappropriate content or behavior online? Unfortunately, it's virtually a given that children will encounter troubling items or exchanges online, so they need to know where to turn for help and guidance if needed. Letting them know that your door is always open, and where to turn for advice if needed, can help reassure them, boost trust and increase the odds that they'll come to you as a trusted resource for insight.

Is screen time an inherent right or earned privilege? How much will be allowed daily? Some families dole it out to kids automatically each day, while others make children earn it by doing their homework or performing chores. Likewise, it's important to think about how much time you're comfortable with kids being glued to screens or monitors each day. While it's up to you as a parent to set household guidelines, some helpful benchmarks might be 30 – 60 minutes for kids up to age 8; 60 – 120 minutes for kids between 8 and 12; and 2 – 4 hours per day for kids age 13 and up.

What areas of the home are designated for high-tech use? Many children will want to use high-tech devices behind closed doors and in their bedrooms, which isn't always advised. Noting this, you may wish to situate computers, video game consoles, smart TVs and other digital devices in common areas of the home such as dens or playrooms. Keeping systems out in the open can make it easier to keep a watchful eye on children's online activity.

Has our family committed to regularly educating ourselves about new technologies, online trends and high-tech products and services? The world of technology, the internet and social networks are constantly changing. That means having to regularly do your homework to stay up to date with all these changes. Feeling strapped for time as a parent? Remember, it doesn't have to be difficult. Myriad publications offer quick-hit guides to trending technology topics, and setting aside an hour or two each month to stay attuned to emerging trends or breaking advancements can help you stay on top of things.

Do we all feel comfortable turning to each other for help if we have any questions? Given that most online activity will take place outside of your immediate view, maintaining an open and honest tech talk with kids is crucial to keeping up with their virtual exchanges and experiences. As a high-tech parent, it may help to think of yourself less as a bodyguard and more like a trusted guide and mentor: The more kids feel comfortable coming to you for advice and asking questions, the better off you'll both be.

Are we aware of the basic safety rules that must be observed when using technology? For instance, have you taught your kids not to share online information like birthdays, home addresses, details on the school they attend and when you're vacationing? Similarly, have you shown them how to restrict who can see the posts that they're sharing on social networks, and how to turn off location-tracking options on images that they upload? Just as you wouldn't send kids out to play in the real world without offering helpful background and education, you shouldn't do so online either.

What are our rules for appropriate high-tech usage? Before your family tech talk, ask yourself: Will you allow your children to join social networks? Is it OK for them to upload and share photos and videos of themselves to popular websites? How about music, movies and games: What types of content are OK to consume, and what parental ratings should they adhere to? Set some guardrails and guidelines on what your household considers to be suitable activities for kids to engage in, and how you expect children to comport themselves online while engaging in them.

Do we know how to be responsible digital citizens? How we treat others matters, both online and off. Digital citizenship refers to being a respectful and responsible internet user and is a concept that all kids should be taught. Explain to your children the importance of observing the same rules of kindness, courtesy and respect for others in the digital realm as they do in the real world. By showing them the virtual rules of the road, you can greatly improve their odds of enjoying a positive online experience.

What is our family's password policy? Identity theft is skyrocketing, with children increasingly being targeted. So it's vital to teach your kids how to build strong passwords, keep track of them and not share passwords with others in your tech talk. A strong password includes a mix of letters (capital and lowercase), numbers and special characters ($, !, #, etc.) and isn't based on a common word that criminals could find in the dictionary. If you need help remembering your passwords, consider basing them on memorable phrases—e.g., "Yours truly" could become "Urstr2ly."

How can we bond over shared technology interests? High-tech devices, games and online services are now a major part of growing up—and a major passion that many kids share. As a parent, you can show that you're taking an active interest in their digital lives by asking questions about these devices and activities and looking for ways to bond over them. By way of illustration, many families play video games, stream movies or create fun videos and animations together as a way to enjoy quality time and build bridges with shared interests and activities.

How can we extend virtual passions to the physical world? Shh, don't tell your kids: Many apps, games and online activities promote real-world subjects like history, math and social studies. Many internet pursuits, such as managing a team of fantasy adventurers or a medieval kingdom, can teach real-world business principles such as leadership and good communication. Wherever possible, it's recommended that you subtly steer kids toward high-tech solutions that promote everyday skills such as creativity, communication and problem-solving and that inspire interest in real-world learning. Happily, numerous high-tech devices and online services can secretly help you promote interest in STEAM (science, technology, engineering, arts and math), among other topics.

Are we balancing our real-world and high-tech activities? Screen time is all well and good, but children should be spending even more time enjoying real-world activities such as sports, hobbies and get-togethers with loved ones and friends. Helping kids lead more balanced lives—which include a healthy mix of pastimes like reading books and riding bikes as well as playing popular apps and games—can help them be happier and more well-rounded.
As you can see, discussions surrounding the use of technology in the home can be quite extensive and span many subjects. Because this is a long list of questions and conversations, it may help to remember that it's not intended to happen in one sitting. It's part of an ongoing tech talk that can reflect your family's values and beliefs. After all, engaging in open and honest dialogue with kids about the types of content or exchanges that they may encounter online won't just help you build greater trust and empathy in your household. It'll also help you foster meaningful discussion and create a positive and uplifting home environment in which any questions and concerns that kids have can be proactively and productively addressed. 
Shared responsibility also means a little peace of mind for you, and freedom for them. Find that balance with Smart Family.
Related Articles