How to use Smart Family to manage screen time
Kids are spending more time online, but you can set screen-time limits, see what they're doing online and even block content in real time with Smart Family. Here's how.
Full Transparency
Our editorial transparency tool uses blockchain technology to permanently log all changes made to official releases after publication. However, this post is not an official release and therefore not tracked. Visit our learn more for more information.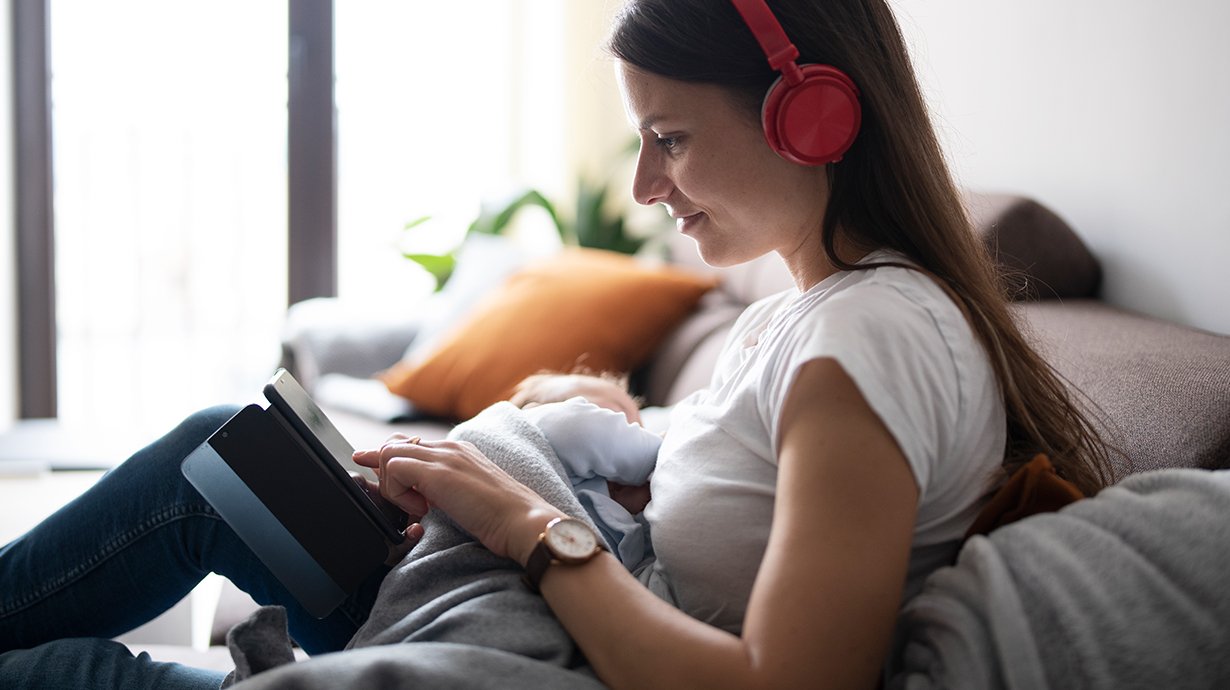 We're all spending more time on screens today, blurring the line between quality and quantity. We try to make screen-time rules for kids, but that's easier said than done: What's too much for the aspiring YouTube influencer? Or the preteen set on being a professional gamer? Or the next AI innovator? Sometimes we just need our kids to shut down their phones long enough to make the bed.
Fortunately, there are ways to create and enforce screen-time rules and there are specific tools that can help parents reinforce boundaries. One of them is Smart Family, offered by Verizon—an application that helps parents manage their children's digital lives. Install the Smart Family app on your phone, and install the companion app on your kids' phone, and you can set screen-time limits, access parental controls, track their location using GPS and even pause the internet—all from your phone.
Here are a few ways you can use the app to help manage your kid's screen time.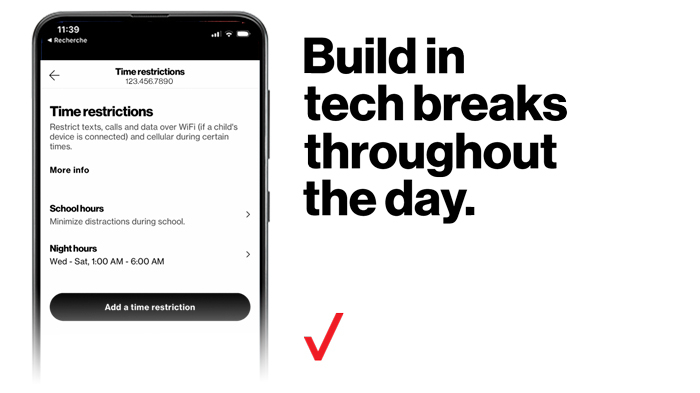 Set time restrictions.
The first step to managing screen time is setting limits on when kids can use their devices. The app lets parents designate certain time periods as either School hours or Night hours, each of which allows access to only certain functions.
School mode stops calls, texts and social media access. You can also lift the calling restriction for a specific number, such as an emergency contact. School mode can be set to allow access to specific websites, such as Canva, that students may need for schoolwork.
Night Hours simply turns off all Internet access. These time restrictions can be scheduled once to just set it and forget it. But if you need to pause access for something one-time, on the fly, just tap "Add a time restriction." You can manage all of this from your device, without asking your kid to hand over the phone.
"My favorite thing to do is to pause it on the weekends before they wake up, then unpause it after they've done their chores," says Sarah Kimmel Werle, a contributing writer to Verizon's Parenting in a Digital world, digital parenting coach and IT specialist who uses Smart Family with her children. "Or if they get grounded, or if I need them to concentrate on something else."
Where to find time restrictions in the app:
Scroll down to the Manage controls section and tap Limits.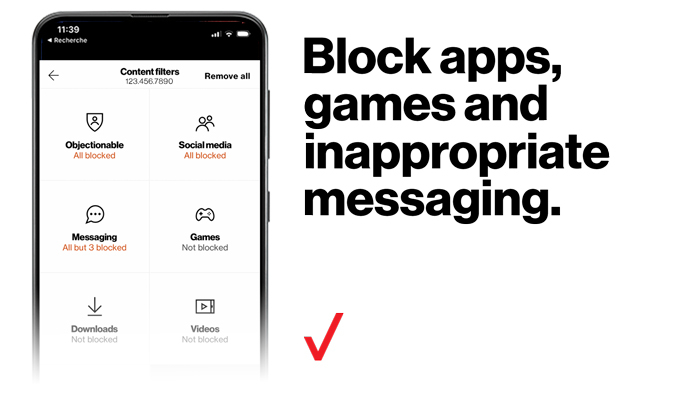 Block unwanted app and site access.
The Smart Family app includes content filters that let you block specific sites and apps, or categories of apps. For example, you can block games, social media and messaging. These restrictions can be adjusted as kids develop healthier screen habits.
Where to block app and site access in the app:
Options for internet and site-specific blocks are available in the Content filters section of the Manage controls section of the app.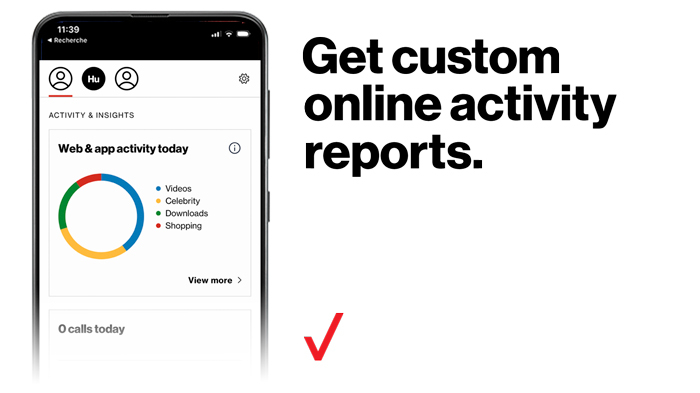 Track and see online activity and usage reports.
You can also see exactly how your kids are using their devices. Activity reports in the app show you what kind of content your kids are consuming, and how much time they're spending on specific things like social media, gaming, watching videos and texting. You'll receive a weekly email that summarizes who the child is texting or calling, and whether or not it's a trusted contact; when they enter a new phone number; and when they visit a site or app with increased frequency.
You can also get a notification if your child visits a questionable site, and from the app on your phone you can open the link and decide whether to block it in real time or let it go.
Where to find tracking reports in the app:
Go to Activity and Insights to access reports.
Even if the classifications of screen time are getting a little blurry these days, you can get some clarity on how your kids are using their devices. Then talk together about anything you may find problematic. The definition of quantity over quality screen time—it's up to you and your family.
Set the screen-time limits that work best for you and your family, with Smart Family.