The parent's guide to talking about Twitch
What is Twitch? How does the app work, what age rating does it have, and is it kid-friendly? Read on.
Full Transparency
Our editorial transparency tool uses blockchain technology to permanently log all changes made to official releases after publication. However, this post is not an official release and therefore not tracked. Visit our learn more for more information.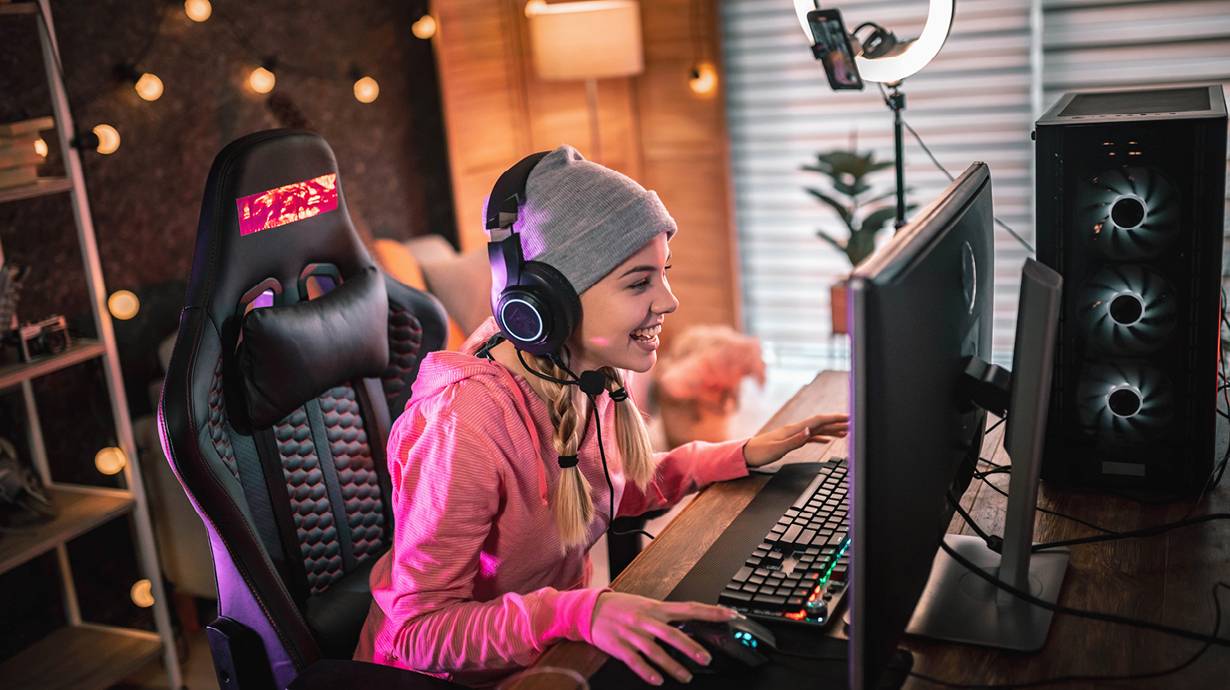 If there's a gamer in your house talking about Twitch, maybe you're wondering: What is Twitch? How does Twitch work? Or, more specifically: Why are people watching other people play video games?
Twitch is home to nearly 8 million creators and livestreamers, and with over 140 million users, it's a popular way to watch others livestream as they play video games and serve up commentary. Simultaneously, it allows fans and streamers to interact with one another using online chat features.
If your child is considering joining the online service, wondering how to stream on Twitch or already an active participant, here's what you can talk about together to make sure it's a positive experience.
What is Twitch and how does it work?
Twitch is a streaming platform that lets gamers share their gaming experiences with others in real time. Content creators will often encourage fans to communicate not only via built-in chat capabilities, but also through other text and voice communications services.
The real-time commentary from video hosts—sometimes known as vloggers and video bloggers, influencers, or live streamers—makes it a more interactive experience. The live chat nurtures community and connection and allows fans to interact with their favorite content creators.
Why is Twitch so popular with kids?
Kids like Twitch as a way to follow their favorite gamers, watch them play and learn some new maneuvers to use in their favorite games, such as Fortnite or League of Legends. It's also a great place to discover new games and under-the-radar independent titles.
What age is Twitch for?
Twitch is recommended for kids ages 13 and up. According to the Twitch safety guide, it's recommended that kids between 13 to 18 use the service under the supervision of an adult.
What are some safety considerations on Twitch?
While it's known as an online livestreaming video service, Twitch also functions as a social network. Fans can chat with one another using its chat features, and streamers can communicate with them using private direct messages (DMs), or in what they call the Twitch space.
That opens the platform to a variety of livestreaming content. Streamers can—and often do—lay out rules and community guidelines for their streams. Likewise, they frequently moderate or deputize moderators who can address inappropriate behavior to ensure safe and respectable chats and community interactions.
But unless you activate options to prevent personal chats and interactions, strangers can privately message, or Whisper, to other Twitch users via DMs during video streams. Twitch's chat functions run alongside the livestreams, and the service does not offer the option of turning off these chat features entirely. While streamers can sometimes disable chat capabilities and restrict them to certain preferred users or subscribers, you can still see comments that others post.
Terms to know:
Whisper. Twitch users can use the Whisper feature to privately message other users during the livestream chat.
How to block Whispers:
Tap your profile picture in the top right corner of the screen.
Tap "Settings."
Tap "Security & Privacy."
Tap the toggle to the right of "Block Whispers from Strangers" to turn this block on.
What kind of content will my kid see on Twitch?
Open the Twitch app on a mobile or console device, or visit the website, and you'll see listings of livestreams to pick from. Comic books, cooking, movies, travel, politics—streamers are now using the service to share their thoughts on an ever-growing range of topics.
You can browse in several ways, such as by game or channel. There are all kinds of gaming and non-gaming content streams, from music performance to esports tournaments to charity fundraisers. Click on a stream of interest to watch it—though some are available only while live. You can also follow specific creators to curate a feed of their livestreams and when they post new content.
As livestreams play, you can chat with other viewers, or show support for video creators by offering monetary tips to creators. Alternatively, you can use your Bits, which we will explain below, to buy emojis or subscribe to channels for access to VIP-only content and special perks. Where services such as YouTube tend to focus on a broader range of video topics and making recordings available for longer periods of time, Twitch tends to focus more actively on livestreams, gaming and community features. It even has exclusive deals with personalities popular in the gaming community to share their content exclusively on Twitch.
Terms to know:
Bits. Fans can purchase Bits and Cheers on their favorite streamers, get attention in chats, or show support or celebration in a livestreaming chat. For example, 100 Bits currently cost $1.40, and you can use Bits to buy Cheers. Cheering the streamer shows your enthusiasm and gives them a little monetary support.
Benefits of Twitch:
There are many benefits to tuning in to Twitch, including:
Kids can connect and engage with others who share the same interests.

Watching videos on various topics can provide interactive and educational experiences.

Twitch offers a great way for kids to learn about new games and subjects of interest.
Can kids chat with strangers on Twitch?
Twitch doesn't allow threatening behavior, hate speech, cyberbullying, sexually explicit content or derogatory remarks. But it does allow video games featuring violence or nudity to play, and—given the sheer volume of content being shared—Twitch can't always police everything shared online fully or rapidly.
The service doesn't offer parental controls, time-limit settings, or ways to block certain streams. It does provide some Twitch chat settings and Twitch chat filtering capabilities, to screen out cursing, for example, but these solutions may not catch everything.
Connect with kids:
Talk about what to do when kids get a message, or a Whisper, inviting them to message privately.
Discuss when spending and gifting Bits is appropriate. Is there a spending limit?
Is Twitch free?
Twitch is free for kids to use. The service is ad-supported. However, many streamers actively solicit and freely accept financial gifts and donations from fans on their pages. Users can also purchase Bits, Twitch's custom digital currency, that they can spend to Cheer, or show support online for streamers they're watching if they'd like to make smaller or more frequent contributions. Kids can also subscribe to the service for a monthly fee to gain access to custom emojis, badges, exclusive chats and streams, ad-free viewing, and other bonuses.
What if your kid wants to be a live Twitch streamer?
Keep in mind that anything shared online is in a highly public arena. This may present potential challenges and sources of concern, especially for younger children.
Ask about their motivations and what precautions they'll take to stay safe, and discuss the potential risks involved.
Discuss what topics are OK to share online and what is off-limits. Set time limits on these activities.
Before they turn on the camera, actively educate them about digital citizenship and appropriate online behavior. And you'll want to ensure they know where to turn if they have questions or encounter inappropriate behavior.
What parents need to know about Twitch
Set aside some time to use the platform and watch the livestreams your child is watching. Get familiar with Twitch's security and privacy settings. In addition, as a parent, it's important to talk to your child about what they like about Twitch and whom they follow. Ask questions that challenge them to think more critically about the content that they're seeing.
Ready to Twitch?
As a family, you'll want to talk together about livestreaming's pros and cons and set some ground rules together. There are many wonderful insights and experiences to be had on Twitch. But, like any technology your kids plan to use, it's important to make a plan to stay connected as they create, learn and explore new worlds.
Set time limits and more on all their connected devices with Verizon Smart Family.