Parent's guide to VR Headsets and VR games for kids
Learn how to choose the best VR headsets for kids and teens, the benefits and risks of VR gaming, and virtual reality safety tips for keeping kids safe online and in their play space.
Full Transparency
Our editorial transparency tool uses blockchain technology to permanently log all changes made to official releases after publication. However, this post is not an official release and therefore not tracked. Visit our learn more for more information.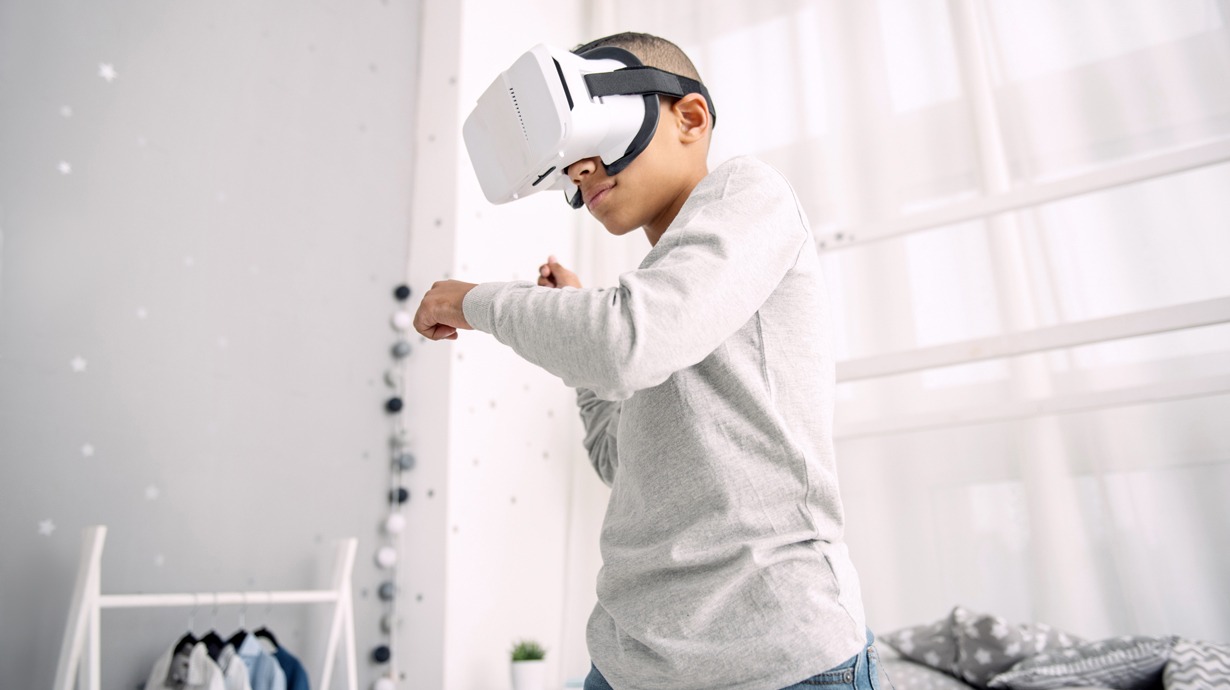 Hunting for the best virtual reality (VR) headsets for kids and VR games for kids, or just a handy parent's guide to VR for the family and children of all ages? You've come to the right place. Of course, having personally watched kids accidentally trip over furniture while playing, innocently stumble into emotionally complex situations, and frighten themselves while riding 3D rollercoasters, we shouldn't forget just how powerful VR experiences can be.
As a futurist keynote speaker, parent and author of Parenting High-Tech Kids, I often remind families that it's important to establish household rules and guidelines surrounding the use of any new technology—especially VR. After all, the magic of virtual reality lies in its ability to completely immerse you in experience and make you feel like you're really there … heightening believability, intensifying emotion and adding immediacy to every encounter. Keeping this in mind, the best VR headsets and games for kids have the potential to introduce children to a world of amazing experiences and interactions—and any associated questions or hiccups. Feeling overwhelmed? Simply read on to find out what you need to know about VR headsets for kids, as well as the best kids VR games, ways to play and more.
Choosing the best VR headsets for kids
Virtual reality hardware generally takes the form of VR headsets for kids and adults. These devices leverage the use of body- and gesture-tracking 3D goggles, visors and computerized joysticks or sensors to immerse players in simulated digital worlds that they can see and hear. It's also just one of several gateways to the metaverse, a virtual reality space where users, typically in the form of digital avatars, can interact with other users and computer-generated environments. With a VR headset, it's just like being there, whether you're doing loop-de-loops on a rollercoaster, walking through the streets of Rome or skiing down a mountain slope.
As fun and futuristic as these digital diversions are though, it's important to note that virtual reality devices are specifically designed to make the unreal seem real. Like other forms of connected high-tech gadgets such as smartphones and video game consoles, they also offer access to a world of music, movies, games and multiplayer social experiences. Not all headsets come with parental controls, which can limit access to age-appropriate content, connectivity options, login times and more, built in.
When shopping for a VR headset for kids, be sure to follow hardware guidelines. For example, most VR headsets are not designed for kids under the age of 13. Many virtual reality systems provide guidance on recommended user age ranges right on the box. These product-based age ratings aren't necessarily grounded in medical science. Rather, they simply provide a helpful snapshot of which age groups the manufacturer has designed the product for.
Quick tips:
Follow the product guidelines. Most VR headsets are not designed for children under the age of 13.

Review the product's health and safety guidelines
Setting up a VR room
Looking to set up a VR room and wondering how much space you need for VR? It's among the most common questions asked surrounding virtual reality setups.
Many VR headsets recommend that a VR room or play space should be an open area at least 6.5' x 6.5' that's free from furniture or clutter that could be bumped into or tripped over. Kids VR headset manufacturers also suggest making these play spaces away from doorways, walls and staircases. While immersed in these high-tech worlds, virtual reality experiences can leave you unaware of surrounding real-world objects.
Many VR users prefer taking 5–10 minutes to orient themselves to new play areas and get a sense of their positioning in the room before diving into immersive games or apps. You might also consider standing by and watching over kids as they start to get their virtual sea legs under them to make sure that your VR room is ready for prime time.
Quick tips:
Set up a VR playspace that's free from clutter or furniture.

Play indoors.

Some VR headsets suggest you set up a virtual space, or the virtual game board.

Avoid areas with staircases.

Plan to watch a few rounds with your kids to make sure the play space is safe.

Consider using a device to cast the gameplay onto a TV, so you can also monitor what's happening in the headset.
How to play it safe with online VR games
Keep an eye on content and age ratings as you think about selecting solo and online VR games, as well. It's important for families to know and discuss what types of VR content, such as cartoon violence, crude humor, etc., are OK for kids to consume too. These ratings are generally listed alongside the product description in the online store from which they're purchased, as these are primarily digital downloads. Note that not all downloadable apps and multimedia offerings that kids will encounter will be clearly labeled. If they have questions, or encounter questionable material, kids should feel comfortable and encouraged to come to you for guidance.
It's also important to understand the ways in which VR users can connect, communicate and consume content. As with other Internet-ready devices, VR headsets for kids allow them to browse the web, speak or chat with others online, and share or enjoy multimedia content, such as photos, videos, songs and films. The best VR games for kids can let you play with dozens or even hundreds of others in shared spaces. Set rules, limits and guidelines with your children about what activities are appropriate to engage in and when, as well as who it's OK to interact with and how—and be clear and consistent about penalties for infractions and how rules are enforced.
Note that many online VR games experiences are designed to be deeply social and multiplayer, and that interactions within them—because of their more lifelike nature—can be more intense too. It's crucial to discuss the dangers of interacting with strangers in virtual reality realms and make sure kids know not to share personal information, such as birthdays, addresses, school info, etc., with them before turning children loose in simulated VR worlds.
In addition, you'll also want to turn off tracking features in the app. VR devices, games and apps are fundamentally designed to track your eye and body movements, and some software items may track your location and preferences as well. There's always a chance that this information could be collected and stored by manufacturers and app makers for other purposes, such as providing personalized marketing offers to you. Considering that it's not always transparent with whom information will be shared, if given the choice, opt out of location tracking and data sharing options. As a general rule, it's best to keep personal information private.
Quick tips:
Check the Common Sense Media guide for VR games. Some games even share parent and kid reviews, as well as talking points to discuss with your kids before playing.

Turn off your name, activity and friends list in the privacy settings, which can be found in system or app settings menus. Doing so may limit connectivity and location tracking, but generally won't detract from the overall gameplay experience.
Weighing the benefits and dangers of VR
As you think about whether or not to invest in VR headsets and games for kids, it's also important to consider the potential benefits and dangers of VR. Virtual reality will expose children to simulated experiences and interactions, so it's important to talk through online behaviors and concerns that they may encounter.
Before giving kids a VR headset, talk with them about how to treat others with respect online and how to behave like respectful digital citizens. For example, what should they do if they encounter inappropriate or questionable behavior or content online. It's virtually a given that children will encounter controversial items and vexing encounters online (as they would in any other connected space); they need to know that they can talk to you about what they see.
You'll also want to teach kids to stay attuned to their moods and feelings. VR can sometimes be disorienting, especially when it's used to convey the impression that you're standing on the edge of a cliff or the deck of a rocking ship. Kids should take a 30-minute break from play to rest—especially if they're feeling dizzy, nauseous, sad, anxious, depressed, angry, wired, or like they're experiencing headaches or motion sickness. Oftentimes, taking a brief walk outside or little while to lie down and close your eyes can help
As with any high-tech offering, also keep in mind that VR games for kids can be designed around a variety of themes: some positive and uplifting, and others which play to more adult topics and impulses. Steer children towards virtual reality offerings that teach proficiency and fluency in real-world subjects, such as science, math, technology, travel and experiencing other cultures. Think about the kinds of experiences you want your child to avoid, such as simulated swordplay or full-body combat.
Stay attuned to children's online purchases and buying habits. As with smartphones and video game systems, VR headsets for kids often provide access to online storefronts and digital or in-app purchases. Set boundaries with kids on buying options, monitor their purchases and discuss these purchase options with them before putting virtual reality devices in their hands. As a safety precaution, you may wish to tie a prepaid debit card, such as the one available through Verizon's Family Money app, with limited funding as a safeguard against kids making overzealous or impulsive purchases in online VR games.
When considering potential benefits and dangers of VR, discuss children's connected experiences with them when they unplug. Because of its immersive nature, VR often feels strikingly real. Keeping in mind how convincingly it can literally put you in the shoes of a character or the middle of a situation, take time to discuss and talk through what your child is experiencing after they've taken a stroll on the wired side. That often means asking questions about topics like what they thought of an experience, how it made them feel, what it was like engaging with others and what they took away from the encounter.
Quick tips:
Look for games that teach proficiency and fluency in real-world subjects, such as science, math, technology, travel and experiencing other cultures.

Talk together about what it means to be a good digital citizen in VR games

Take game play breaks every 30 minutes

Stay attuned to any physical symptoms your kids may experience when wearing a headset, and how to know when it's time to take a break

Monitor in-app purchases

Talk together about how the game made them feel after they played it to see if it's something worth playing again
After all, the real beauty of VR is that it can help children see things from entirely new perspectives—both figurative and literal as well. Children I've watched playing with this technology exhibit a better understanding of featured play topics and scenarios. They also tend to exhibit a greater empathy for other individuals and an interest in exploring surrounding topics further in real-world environments.
As a result, playing with VR technology isn't just a great way to stimulate connection and conversation. It's also a great way to prompt interest in new topics and trends by letting kids experience the world through others' eyes in ways that traditional high-tech offerings simply can't provide.
Get some help to put the right controls in place for your child's digital experience using Verizon Smart Family.