How parents can use a smart speaker as a homework helper
From setting study timers to playing math games, parents share some proven strategies for using a smart speaker as a homework assistant.
Full Transparency
Our editorial transparency tool uses blockchain technology to permanently log all changes made to official releases after publication. However, this post is not an official release and therefore not tracked. Visit our learn more for more information.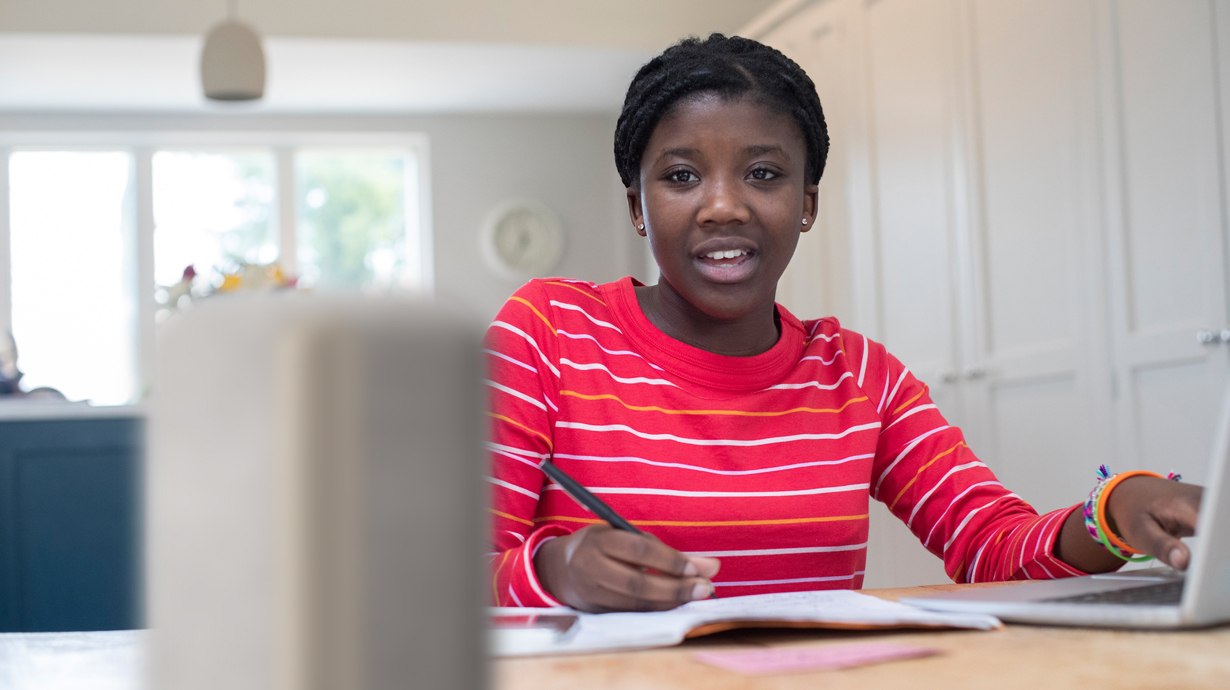 When Anton Range was a kid, he'd reach for a set of encyclopedias and a dictionary for homework. Now a father himself, Range's own kids—ages 6 and 8—don't look things up the same way. They ask a smart speaker.
"We live in an age where my kids say 'Hey, Alexa, what is the largest animal in the world?'" says Range. "And Alexa will tell them and show them a picture of it."
Smart speakers are now part of the daily routine. The number of users and number of times they get asked to do something a day is going up, according to recent studies. Voice commands play music, check the news and weather, and ping people to finish their to-do lists. So it's no surprise that a growing number of Gen Z and Gen Alpha children—and their parents—are using smart speakers as homework assistants.
So what are some innovative ways parents are using smart speakers to help kids do homework? And what do parents need to know to help their kids use them safely?
Set structure and study reminders
"In our house we use the smart speaker as an alarm for the kids to wake up to, but also as a reminder for them to switch tasks," says Jill Rosengard about her 15-year-old daughter and 12-year-old son. "Using the intercom, I can drop into one of the kids' rooms. If they're listening to music on their phone, the smart speaker reminds them to move on to something else, like homework."
During the pandemic, Rosengard says, when her children had to adapt to a remote school experience, she suddenly needed to create routines to keep her children engaged and learning while she worked from home.
Now, with many students back in the classroom, parents and caregivers are still using voice assistants to set structured study time and reminders. In addition, smart speakers can help busy kids stay on schedule by reminding them of upcoming quizzes, research projects and additional class activities.
Try this: Timers are known to help kids with ADHD stay on track, and in some cases can improve test scores. If your child is struggling to focus, try setting a smart speaker timer for five minutes of uninterrupted focus on one task. Increase the time as their attention span expands.
Learn math concepts
"The new way they teach math is nothing like how I was taught math," Range says. "I use a smart speaker to find out more about math concepts like distributive property, so I can help my son."
Using voice assistants can support a parent and child's knowledge of math. However, parents like Range don't want their kids just to ask a smart speaker for an answer. They also want them to learn how to think through mathematical concepts.
"So my wife and I are steering him away from using the smart speaker for math questions," Range says.
Try this: Instead of asking a smart speaker for the answer, parents can help kids enhance their math skills by using smart speaker skills or apps that offer a variety of math games.
For example:
Hands-free engagement of the senses
"They're spending so much time in front of the laptop screen and the smart phone screen," Rosengard says about her teen daughter and tween son. "I like that it's non-screen engagement for content. This allows them to hear music, get answers and communicate in a hands-free, no-screen way."
Jenny Finerty also tries to regulate screen time for her two sons, ages 7 and 10, by encouraging them to use a smart speaker instead of screens.
"In our house, my husband and I limit screen time quite a bit. They only get it on weekends and it's a set amount," says Finerty. "But I don't count anything they're listening to audibly as screen time. Before bed, they'll each listen to a story on a podcast to go to sleep. And while they're playing, they'll listen to music, and I love the idea of that."
Try this: Use a smart speaker as part of the nightly routine to help kids get a good night's sleep and be more rested during the school day.
No screen bedtime routine for kids under 10
No screen bedtime routine for teens
Practice vocabulary and learning new languages
Smart speakers can also help kids who may be struggling with spelling. Whether it's learning a new language or learning how to spell, speakers can help a child prepare for spelling quizzes and tests.
Try this for example: Need help boosting vocabulary and reading, or learning a new language?
Screenshot this for later
Safe smart speaker study tips
Review the device's user manual and parental controls and explore content filter options.
Create a strong password and PIN.
Change the wake word frequently so your child learns to ask you for permission to use it.
Consider keeping the smart speaker in a family room or the kitchen, and make it a practice to use it only when an adult is present.
verizon.com/parenting
While the smart speaker may replace that set of encyclopedias, parents say the devices ideally work as virtual assistants for school assignments, but they don't replace the assistance of an instructor or simply learning how to study.
"I think smart speakers can play the role of a homework assistant, but I don't think it can replace a tutor," Rosengard says. "But it can replace or supplement a reminder and give them the answers they are looking for when parents aren't available."
And for Range, voice assistants are just one tool he uses to help his kids learn to study.
"Children still need a foundation of good study habits, and shouldn't use smart speakers as a crutch," says Range. "Voice assistants are a resource, but don't use this as the only source. It's one of your tools, but it's not the only tool."
Ready to add a smart speaker to your homework routine? Shop here.