5 best tech gifts for kids and teens
Our quick picks for gadgets that entertain on land, sea and air.
Shopping for the right gift for your kids and teenagers doesn't have to be difficult. Here's some advice on getting the best tech gifts your kids and teens will love in 2021.
Looking for this year's hottest tech deals? Shop Verizon Black Friday deals now.
The best tech gifts for kids.
Cool factor: Keep your kids entertained with educational content while they're in the car, sitting at the doctor's office or waiting for the bus. Access learning apps and allow kids to learn more about their world in a fun, customized digital environment.
Great for: We love this tablet for kids and younger teenagers, too. The 8" display has several eye protection modes so kids and adults can use it comfortably for hours. The durable bumper case protects the tablet from drops and falls, but can be easily removed for teens and adults.
Also worth noting: The TCL Tab Family Edition comes with Google Assistant-enabled, too, which means your kids and teens can access Google technology while using educational and other fun apps like Disney+, YouTube Kids, and more on their device.
Cool factor: GizmoWatch 2 is chock-full of features parents will love, such as a GPS locator, reminders and easy-to-use parental controls. This is one child-friendly smartwatch that fosters independence while helping to provide parents a little peace of mind. 
Great for: Kids under 12 (and parents love it, too)! This kids smartwatch comes in fun colors like pink, bright coral, and blue and it's easy for them to use with simple buttons and features.
Also worth noting: Change ringtones, select themes, remotely turn off the device when needed and select a PIN number for added security. What's more, Disney fans can shop the Disney Edition of the Gizmo Watch here, complete with Disney characters from Marvel, Pixar and more, all with the great features the GizmoWatch has to offer.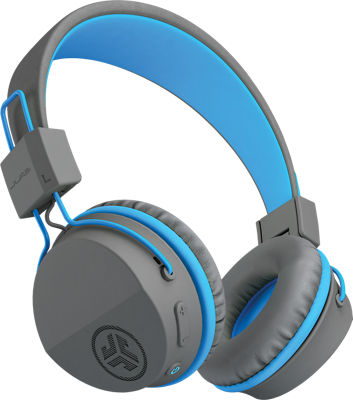 Cool factor: Looking for cool tech for kids? Look no further. Give your kids an enjoyable listening experience with the JBuddies Studio Wireless Kids Headphones. Featuring plush Cloud Foam™ cushions, these bluetooth headphones are comfortable enough to wear for an extended period, whether it's a long car ride or a dedicated study session. Smooth-sliding metal adjustments make it easy to fit the headphones. Built-in controls and microphone make it easy to change songs or take calls. And, with up to 13 hours of battery life, your child will stay entertained for hours.
Great for: Kids and teens who enjoy listening to tunes on the schoolbus, in the car, at the park, or want some privacy on a FaceTime chat with family members. 
Also worth noting: These headphones come equipped with volume control features. JBuddies feature an 85-decibel regulator to protect your child's eardrums.
Cool factor: This super-fun smart speaker is designed with both kids and your family's privacy in mind. Packed with skills and features designed to help your kid learn and grow, your little one can dive into all kinds of kid-friendly content. And easy-to-use parental controls in the Amazon Parent Dashboard are designed to help keep your child safe.
Great for: Kids and younger teens. This speaker comes encased in super-cute animal designs, which kids will love when it decorates their bedroom or play area. 
Also worth noting: The Amazon Echo Dot (4th Gen) Kids Edition comes with Alexa, too, so your kids can ask this kid-friendly smart speaker to play their favorite children's songs and much more!
The PS5 and other gaming tech gifts for teens.
PS5 gaming accessories.
Cool factor: You can't go wrong with gaming tech for kids and teens these days. If your child or teenager is an avid gamer, Verizon has multiple PlayStation 5 accessories by Sony to explore, like the Sony DualSense Wireless Controller for the PS5, the Sony PS5 PULSE 3D Wireless Headset, and more.
Great for: Kids and teens who love videogames. Verizon's video game accessories make playing teen-favorites 'Fortnite', 'Call of Duty', and any other PS5 games with their friends a breeze. 
Also worth noting: A good gaming set-up starts with a solid controller and headset for online gaming. With these PS5 tech accessories, your kid or teen will be ready to take on their next 'Fortnite' or other online gaming match in style. 
Looking for the latest tech accessory gifts to give this holiday season? Explore Verizon's Holiday Gift Guide here.
This content is provided for information purposes only. All information included herein is subject to change without notice. Verizon is not responsible for any direct or indirect damages, arising from or related to use or reliance of the above content.