Tablets and phones for teens: a back-to-school list
Shopping for back-to-school supplies goes beyond spiral notebooks and #2 pencils. Today's kids rely on tech tools for research, writing, presentations and more. Not sure what tech fits your child's grade level? From mobile phone contracts for teens to smartphones for preteens, here's what to consider when it comes to devices, data plans and accessories. 
Tech for your preteen.
Devices for preteens.
A basic phone limits your preteen's phone activity to talking and texting, which can be a great first step for new tech users. Other devices, like tablets, can be useful learning devices as well. No matter the need, from memorizing multiplication tables to drawing Chinese characters, you can probably find a highly-rated educational app to help your preteen. Here are a few devices to get you started:
Plans and accessories for preteens.

A basic phone paired with an inexpensive monthly plan, such as a Single Device Plan with unlimited talk and text, keeps your child connected while also limiting screen time. 

A good case and screen protector are lifesavers for young kids juggling a backpack, lunch bag and whatever else. Accessories like wireless photo printers (such as the Lifeprint Photo and Video Printer) aren't a must, but they can definitely help your creative preteen explore their passions.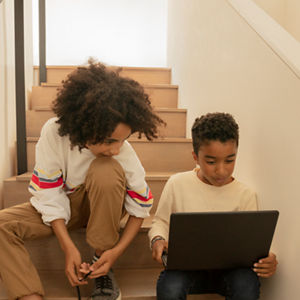 Tech for your teen.
Devices for teens.
Teens have different priorities and demands on their time — and their tech should reflect that. For example, your teen may routinely be out of the house from 6 a.m. to 10 p.m. with school, work and activities, so phone battery life is key. Depending on the amount of schoolwork he or she has, your teen might benefit from a tablet or a laptop. To balance function and budget, consider a Certified Pre-Owned device, especially for that first smartphone. A smartwatch is great for teens who want to track physical activity and sleep (or lack of it). Devices and phones for teens to consider include:
Plans and accessories for teens.

The Verizon Just Kids plan helps you manage your teen's smartphone time. It includes 5 GB of LTE data and unlimited talk and text for up to 20 contacts. It also comes with a safety mode to avoid data overages and Verizon Smart Family Premium with Parental Controls. This includes content filters, the ability to limit screen time, a location tracker and app screening to ensure your teen isn't using or viewing anything inappropriate. 
Device insurance is also a good idea, and a portable phone power pack or a charging backpack such as the Verizon 10K mAh Portable Power Pack helps power tired teens through long days. 
Tech for your college kid.

Devices for college kids.
As an adult, you rely on your smartphone for much more than just texting — and your college kids will, too. They'll need to manage their calendars, navigate with GPS and respond to important emails. And good digital habits also include helping to select (and pay for) their device so that they understand the true cost of tech. Options to consider include:
Plans and accessories for college kids.
An unlimited data and voice plan may make it easier for your college kid to balance school and social needs. If you add that line to your existing Unlimited Verizon plan, you'll save, too. Because your student may study at different spots, consider a hotspot such as the Inseego Jetpack MiFi 8800L to maintain access and a Verizon Wireless Charger USB-C Power Bundle in case an outlet isn't always available. 
Get ready for the school year.
Including your children in back-to-school tech shopping can help them understand the investment you're making in their digital life. It can also help build responsibility and motivate them to take care of all of their devices. Check out Verizon's back-to-school specials and student discounts here. 
This content is provided for information purposes only. All information included herein is subject to change without notice. Verizon is not responsible for any direct or indirect damages, arising from or related to use or reliance of the above content.