3 Essential Qualities for Career -- and Company -- Success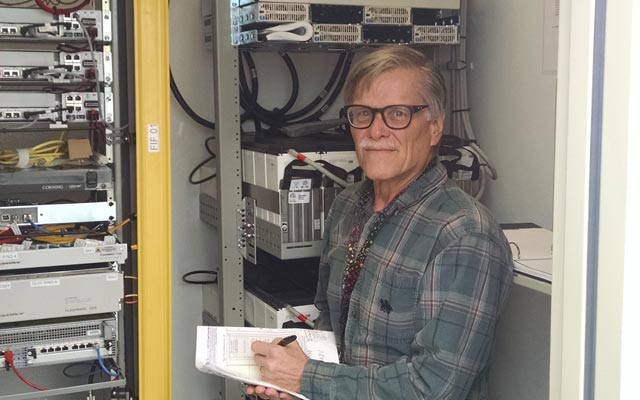 John Orzechowski has been on a 44-year journey, beginning his career as a telephone repairman and ultimately becoming principal engineer for the Verizon Wireless Great Plains region.
Couple his curiosity and technical know-how with his "no-fear" approach to getting the job done, and he truly embodies the spirit of Verizon employees. In the following article, Orzechowski reflects on his career at Verizon and identifies the three essential qualities and characteristics that have given him and his team the resilience to drive success.
Viewing Challenges as Opportunities
"Verizon has many new technologies. My job is to spot the challenges involved in deploying them and find new solutions," says Orzechowski.
Verizon's launch of Voice over LTE, which brings customers higher-quality voice calls and video-chat capabilities, required a more compact design for cell sites in metropolitan areas of the Great Plains.
"Our original site shelters are just too large for this new technology. The quick but not effective solution would be to set up cell sites in two-bay outdoor cabinets in the extremes of Great Plains winters," says  Orzechowski, noting that a design of less than half that size is needed to fit available spaces on rooftops, parking garages and collocated carrier sites. This opens opportunities for Verizon to provide service in new locations.
With challenge comes opportunity. For Orzechowski, the opportunity at hand was to develop a new design for the cell site shelters.
He worked with Verizon's engineering and operations support teams and two shelter manufacturers to create a smaller cell site that could also be installed in approximately half the typical time and cost of the previous large site. In less than a year, a business plan for the Great Plains Region was approved. In early 2015, the new, small cell site became a standard Verizon offering.
Forging Ahead Without Fear
"Over the years, I realized that my team's success depends on my showing utter confidence -- no fear." 
Orzechowski's no-fear entrepreneurial spirit has powered his career, taking him from his first tech assignment, to the first computerized switching center. From work in software engineering, to leadership assignments in network operations centers for the wireless business, first in Bedminster, New Jersey, and later in Boise, Idaho.
"People faced with the unknown tend to be fearful. There's no getting around it. But you do your homework, develop a strong technical solution and go with confidence. People recognize and respect that. Their own confidence builds and they forge ahead."
Remaining Fast and Furious
In the race to find new answers like a smaller cell site, Orzechowski continually looks for the next new thing.
"We are more agile than companies a fraction of our size because we act fast and take calculated risks every day. We always moved very fast. That's what made us what we are today – that no-fear entrepreneurial spirit."
"We have to meet our customers' needs," he says. "If we don't rapidly offer them the latest technology, we're going to fall behind. To have no fear, you assess your risk, confirm your decision and build confidence. And then, you go for it."