Full Transparency
Our editorial transparency tool uses blockchain technology to permanently log all changes made to official releases after publication. However, this post is not an official release and therefore not tracked. Visit our learn more for more information.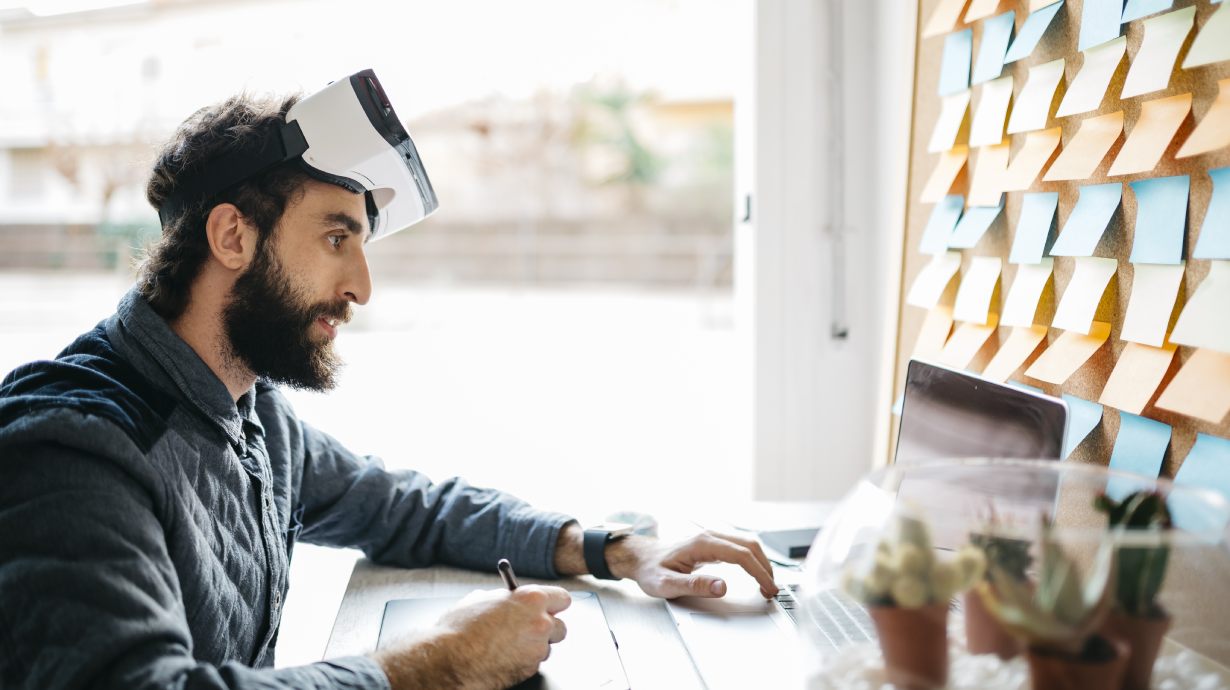 In November 2020, Adaora Udoji wrote a piece for Verizon titled "The Metaverse is coming—it just needed 5G." Fast forward to 2022 and it's clear, the metaverse is here. It's the next generation of digital experiences where an avatar of the real you can have unlimited interactions within a virtual community, from meeting friends and colleagues for coffee to owning land—a digital one, that is. In fact, three plots next to Snoop Dogg's virtual mansion on the metaverse platform called The Sandbox sold for a combined $1.23 million in December 2021.
In one version or another, metaverses like The Sandbox have existed for decades
Second Life and Minecraft are just two metaverse examples, the latter of which was acquired by Microsoft in 2014 for $2.5 billion. With nearly 140 million monthly active users in 2021—about 4.3 million players per day—it's logical to think metaverses are kids play. But, while gaming has been a good place to start, enterprises are counting on these metaverses for a wide range of purposes, with digital twins—3D virtual replications of a physical space and its assets—providing a foundation.
Boeing, for instance, announced plans to invest $15 billion in its own metaverse. In it, robots and mechanics wearing mixed reality headsets will build digital twins of airplane designs to conduct simulations. Recently, the HBAR Foundation and MetaVRse, a web-based 3D creation platform, announced a partnership to build an enterprise metaverse, where the world's largest organizations on the Hedera platform can perform simulated training, sales, marketing and entertainment functions.
Even cities are considering or planning to launch their own metaverses. Take Seoul, South Korea, for example. As part of the city's 2030 Vision plan, almost $3 billion has been invested by the Seoul Metropolitan Government (SMG) in its bid to become the first major city to enter the metaverse with a virtual "communication ecosystem" for all areas of its municipal administration, from civil services to tourism. This new concept of public service has been designed to improve government efficiency and access by allowing both officials and citizens to do nearly everything virtually that would otherwise require their physical presence, including meeting with government representatives. 
A trip to the metaverse may take meetings to a new level
After almost two years of working remotely, many organizations in the private, public and government sectors are looking for ways to enhance virtual meetings and alleviate "Zoom fatigue," which is why Verizon and Google recently teamed up to help unlock value for remote workforces with BlueJeans Meetings on Glass Enterprise Edition 2 and Google Pixel. Co-workers can experience an immersive meeting with enhanced video and audio through the BlueJeans' secure mobile video conferencing app.
More than one metaverse from which to choose
When accessed on Verizon's 5G Ultra Wideband network, the use cases are exciting to consider. Imagine remote and field workers collaborating in real time in a space that allows for 3D innovation while prioritizing safety. According to ABI Research, global spend on industrial digital twin technology alone is on target to reach $4.6 billion next year and is expected to hit $33.9 billion in 2030.
Though some view the metaverse as a singular community in cyberspace, there's likely to be more than one. There already exists a metaverse museum of crypto art, and several healthcare metaverses are in the works. This is perhaps one sector that may benefit the most from the combination of virtual, augmented and mixed realities, as well as Internet of Things devices, digital twins, robotics, mobile edge computing technologies that create such a virtual environment. From the comfort and safety of one's home, individuals might not only get a diagnosis and treatment plan quickly but also make payments, schedule appointments and get preventive care.
To reach the tremendous potential of these and other immersive digital experiences, 5G is key
With a commitment to bring home the power of 5G, Verizon recently announced that it had expanded its 5G Ultra Wideband network so that more than 100 million people will have access to its 5G Ultra Wideband network.
Those amazing things are likely to include a world of digital experiences designed to enhance the physical world and interactions we share that keep our human connections strong.