"My Disability Doesn't Define Me."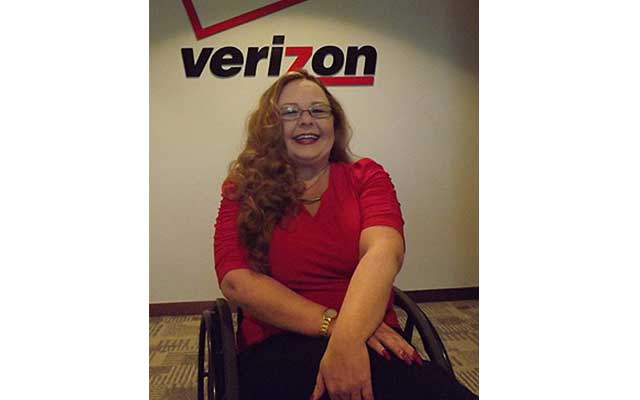 "I'm an employee who contributes to the company's success. Verizon doesn't look at me as a person in a wheelchair," says Rhonda Bingel, office manager of legal support.
National Disability Employment Awareness was recently observed. This year's theme -- "Expect. Employ. Empower." -- conveyed that advancing disability employment is much more than hiring. Rhonda was asked to share her perspective on what it's like to work at Verizon.
How would you describe the culture at Verizon?
"I love working here. I feel privileged to work for a company that respects and values my ideas. It's a powerful connection that I see in action every day. Where else can you find a community of great people who are passionate about helping others and who have the support to do so?"
How has Verizon supported your career development?
"Since I joined the company in 2003, Verizon has given me all of the support I need to develop my career, including earning my bachelor's degree and my pursuit of two master's degrees. That demonstration of commitment stems from understanding the power of a diverse workforce. Who we are goes well beyond our gender, race, education, sexual orientation or if we have a disability. I'm responsible for managing Verizon's legal support in eleven states. It's a big responsibility. I may have a physical disability, but who I am and what I can do is all about the whole package I bring to Verizon every day."
How would you describe diversity & inclusion at Verizon?
"I truly hope this is evident to everyone. Diversity and inclusion strengthen every part of our business from hiring and building strong teams, to using diverse suppliers that support local economies, to developing products and services that improve how our customers live, work and play."
What do you want peers to know?
"Some people's first reaction to me is to move out of my way or offer special assistance. I'm grateful that everyone cares. It shows compassion, but I don't want empathy or special treatment. I'm passionate about my job. Through the support of the Verizon family, I've been given the freedom to truly shine. I believe my peers who have less obvious disabilities would say the same. I want to spread the important message that a strong workforce is one inclusive of the skills and talents of all individuals, including individuals with disabilities."
Rhonda was interviewed by Prasanthi Pavuluri, who is on the communications team at Verizon.