Verizon's Culture of Inclusion - an Everyday Competitive Advantage
Verizon's Culture of Inclusion - an Everyday Competitive Advantage
At Verizon, celebrating our culture of inclusion is not limited to certain days, weeks or months on a calendar. As our Chief Talent and Diversity Officer Magda Yrizarry says, it's about being real every day – diversity and inclusion are an everyday competitive advantage.
That's why the theme of this year's Global Diversity & Inclusion conference was "Accelerating our Competitive Advantage." Employees gathered for a day of informative keynotes and panel discussions about how we can best use our inclusive culture to better serve our diverse customer base.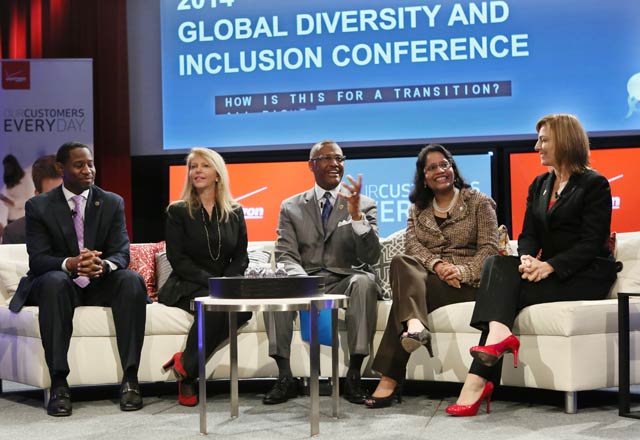 From left to right: Kwame Trotman, Siki Giunta, Eric Cevis, Radhika Venkatraman and Martha Delehanty.
Among the most critical points made by Verizon leaders and outside guests was that the multicultural marketplace is the biggest driver of growth in our industry.  "If you look at the demographics of who is buying our products and services, that's changing dramatically," said Lowell McAdam to employees.
That's why Verizon's company Credo states that "we embrace diversity and personal development not only because it's the right thing to do, but also because it's smart business." Having a diversity of thought and experience at the table, from the top of the company all the way down, is an essential part of Verizon's success.