Public safety: A future powered by 5G
Learn about 5G innovations that could help first responders and other public safety professionals working on the front lines keep our communities safe and protected.
Full Transparency
Our editorial transparency tool uses blockchain technology to permanently log all changes made to official releases after publication. However, this post is not an official release and therefore not tracked. Visit our learn more for more information.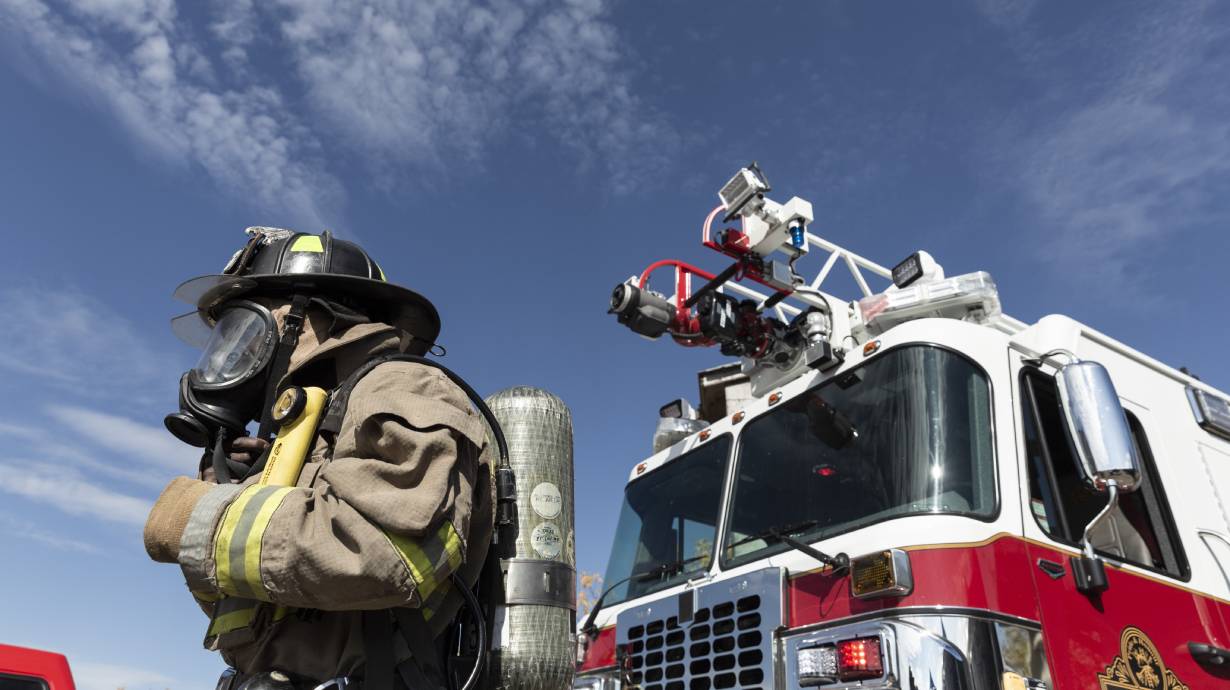 First responders didn't need more challenges. Yet the past year has added unique pressures for public safety agencies, from increased calls and growing mental health stressors to decreased budgets and staffing reductions. In addition to these pandemic-related challenges, agencies are dealing with their own digital transformations.
Connected devices such as health trackers can already send alerts to a 911 public safety answering point (PSAP) if the wearer experiences an emergency, and some connected cars do the same in the event of a collision. Both capabilities are likely to become more common. These device-generated emergency reports have the potential to get first responders to the scene faster—but only if public safety agencies have the right systems in place ahead of time. That's one reason that better supporting new technology now is a key priority for most of these agencies.
5G is one new technology with enormous potential to help public safety agencies achieve their mission. 5G's ability to support the streaming of large volumes of high-quality video, for instance, can provide greatly improved situational awareness. To help agencies prepare for the future of 5G and aid in the acceleration of their modernization efforts, Verizon launched Verizon Frontline. This intelligent platform is the next step in Verizon's continued commitment to public safety.
Verizon Frontline offers the trustworthiness of America's most reliable network.1 It is also built to support the future of 5G. Verizon offers the coverage of 5G Nationwide in more than 2,700 cities. 5G Ultra Wideband, which is available in parts of more than 70 cities, is the fastest 5G in the world.2 Together, these 5G offerings will be able to help first responders improve situational awareness and achieve their missions.
A key part of Verizon's support for first responders is the Verizon 5G First Responder Lab, which was founded in 2019 to explore how 5G could better empower first responders by using emerging technologies. The lab works with innovative companies to create advanced solutions powered by Verizon 5G and designed for first responders.
Over these past two exciting years, Verizon worked with four groups of public safety innovators to design solutions that could benefit from the high speeds and low latency that 5G can offer and that are based on technologies like augmented reality (AR), virtual reality, drone data, real-time situational intelligence and more.
4G capable; preparing for a 5G future
The most recent 5G First Responder Lab partners are creating a future-facing, end-to-end emergency medical services (EMS) package that works under a single pane of glass, utilizing Verizon's world-class network. This EMS solution is built to work on 4G, but teams are working on a 5G-first solution. Here's a look at how it could impact each step in incident response and care:
Preincident diagnostics and monitoring
Early detection is key. Biotricity provides devices—currently available by prescription—that help monitor patients at home and on the go. These devices could also notify a dispatcher or PSAP in the event that the user suffers a serious issue. During a health event, Biotricity devices could have the ability to livestream data back to the ER to help shorten treatment times. With 5G, the solution could see a massive improvement in latency.
Nonemergency healthcare in the home
Not all health incidents are emergencies. In many states, callers can opt to contact DispatchHealth instead of 911. The company provides virtual triage, followed by on-demand, in-home care. DispatchHealth leverages its board-certified medical teams, as well as specialized diagnostic and lab equipment, to treat common to complex injuries and illnesses directly in the patient's home. With 5G, DispatchHealth could offer better clinical quality in the field and expand the kinds of devices it can provide to patients.
Inbound 911 information gathering for better situational awareness
With Rave Mobile Safety, responders can access data collected from a variety of sources—facility or directory data, panic button info, and more—all in one location. Rave's solutions are already available via the Verizon Public Safety Applications Portal, which is a part of Verizon Frontline. With 5G added to the mix, first responders could get the ability to share all this data and video in near real time. Plus, 5G could allow for the future integration of artificial intelligence (AI) components, so responders have more information and more of the same information.
Emergency first responder collaboration
The high speed, high capacity and low latency of 5G could enable Visionable's video collaboration platform to bring together paramedics, doctors, nurses, diagnostic experts and other key medical professionals for an extended virtual team that can collaborate and make actionable decisions remotely. 5G Ultra Wideband could help this level of collaboration and information sharing happen practically in real time, blurring the lines between remote care and in-person care and extending such care to the ambulance.
Hands-free treatment assistance
An emergency medical technician (EMT) rarely has a hand free to select options on an interface. That's why wearable technology like Vuzix's smart glasses could be so helpful in emergency situations. Vuzix is a leader in wearable AR technology that can allow a user such as an EMT to access information while keeping his or her hands free to provide care. The low latency of 5G could enhance the AR overlay for a better experience.
Together, these technologies make up the EMS solution that Verizon is developing, but they represent only a part of the 5G First Responder Lab's work to help public safety agencies achieve their mission. The lab expanded its charter in 2021 to include field tests designed to tackle public safety's most challenging issues with 5G solutions.
From graduate to partner
Blueforce Development has moved from being a Lab graduate to a Verizon partner working with multiple customers and pilots. Blueforce leverages sensors and AI processing to provide responders with a single shared view so they can see up-to-date information about the changing conditions at the scene of an incident. Pushing that AI processing to the network edge with a solution like Verizon 5G Edge could help reduce latency while providing up-to-the-second situational awareness to enable law enforcement to make more-informed decisions.
Pilots currently in the field include testing drone video feeds, situational awareness and tactical collaboration through the transmission of files to and from mobile devices.
Built right for public safety
Verizon remains committed to providing the advanced network and technology that first responders need to help relieve the growing pressures they face. These 5G First Responder Lab solutions are just a few examples of public safety innovations that could benefit from the power of 5G. Verizon Frontline was built to serve those who put their lives on the line each and every day.
Read more about that commitment, and learn more about how we are putting first responders first with Verizon Frontline and 5G Ultra Wideband.
---
5G Ultra Wideband available only in parts of select cities. 5G Nationwide available in 2,700+ cities.
America's most reliable network based on rankings from the RootMetrics® U.S. National RootScore® Report: 2H 2020. Tested with best commercially available smartphones on three national mobile networks across all available network types. Your experiences may vary. The RootMetrics award is not an endorsement of Verizon.

Global claim from May 2020, based on Opensignal independent analysis of mobile measurements recorded during the period January 31 – April 30, 2020 © 2021 Opensignal Limited.