How to "Unsettle Down" like a digital nomad
The Gillespies learned how to travel the world, pay off student debt and save for a down payment on a house—without settling down.
Full Transparency
Our editorial transparency tool uses blockchain technology to permanently log all changes made to official releases after publication. However, this post is not an official release and therefore not tracked. Visit our learn more for more information.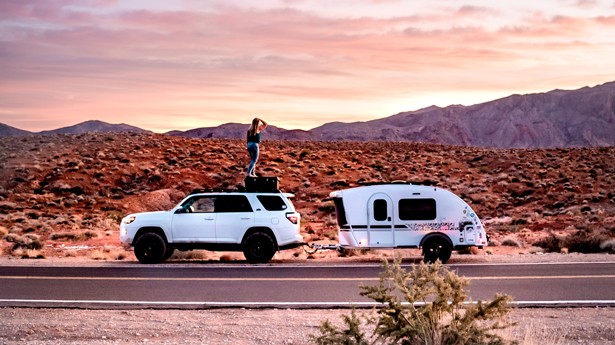 Before they started Unsettle Down—a blog and Instagram handle sharing life on the road for a digital nomad family of four, traveling in a teardrop trailer—the Gillespies were on a path to do the opposite. They were trying to settle down.
In 2015, their first child arrived three weeks early. While Chelsea was in labor, Matt was on the phone trying to finalize a job offer.
"We were in the hospital, and I literally called the CEO of the company and said, 'The baby came three weeks early, would you mind if I start today?'" Matt says. "They sent the offer letter, and I got the health insurance. It was happenstance that it was a remote job."
With the baby and a new work-from-anywhere job, Matt and Chelsea realized "settling down" could look different.
"I was the oldest of five kids, and my dad worked with a law firm in D.C., and I remember missing that time with him," Matt says. When he became a father, Matt's professional career in San Diego was tracking a similar way—a 90-minute commute in Southern California left less time for family, and even with two incomes the cost of living felt out of reach.
"I promised myself that I would have time at home with my baby," Matt says. "Without her, we would have still been climbing the corporate ladder."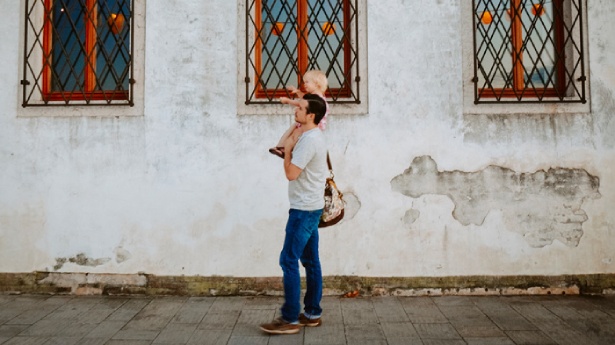 Photo credit: Chelsea Gillespie
Digital nomads were born.
The birth of their daughter was the catalyst for never going back to the office, selling everything they owned except what could fit into two backpacks and heading for Europe—or anywhere with a good Wi-Fi connection.
"The idea isn't just, hey, sell all your stuff and travel," Chelsea cautions. The first year traveling in Europe with a baby, they were still paying off their college loans, saving for a down payment on their first house and figuring out a way to keep the dream going.
"It's not just taking the leap into the unknown," Chelsea says. Matt adds, "We made a plan, we worked the plan, and we're constantly reevaluating."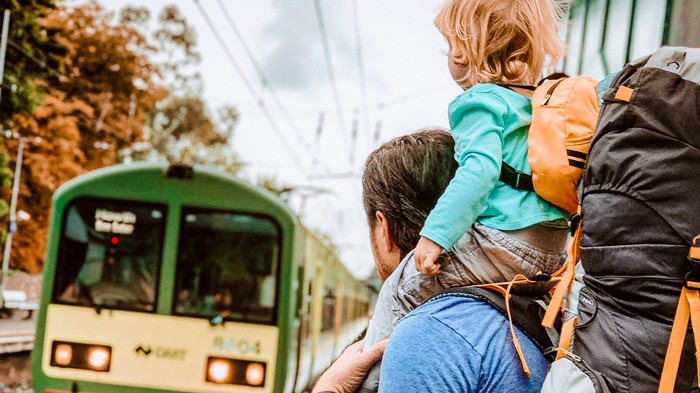 Photo credit: Chelsea Gillespie
Where to? Anywhere there's a Wi-Fi connection
At the time, Italy and Croatia were pretty cheap. The only requirement for each destination was Wi-Fi access so Matt could work.
"I got really good at working with distractions," Matt says. "Working on trains and buses. I put my headphones on and just go."
They started the blog in 2016 as an online journal to help others. Posting to social media followed in 2017 to build community and stay in touch with friends from the road. Working in advertising, they both had knowledge about social media marketing and influencers.
"It wasn't supposed to be an influencer thing," Chelsea says. "We just wanted to inspire people."
Their following grew, and so did their family with the birth of their second child.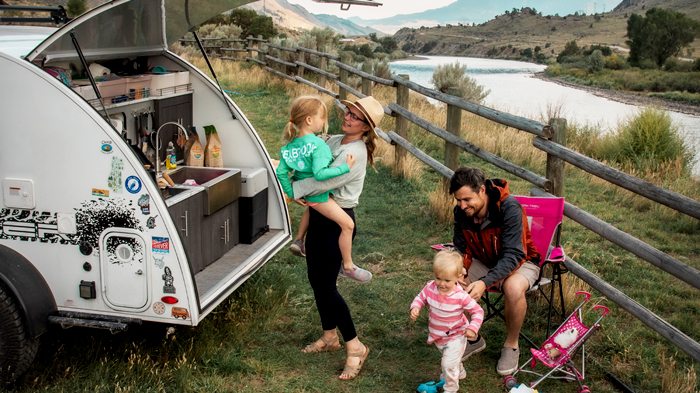 Photo credit: Chelsea Gillespie
Settling into a teardrop trailer
Heading back to Virginia, they saved enough for a down payment on a house. The plan was to buy something and rent it out so they could go back and spend the summer traveling in Europe. Then came COVID-19 and a global lockdown.
To keep moving, Matt started looking for a trailer so they could travel around the U.S. with the girls.
The answer: a 40-square-foot teardrop trailer, about the size of one California king–size bed. The trailer fits in a regular parking spot, and it's just a few inches shorter than their SUV.
"It's ultimate flexibility," Matt says—small enough to fit in the parking deck of a Las Vegas parking deck and rugged enough to reach the top of a mountain.
Planning to work
Before becoming digital nomads, the work week used to include planning for a long commute to the office. Now the traveling work days consider the weather, availability to rent a home for a short time, and laptop connectivity. For each trip, they consider whether to take their trailer or book a flight. They view their work schedules and the reviews and suggestions from other digital nomads on the best connection spots.
"We look at apps and websites for people who are on the road a lot," Matt says,
"It's essential to have many ways to connect and always have backup chargers," Chelsea says.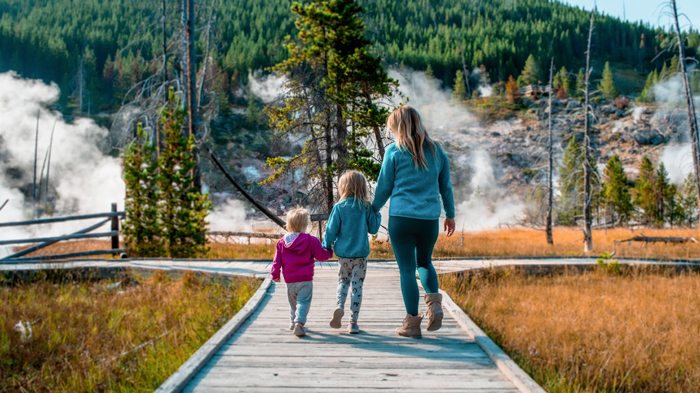 Photo credit: Chelsea Gillespie
A mixed-media, one-room schoolhouse on the road
They're taking their own approach to home schooling on the road, too. Kailen is now 6, and Claire is 2. When they pick a spot, such as Yellowstone, they'll look through school apps and videos and find specifics about the places they're going so as to make it a fully immersive experience, Chelsea says. Then they get out of the car and explore the real volcanic activity at Yellowstone.
On the road, the girls use tablets and apps designed to help them learn how to read. FaceTiming with family members is also key, since in-person visits only happen two or three times a month.
"Seeing and hearing their voices is important," Matt says. "And I don't know if it would be the same without that technology."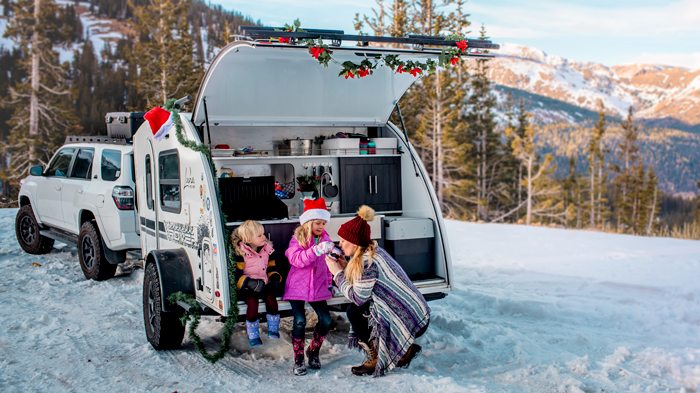 Photo credit: Chelsea Gillespie
On-the-road traditions
Wherever they travel on the holidays, they bring their traditions with them, like watching "A Charlie Brown Christmas," eating seafood on Christmas Eve and decorating their Christmas tree with tickets.
"We made ornaments out of all of our plane tickets and our train tickets and hung them on the tree, which was cool!" Chelsea says. "We spent Christmas in Prague, New Year in Sevilla, Spain, and Thanksgiving in Croatia. But we do love coming home for the holidays, so that's what we're doing this year. We're going to go back and see everyone else in our family on the East Coast."
What's next for Unsettle Down?
A part of what's next for Unsettle Down may include some settling down.
"Traveling is something we will always do, but we are thinking about having a home base," says Matt.
"We know we can't be on the road all the time forever, so we are trying to figure that out," Chelsea adds.
They're considering taking the leap into entrepreneurship and focusing on their joint marketing and web development projects. And putting some roots down somewhere with a house that could provide a home base—and rental income while they travel.
"There's a balance," Matt says. "We want to find that happy medium where we have a fallback plan. But no, there's not going to be any real settling down for this crew for a very long time. There's too much of this world to see."
Don't settle for anything less than reliable. Get the Ultimate Guide for Digital Nomads.