New ideas to help close the digital divide
Today, millions of Americans lack access to high-speed internet service. But national and local action could help change that.
Full Transparency
Our editorial transparency tool uses blockchain technology to permanently log all changes made to official releases after publication. However, this post is not an official release and therefore not tracked. Visit our learn more for more information.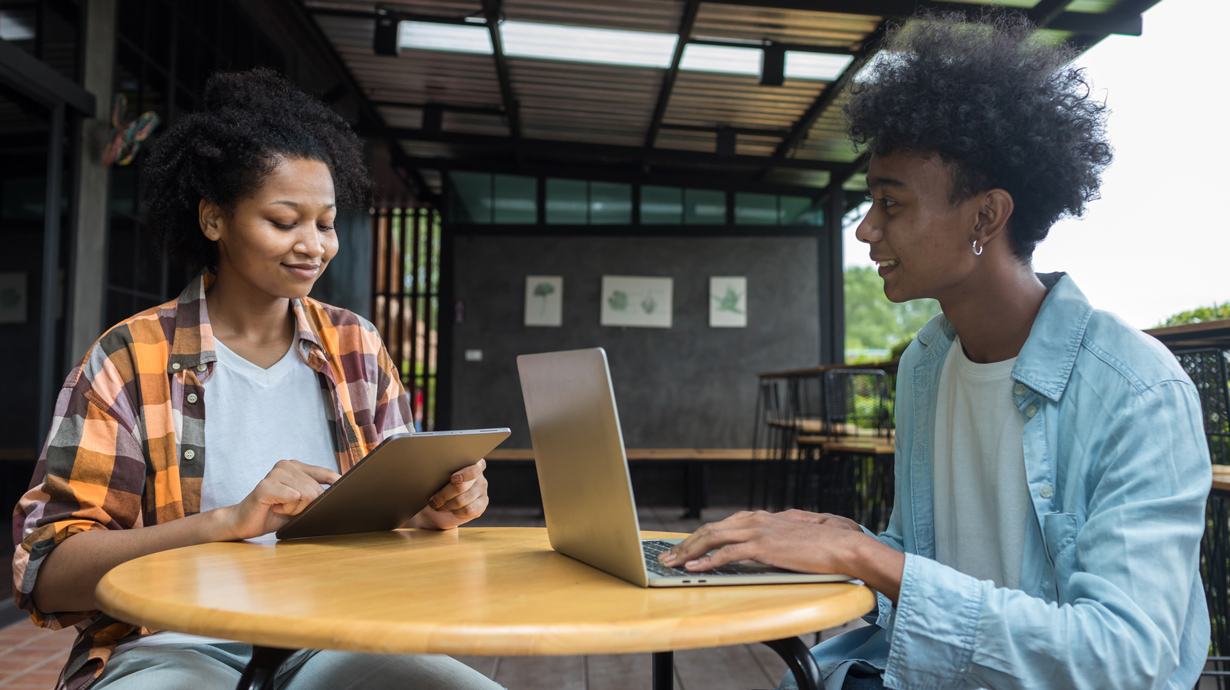 Internet connectivity is essential today. It's not just how we scroll through cat videos—it's also how we connect to health, education and workplace opportunities. Yet government data shows that about one in five U.S. households are not connected to the Internet at home. Households may not have access to broadband infrastructure, or may face affordability challenges. And some households lack digital literacy in the technology that can connect them to well-paying jobs, school, doctors, and even family and loved ones.
Monica Stephens, Ph.D., assistant professor at the University at Buffalo and at Durham University, says that the digital divide is also deeper and broader than we think. "There are a number of digital divides," she says. For example, Dr. Stephens points out that it's not an issue just in rural locations; 13.6 million households lack internet connectivity in U.S. cities. It also further limits the contributions that women and girls can make to digital ecosystems—which limits what everyone experiences online.
Fortunately, steps are being taken to improve access across the country, with ideas ranging from government programs to innovative solutions that could overcome infrastructure obstacles (and costs) that are preventing broader availability and adoption. And the high speed, low latency and high capacity that 5G can provide can be a key component of both of these steps.
Nationally: A new program to make connections affordable
The Federal Communications Commission's Affordable Connectivity Program (ACP) launched at the end of 2021 with a goal of making internet service affordable for everyone: Qualified applicants can save $30 a month on high-speed internet service1. That discount can be for home internet plans or for mobile broadband plans, including plans from Verizon. These plans include Verizon Home Internet (where available) service such as Verizon 5G Home, which can provide internet service without the need to run cable to a home.
To make the most out of the ACP's offering and to take further steps to help bridge the digital divide, Verizon launched the Verizon Forward Program. This program allows customers who qualify for the ACP to receive free Verizon Home Internet, including 5G Home Internet (where available).2 These efforts are a part of Citizen Verizon, the company's responsible business plan for economic, environmental and social advancement.
Since the ACP's launch, more than 15 million households have participated in the program. Each of these households includes people whose income is at or below 200% of the federal poverty guideline, and/or individuals who participate in government assistance programs such as SNAP, federal public housing assistance, tribal programs and national school lunch programs and even recipients of Federal Pell Grants. 
Locally: Covering the "last mile" connection
Last-mile fiber—the final stretch of cable that comes to a house to provide connectivity—can be an issue in both urban and rural settings that exacerbates the digital divide. For example, in rural settings where homes are far apart, the cost of last-mile fiber can be prohibitively expensive. In dense urban settings, the issue can sometimes become one of access that would allow for the physical installation of that last-mile fiber.
Fixed wireless access (FWA) could be a solution for both problems.
"FWA uses radio links between two fixed points that allows you to connect to the internet—without the physical infrastructure traditionally required," Stephens explains. In short, a receiver at the home connects to a nearby mobile communications tower to provide an internet connection, without the need to run physical cable to a user's home. Verizon 5G Home Internet offers FWA.
In a rural setting, this means that the focus could be on providing connectivity to cellular towers, that could then provide high-speed access for area residents and businesses via a receiver at the home or business. In those densely packed urban settings, FWA could overcome the hurdles associated with physical wire installations, as the receiver at a home or business could connect to a nearby tower or small cell located on a nearby streetlight.
"By providing a service like this, we can start to bridge some of the divides in urban areas," Stephens says. "5G [and FWA installations] will enable people in the same household to have simultaneous conversations for digital school or work—where you need to be able to have high-quality video conversations."
In the end, that's why national programs, local endeavors and future innovations that could help narrow the digital divide could have huge impacts for society as a whole, but specifically for remote workers, families and students. "For example, during the pandemic, students were lucky if their schools provided tablets," says Stephens. "But the tablets were useless without cell connectivity or Wi-Fi." These new ways to connect could allow multiple people under one roof to get online for work, school or entertainment—and that could be transformative.
Verizon is the network America relies on. See what 5G can do for you.
---
1 Affordable Connectivity Program: ACP is a government program providing eligible households with internet service discounts. One program discount per household. Discount expires upon FCC's termination of program; then our standard rates and service terms and conditions apply.
2 Verizon Forward Program: Limited-time offer for eligible residential customers with ACP applied to an LTE Home, 5G Home or Fios Mix & Match internet plan. May not combine with all offers. Internet services available in select areas.