How 5G can transform healthcare
One of the world's most exciting—and vital—tech frontiers is ripe for a network revolution.
Full Transparency
Our editorial transparency tool uses blockchain technology to permanently log all changes made to official releases after publication. However, this post is not an official release and therefore not tracked. Visit our learn more for more information.
More of our content is being permanently logged via blockchain technology starting [10.23.2020].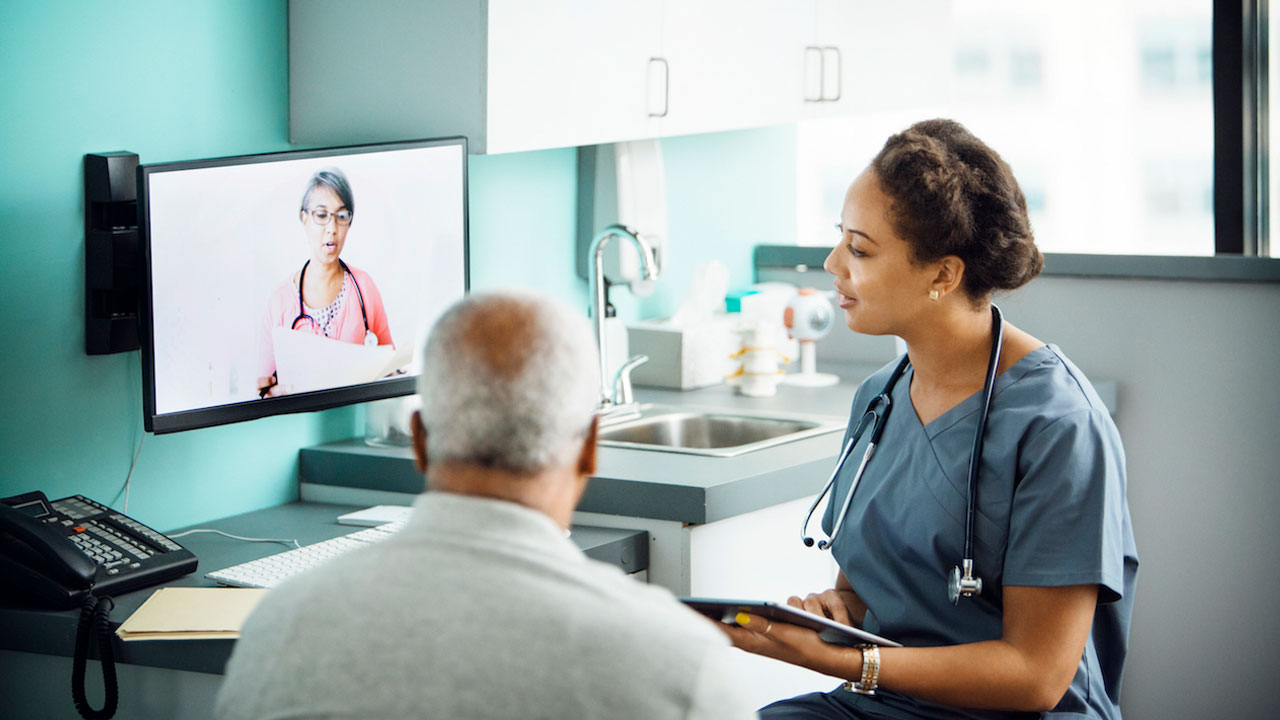 In 2001, a 68-year-old woman entered a hospital in Strasbourg, France, to have her gallbladder removed. The procedure took 54 minutes. Two days later, she went home. It was routine—save for one factor: Surgeons were sitting at a console in New York City, operating a three-armed robot located in France. Thanks to a transoceanic fiber-optic cable, the chief surgeon was able to watch his movements in real time on a video screen.
Since that day, the footprint of network technology in the hospital has only grown. In fact, it plays an increasingly vital role in all of healthcare. But with network bandwidth in such high demand, breakthroughs in telemedicine and other healthcare areas will be increasingly dependent on a strong wireless network. And as literally billions of devices connect in coming years, network bandwidth will become all the more essential—not only to ensure seamless data transfers, but to keep paths toward innovation wide open.
Remote healthcare is one of world's most exciting frontiers, but for it to truly thrive, network technology must evolve. That's why Verizon's 5G Ultra Wideband network is such a potential game-changer. Its improved connection speed and lowered latency will help free healthcare innovators to do what they do best: improve medicine.
More than an assistant
5G wireless networks will be key to unlocking new solutions in preventive, diagnostic and therapeutic care. Over Verizon's 5G Ultra Wideband network, a physical therapist might help a patient recover their range of motion after surgery. Students at research hospitals might watch remote surgeries in near-real time, with negligible latencies.
It's not as far-fetched as it may sound. Today, over a pre-commercial node at the Verizon 5G Lab, students and faculty from Columbia University's Computer Graphics and User Interfaces Laboratory are experimenting with remote physical therapy applications. The lab's work over 5G could prove a boon for patients and healthcare providers—especially in cases where distances make office visits prohibitive.
"[5G] could impact where therapists can administer treatment and how patients can access rehabilitation resources," says Professor Steven Feiner, the lab's director. "We've been able to use the 5G connection to perform experiments that prove this to be a viable approach."
Remote physical therapy applications may just be the tip of the scalpel. Ultimately, the faster information can be transferred, the greater the opportunities to deliver breakthrough solutions and sensible treatment regimens for patients.
Making hospitals smarter
As network connectivity continues to improve, the next breakthrough may arrive not from the research lab, but from the front lines of patient care: hospitals.
Through wireless-enabled machine-learning, robots in hospitals can communicate and coordinate schedules with each other, allowing over-extended nursing staffs to focus on patient care.
Less than 20 years ago, scientists performed surgery across an ocean with the help of a transoceanic fiber-optic cable. Thanks to advances in robotics and data transfer speeds, that milestone may soon seem quaint. Powered by Verizon's 5G Ultra Wideband network, telemedicine and other forms of remote healthcare will finally become untethered, unbound—and indispensable.
Learn more about Verizon's plans for bringing 5G technology to our customers