Over Verizon's 5G Ultra Wideband network, local governments and businesses alike will be able to turn real-time insights into action.
Around the world, an estimated three million people move into cities every week, and the trend shows no signs of slowing.
To protect the very qualities that make cities so attractive in the first place, municipal governments and local businesses alike must adapt. But maintaining infrastructure, delivering essential services and ensuring the whole enterprise weathers unexpected calamities becomes increasingly difficult.
Where some see a challenge, however, Verizon and its municipal partners see an opportunity to make cities even more desirable.
A pivotal component of Verizon's 5G network strategy is investment in smart city solutions. By 2025, the global market for smart city services is estimated to reach $2.57 trillion. Beyond the numbers, improving people's mobility in their evolving cityscapes has the potential to minimize the amount of time they spend snarled in traffic, searching for points of interest or waiting for important deliveries—the kind of improvements that pay dividends for decades.
Put another way, cities aren't getting any smaller, so they'd better get smarter. Verizon's 5G Ultra Wideband network will play a pivotal role in this transformation.
Better intelligence, better decisions
With access to Verizon's pre-commercial 5G technology at the Verizon 5G Lab in New York City, located at Alley powered by Verizon, BriefCam is redefining the role of video in the day-to-day operations of cities.
BriefCam's video content analysis platform enables vast amounts of recorded content to be scanned, giving businesses and city agencies access to the kind of information that leads to better decision making.
"Video content analytics allows cities, transportation systems and retailers to gain more intelligence from video footage, whether that's optimizing traffic and crowd flow or determining where to place public safety during events in the area," says Stephanie Weagle, chief marketing officer for BriefCam. "But it's the 5G layer that really makes this technology pop. Cities can install more cameras in tighter spaces, in locations they typically wouldn't have the ability to reach. They get more data and more footage to analyze, and in near-real time. It's the content they need, and nothing they don't."
Practical applications of BriefCam range from being able to locate a lost child to designing a bike path based on cycling traffic trends. Retailers can use the platform to analyze foot traffic in their stores and better understand what appeals—and doesn't appeal—to their shoppers. "That super-granular level of insight simply wouldn't be possible without 5G," Weagle says.
Mapping the final block
Sharing space at the Verizon 5G Lab—and an interest in real-time data analysis—is Mapfit, a startup specializing in hyper-accurate, richly detailed cloud maps.
"If you look at the Manhattan skyline, you'll find new construction in every neighborhood," says Phillip Zakas, founder and CEO of Mapfit. "Cities are alive; you can't map them on paper and expect that same map to work for you 10 years later. We need a way to update maps on a minute-by-minute basis. That's where 5G comes in."
Whereas other services take a zoomed-out approach to charting cities, Mapfit focuses on the last 50 to 100 feet of the journey, collecting information on precise details such as the location of entryways, and feeding that data instantaneously back to the cloud.
"The picture on the ground can change on a minute-by-minute basis. Being able to share that across a network of devices, in near-real time, requires 5G."
- Stephanie Golik, Mapfit director of product
"The picture on the ground can change on a minute-by-minute basis," says Stephanie Golik, Mapfit's director of product. "Being able to share that intelligence across a network of devices, in near-real time, requires 5G."
Consider a delivery bot rolling an important package to an office, navigating street construction, sidewalk obstacles or a loading ramp. Or consider a connected car detecting the presence of a pothole or a stalled truck, then alerting all other vehicles in the area of the hazard. Over a 5G connection, logistics-based solutions like these have the potential to improve everything from supply chains to the morning commute.
"5G really opens up the menu of what we can do," says Golik. "The leap from LTE to 5G will be significant. The advancements will be exponential."
The 5G-powered smart city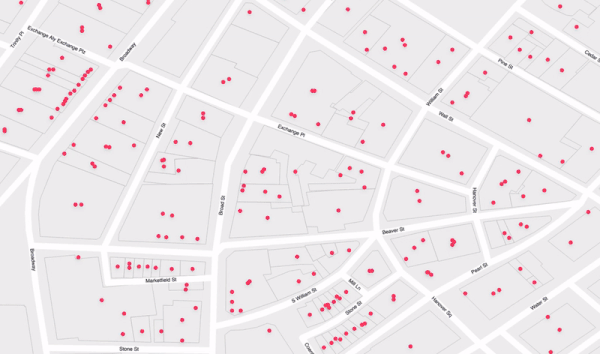 Mapfit interface
A smarter city is built from a series of interconnections, and it's all done with one purpose in mind: to serve the people who live there—and those who may yet live there. Over Verizon's 5G Ultra Wideband network, that process will get accelerated to a remarkable degree.
"Working over the 5G node has definitely heightened the sense of what we know we can do," says BriefCam's Weagle. "And as rollouts and deployments continue, there will be even more opportunities—applications people haven't even thought of yet.
"There are so many use cases it's hard to pare them all down," she adds. "The opportunity with 5G comes right down to faster, higher quality internet bandwidth. The better the connection, the better systems perform—and the better intelligence you'll have."
The future is 5G
5G is the fifth generation of wireless technology. But users will know it as one of the fastest, most robust technologies the world has ever seen. That means not only quicker downloads, but also richer immersive experiences that have a massive impact on how we live, work, learn and play. The connectivity benefits of 5G will make businesses more efficient and give consumers access to more information faster than ever before. Autonomous cars, smart communities, industrial IoT, remote healthcare—they all will rely on 5G.
That's why Verizon built our own 5G technology to accelerate testing and drive the development of a worldwide 5G standard. And we continue to work with our other technology partners to further advance 5G technology and reach important milestones on the path to full deployment, in the lab and, most importantly, in the real world where it matters most.
"We talk about 5G as the fourth industrial revolution," says Verizon CEO Hans Vestberg. "What we are doing is transformational. Here at Verizon, we not only have the best network for today, but also for tomorrow. It's why we always say: We don't wait for the future. We build it."